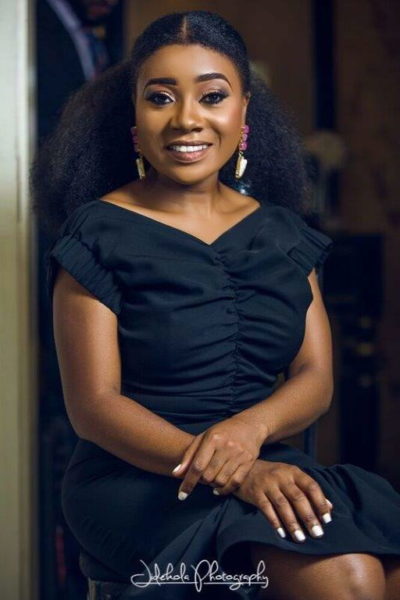 In the last 10 years, weddings have gotten bigger and more elaborate. Brides want more, want unique, want different. Sometimes, the brides want bridesmaids, and these bridesmaids form a spectacular addition to the wedding party.
Nneka Ijeoma has recently published a book 'Memoirs of a Professional Bridesmaid' and we believe a lot of BellaNaijarians will relate to it.
***
When thinking of weddings, one never quite thinks of the bridesmaids, we are usually more preoccupied with the couple and other aspects of wedding planning, but Nneka Ijeoma's witty and hilariously crafted master piece, Memoirs of a Professional Bridesmaid, is an attempt at highlighting this exciting yet roller coaster experience of weddings from a bridesmaid's perspective. What used to be a relatively insignificant role, has now become a 'profession' of sorts.
Published by Kachifo Limited, Memoirs of a Professional Bridesmaid is Nneka's unique and witty way of talking about all that goes on behind the scenes at a typical modern wedding. She uses her personal experiences to discuss the intricacies of weddings and with her hilarious manner, she still manages to pass across vital information and advice that will be useful for young ladies, bridesmaids, brides to be and the various vendors who are integral to the value chain of the rapidly growing wedding industry. Nneka does a splendid job of introducing you to characters, who are inspired by her real-life friends, who she has been a bridesmaid for over the years, and this makes the characters instantly relatable. From Last minute Fatima to Laid back Uju, and all the personalities in between, she will have you laughing (and sometimes cringing) at her brilliant narration of the medley of tasks and chores (ridiculous and otherwise), usually ascribed to bridesmaids.
Nneka discusses certain topics in her cleverly crafted chapters, each chapter either begins or ends with nuggets on the do's and don'ts of a successful wedding. From chapters such as: "The Endless Bridal Train" in which she discusses the pro's and cons of a large train; "The Last Minute.com Bride", who leaves everything till the dying minute, including her final dress fitting which she leaves for her friend to try on! To chapters like "I Do With or Without You", "Thou Shalt Not Struggle For the Fittest Groomsman", "Vendors from Hell", "The Overzealous Bridesmaid", "When Bridesmaid Duties Start a Year In Advance", to the three-part "Messy Bridesmaid Dress Series."
A personal favorite, especially in this age of social media, is the chapter titled "When the Bridal Train Turns the Group Chat into a Personal Chat Forum" which discusses the importance of group chat etiquette – these chapters will have you on the floor doubled over with laughter, while at the same time jotting down tips!
In the chapter "Know when you have to Say No" Nneka touches on an important topic: the importance of being true to yourself. Due to peer/societal pressure, some ladies become so financially strained trying to live up to a certain and most often, impossible lifestyle – how many people can honestly afford to buy and sew aso ebi, and attending weddings every weekend??? This pressure has engulfed our society and some people go to extreme lengths to 'belong". At what point can we say "I'm sorry I can't wear your aso ebi because I can't afford it"? Or I cannot travel to Vegas for a Hen night? If you can afford it, then by all means do, but this book emphasises the importance of being true to yourself.
Nneka coins the word "BRIDESMAID – ZILLA" to describe bridesmaids that get overenthusiastic about the wedding, and puts herself in the hot seat while reminiscing about her friend Tinuke's wedding in which she was the Maid of Honor. She begs that Bridesmaids/Maids of Honor don't take their role so seriously as she did, and 'morph into the bride's living nightmare".

This memoir also explores the bride's decision-making process and considerations with regards to her bridesmaids, and Nneka succeeds in creating a must have wedding planning compendium with each chapter ending with helpful tips on how to avert wedding disasters and make the entire wedding planning process easier and somewhat stress free.
Nneka discusses serious issues in a light-hearted way, without glossing over lessons learnt. One of the many strengths of this book is its wide appeal to both men and women, young and old and those who also want to know what happens behind the scenes of a modern Nigerian wedding. The language is crisp and racy and the introduction of dialogue brings the various experiences to life. Memoirs of a Professional Bridesmaid is definitely a must read; one of those books that you would want to go over again and again because it is such a good book.
Memoirs of a Professional Bridesmaid was officially launched on Sunday, May 28, 2017, and is currently available for purchase at Queen Beauty Lounge in Lekki Phase 1, The Nail Studio on Bishop Abayode Cole Street and Mega Plaza Supermarket on Idowu Martins Street. Please follow the author on Instagram nneka_ijeoma for more updates and more outlets for purchase.
Publishers: Kachifo Limited, Book cover: Tony Mokwe, Cover Illustration: Penie Enchill, Inner Illustration: Komi Olafimihan, Author and Product photograph: Sisi Visage Media.

****
Author's Bio
Nneka Ijeoma was born in New York, but grew up in Lagos, Nigeria. She attended the prestigious New Hall School for girls for A levels and obtained an Undergraduate and Master's degree in Politics and International Relations respectively from Durham University United Kingdom, a leading university. She is a member of various organizations such as Women in Successful Careers (WISCAR), and Pan Atlantic University School on Media and Communications Alumni Association where she was an Executive. Nneka currently lives in Lagos where she works as a Public Affairs Professional with one of the leading international oil companies. She enjoys writing, reading, public speaking and travelling.