BN Our Stories, Our Miracles: Ayodeji Lost his Left Eye, Had a Cracked Skull But Stands Today Full of Optimism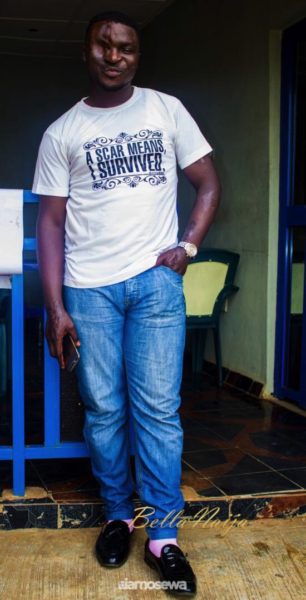 After completing his BA degree program at the Ọbáfẹmi Awólọwọ University Ilé-Ifẹ̀, Ayodeji Opaleye made plans for the next phase of his life… NYSC. In June 2012, he was posted to Benue State for the year. Three weeks of the camp activities flew bye and he received the letter to report at Otukpo Local Government. He joined other corp members in the bus arranged by the Corpers Fellowship.
Thousands of Nigerian youth have gone through this experience – it is a normal thing; only Ayodeji's story is different. He narrated  the events of that event to us at BellaNaija
On July 23, 2012, Ayodeji Opaleye was involved in an accident that changed his life. He recalls: "We set out on our journey and we had been moving for over an hour; having passed through  Makurdi, it was certain that we had only about 30 minutes or less, to arrive at our destination. A good number of us on the bus were asleep due to the stress we had gone through earlier that day. Unfortunately, there was an accident which immediately claimed the lives of 2 Corp members on the bus, leaving 4 of us really injured "I had the most injuries. As it was narrated to me much later by one of us on the bus that day, he said; the bus skidded off the road suddenly and tumbled several times on the road and into the bush.
I was the most injured of the 4 that sustained brutal injuries. I had even been laid along with the guys that died, thinking I also was already dead too; but thank God the people at the scene were able to figure out I was still alive on time."
After the accident, they were taken to Benue State Teaching Hospital.Not being equipped with the expertise required for his care, the hospital transferred Ayodeji to Memfy's Hospital in Enugu State. He woke up from from the coma 14 days after the accident.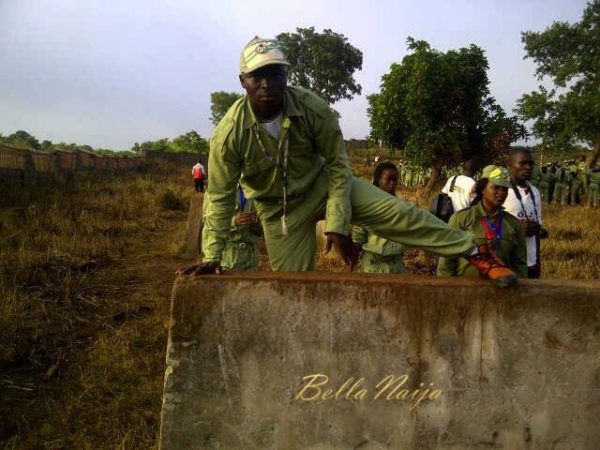 Thus began the inspiring story we are about to share with you. If you take nothing away from this story, take the positive energy of this young man, whose life changed so drastically – in the course of what seemed like normalcy.
***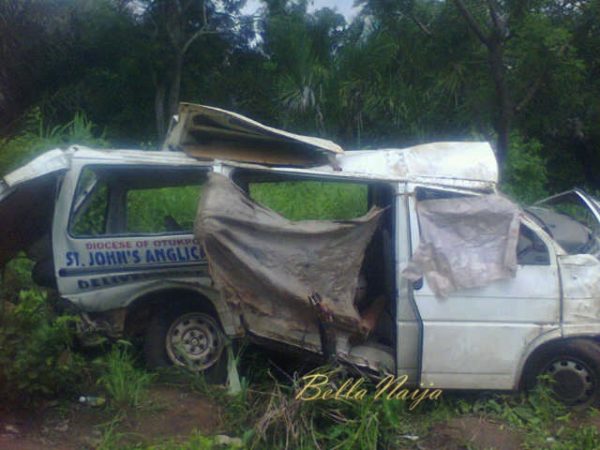 Contacting the family
My family got to hear the news later that day of the accident, through someone that confirmed that I was on the bus. Everyone couldn't reach me and they were all bothered, I remember speaking to my dad and mum when I got the letter telling them I was posted to Otukpo, and I put a status update up on my BBM in my blackberry then "it's OTUKPO baby"
The accident happened and there was no way I could be reached. My elder brother, my then girlfriend and a couple of others were trying to reach me but couldn't. So, they resorted to making random calls and surfing the net to know if they could get any information on NYSC members in Benue around that time. Eventually, they stumbled on a Twitter handle that was managed by one of the Batch B Corp members in Benue. He tweeted that there was an accident involving corp members going to Otukpo; so my then girlfriend contacted my brother, as they were in the search together. My brother contacted one guy who stayed in my estate – who was schooling in Benue at the time. He asked the guy to please go to the accident scene and make confirmation(s) to know if I was in the accident. On getting there, he found that I was there and gave a feedback to my brother that I was on the bus. My brother eventually passed the news to the rest of the family somehow.
Regaining Consciousness
I remember vividly that I was in a stretcher, being wheeled into an ambulance to go for a CT SCAN and I opened my eye and saw the environment and a doctor with two nurses. I didn't need to ask questions, because I clearly remember where I last was, and I could figure there had been an accident. I silently thanked God for being alive. I was just happy because I was still able to open my eye to see myself again, though I was in pains.
Furthermore, after a while being conscious, I felt I was strong enough to the bathroom by myself. I told my mum and my aunt , who were with me, and they were quite excited, because I hadn't gotten up from the bed in about a month. They had put a big cloth over the mirror in the bathroom, so I wouldn't be able to see my reflection. They definitely didn't want me to feel bad or tear myself apart. Unfortunately for them, I guess I was smart enough to find out there was a mirror behind the cloth and I pulled it away, and beheld my face.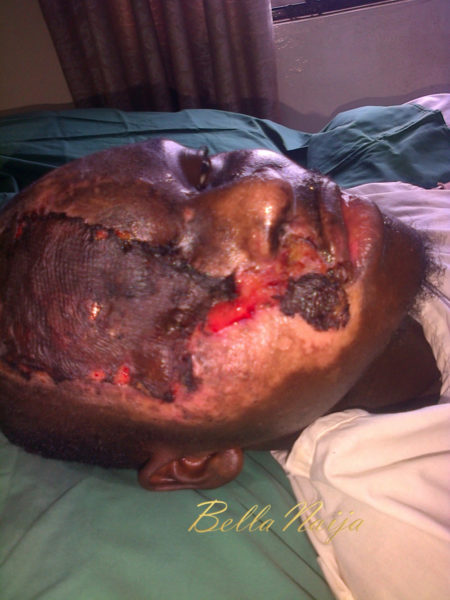 I discovered that I had lost one eye… It was pretty fascinating. I was trying to feel bad and imagined how I'd live with one eye. Then, I cautioned myself and thought: what if I had lost both eyes and didn't die? My family won't get rid of me now… So I raised my chin up and just said "Thank you Jesus"
"I had lost my right eye, some part of my skull bone, about 14 teeth, deep big wound on my left arm, bruises all over my body"
The doctors were very friendly and calm; I didn't want them to come sometimes because of the imagination of the pain I'll go through during dressing of the wounds. I had one favourite of them all "Dr Jac Okere" I remember always telling him to be careful, in a soft tone voice almost 20 times before he's through with one session of dressing alone. So once he's attending to me and I call him "Doctor Jac" – he'll immediately respond saying "I know; CAREFUL right?" ? and I'll respond with a soft smile ? and he'll do likewise.
I remember playing a song from my mum's phone someday dancing at the hospital lobby, even with all the bandages over my body. My room was quite close to the nurse(s) station, one of the nurses couldn't help but join me in dancing and it was a very exciting moment for me.
Hospitals + Surgeries + More Surgeries
I kept receiving treatment in the hospital at Enugu and in just 2 weeks, the bill was about 2.3million naira already, and it kept growing. I was at the hospital in Enugu for over 2 months and we had a total bill of about 5 million naira; having done about 4 surgery i.e- "temporary graft surgery" – a portion of the skin on my head was removed and put on the injured face temporarily, so it will heal a little before being returned back to the head. Later, there was to be a harvest of skin from my thigh to finally graft the injured face, to enhance healing. I know I might be sounding weird, but that was one of the numerous surgeries I went through. The same was done for my left shoulder at the hospital at Krown Hospital in Iyana-Paja, Lagos where I was for about another 3 months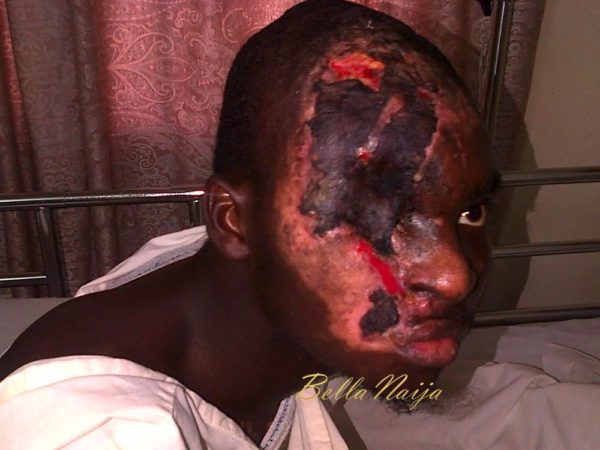 I remember I was taking an antibiotics drug that cost about 15-20,000 naira daily for 15 days and that alone cost about half a million.
I was at home for about 2 months after leaving the hospital in Lagos, but I wasn't feeling very well yet and the face wasn't looking very good still, so I had to seek your go for further treatment.
I traveled to India to for further medical care in January 2013. It was when I got to India, it was discovered that I had a spinal related injury (non union of c1-c2 odontoid) that needed to be attended to, in order to avoid paralysis /stroke.
I spent another 3 months doing series of surgeries. I went into the Operating Theatre about 12-15 times both in Nigeria and in India for various kinds of surgeries – from "skin graft, bone graft, vein graft, ball socket evacuation, reverse flap, 14 permanent artificial dentures , spinal, c1/C2 odontoid fusion surgery, skull bone loss replacement, left arm contracture release surgeries, e.t.c.)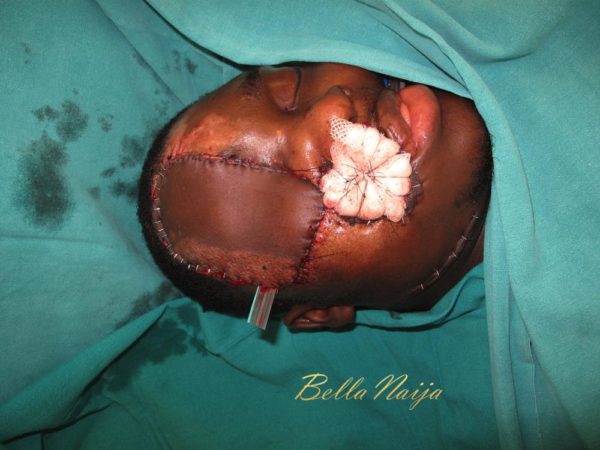 When I went for my follow up treatment in India after the first time in 2013, I was told to come for follow up treatment for at least 5 years continuously, but unfortunately I went just one year after and I couldn't go again due to financial constraints.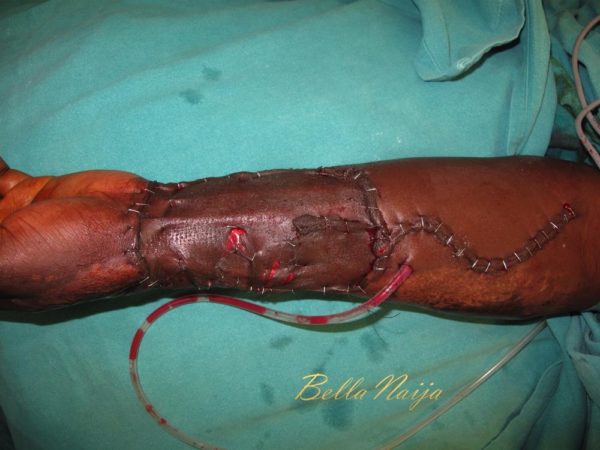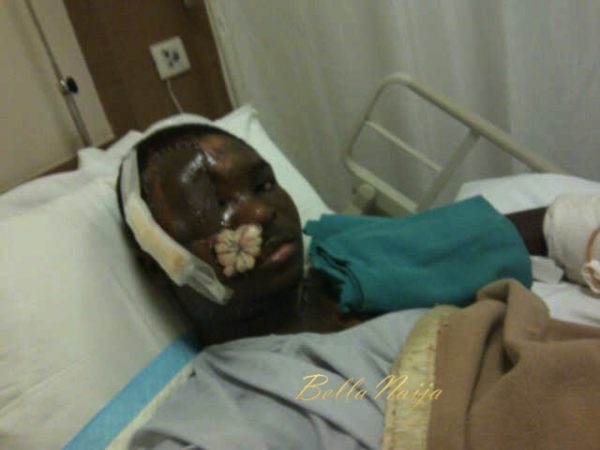 Sometimes I feel awkward in some of the surgery sites, but I just take it off my mind and act like I can't feel anything, and it just goes that way, because I've channeled my mind to the fact that I have to remain strong and sound at all times. But I hope to be able to go for my check up in due time to ascertain a lot of things from the doctor(s) that handled the case. I've not been able to go again due to financial constraints, not forgetting that some of the debts incurred even back then haven't been settled till now, and I can't afford to sponsor my treatments myself yet, but I believe that in due time, very soon, everything will smoothen up.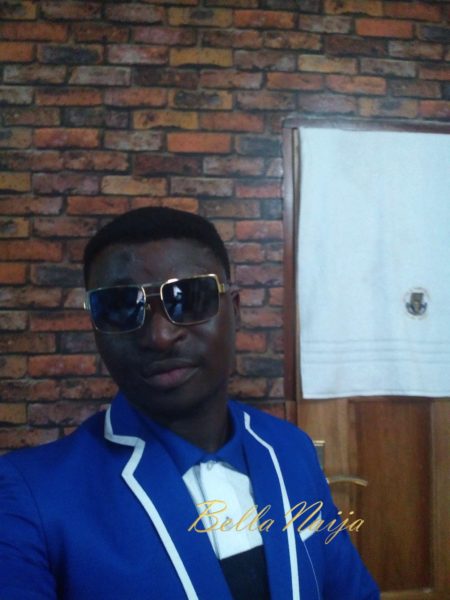 The Weight of Medical Bills
That first Indian trip in 2013 cost $30,000 USD. The total amount of money that we were able to account for was between 15-20million naira throughout the first phase of 9 months of my hospital treatment.
As confirmed from my mum who was with me throughout, NYSC didn't do anything about my hospital bills aside from the initial payment of 750 thousand naira at the Enugu hospital.
At the time I was in the hospital at Enugu, the then state coordinator of the NYSC in Benue State, Mrs. Nnena I. Ukonnu visited the hospital and paid a sum of (1.5 million naira) for treatment which was a split bill between myself and another young man that was on the same bus, who was also transferred alongside myself to the hospital. (750 thousand naira each) and by the time I was there two weeks (as I saw the bills later) I had exhausted a bill of about 2.3million naira. The total bill as at when I was transferred to Lagos, after about 3 months there was 6 million+. Nobody showed up from NYSC again, even when my dad went to Abuja at the national head office. It was all to no avail, so we were left to sort ourselves.
I thank God for kind men. Permit me to mention names:
High Chief Engr. Mike Uzoigwe (The then CEO of PHCN EGBIN electric power business unit) where my dad was and is still working; who was of tremendous assistance as touching offsetting the hospital bills – even when I had to fly to India for further medical attention.
Rtd. Rt. Rev. Dr. Peter Awelewa Adebiyi (The then Lord Bishop of the Diocese of Lagos west "Anglican communion") who insisted I be brought to Lagos for treatment on the Diocesan bill (following the confirmation that I am one of his active youths in a Parish under the diocese by my then VICAR- Venerable & Mrs E.A ALIEU "One family I never can forget")
…and a lot of other people I can't mention particularly, who were instrumental to ensuring the bills got paid.
Finally, my dad and mum; (Mr & Mrs R.K Opaleye) having to deprive themselves and the family of a lot of things and even going extra mile to acquire loans from individuals and cooperatives, to ensure that the bills got paid. It was a really tough one, but God showed himself as God because if not for that. I can imagine where that huge amount of money could have come from. I hope and pray I'll be able to pay back someday soon.
Help in Time of Need
My friends have stayed true and loyal over the years, even in my lowest state in life, therefore I plan to keep them for a lifetime. My lifestyle & relationships before and after the accident hasn't really changed as such, just that a few things are now additional/different.
I understand that people will only identify with you and salute you when you're making progress and probably inspiring them.
I've met a lot of new people that I never probably would have met after the accident ; but u never discarded the old ones except for some that couldn't bring themselves to remaining in my circle of friends.
I've added all of these up and channeled it to building stronger relationships with people and adding to my personal strength as an individual as a result of all I've been through.
I remain grateful to:
God Almighty
My wonderful mother, and her younger sister – Aunty Folusho. My aunty was at our house when the news of the accident got to my family and she came with my mother to Enugu. She was with me throughout the first Phase of 3 months at the hospital, having brought just one skirt and two tops (same as my Mum) not knowing the gravity of the accident.
My ever amazing siblings & family members: Mr & Mrs Oladipo/Oyedoyin Banwo, Adebayo JolaJesu, (uncle & his family)-Oluwafemi, Oluwatoyin, Oluwaseun & Oluwaseyi. Àyànfẹolúwa, Ifeoluwa, Oreofeoluwa & Fiyinfoluwa Banwo.
The entire Opaleye-Falade family in LAGOS.
My church youth (Holy Trinity Anglican Church – Hotting PYC) They surprised me really & The entire members of the church for their support and prayer chain when everything was tough.
Good friends who stayed as brothers & sisters: Awesu, Wilson, Oloyede, Supo, Otiko, Gbolahan, Jide, Kayode, Tioluwanieyi, Fumbi, Adebayo, Tomide,Dolapo – I just had to mention these ones particularly, just in case you might have a reason to put it up.
"The major thing that keeps me going and keeps my spirit high is the love of God for me and the fact that I was able to pull through all that I went through in one piece. It inspires me always and alerts me to always want to be an inspiration to others."
Staying Strong Through it All
The only thing that kept me going was  positivity,  and that's what still keeps me going. I decided to develop a positive attitude to the entire situation. I stay strong;  God gave me the strength to keep a positive spirit.
The only thing that keeps me motivated is that this is the life God has given me, and I'll keep praising God as long as I live, no matter the situation.
I lost an eye as a result of the accident, but it hasn't made me any less of who I am, I am still very agile and strong and also I still look very good.
Though the accident has brought some stigma and when I applied and tried to get a job and went for some interviews, I could see the response from some of the interviewers, but all of that doesn't move me.  I'm still very human and I'm even stronger and healthier than lots of people that do not have visible scars on their bodies.
At some point in time, I stopped applying for any jobs and I decided to face doing business so I can keep up, get a life and pay some of the debts little by little. Since I had been into Events planning and decoration as far back as before I got into the university, I just kept observing, brushing up my ideas and polishing my skills to be better at it, and I've been getting jobs and delivering aptly.
Talents
I have always been a creative person, and so I picked up fashion designing, as I started without learning anything directly under anyone or from anywhere, and I've been able to put up a lot of beautiful stuff with the help of God and hard work.
There's a saying that "What doesn't kill you, makes you stronger" for me that's if you believe it and adopt it to work for you, this was what I did in my own situation.
One major drive for what I do is the fact that God spared my life in that accident. I look at my scars and call them beautiful, because they tell a story of survival, they're proof that I was bruised, but not broken.
I sing, I play the drums, I draw.  I sing in church and I do live band at events.
I'm the creative director for my start-up company (PrestigeBABA DESIGNS) and I design different types of clothing.
I've practically developed myself over the years on them and I hope to be able to acquire more knowledge so I can achieve more on the. I really know that I have good leadership skills/prowess, organizational strength and the ability to coordinate people and things to achieve a set goal. And I've been able to grow more in this aspect, having served in various leadership positions, back in school, in church and even in other organizations.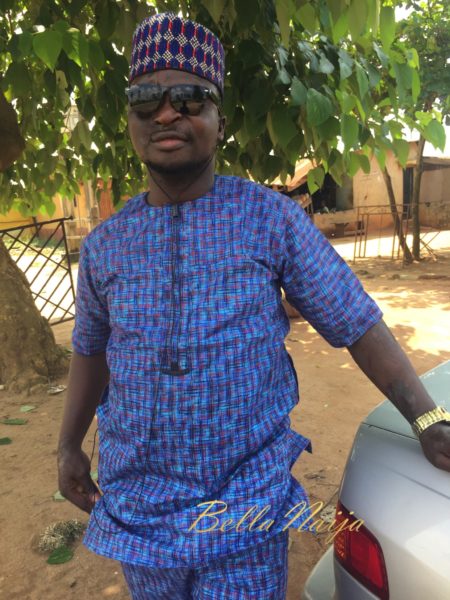 Dreams, Goals & Aspirations
Presently, I live with my parents in Okeletu area of Ikorodu, but I have dreams to have my own business empire that will incorporate my design business – the events management, the clothing & the graphics concepts.
I plan to employ people to work for me and give them a means of livelihood and charging them to be better people.
And finally create an impeccably dynamic brand, that will be a force to reckon with in the industry.
In the next 5 years by the special grace of God, I plan to have acquired more knowledge and skills that will help build my business empire to an enviable height,have things running smoothly, or at least fairly well for me as regards my business. Also, to have a chain of at least 5 permanent staff with my company.
I want to have at least a proper working vehicle for mobility. I plan to get an apartment of my own (at least a two bedroom apartment) where I can at least get married in and stay conveniently and nurture my own family.
I plan to at least have a landed property and start a building foundation within Lagos hopefully.
I plan to have been able to inspire more people to staying positive and believing in themselves regardless of what they might have been through.
To have a net worth of at least 5-10 million naira.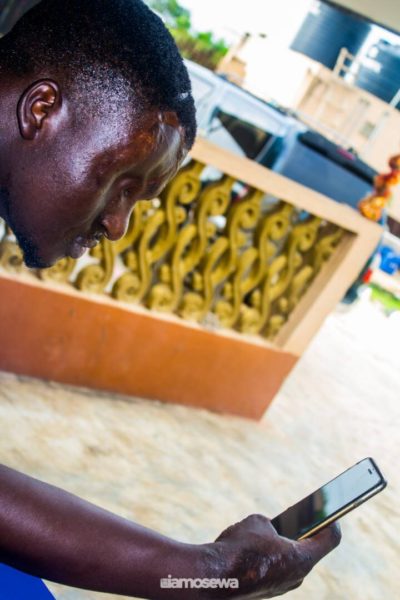 Take Away from this Experience
Life is not a bed of roses.
Life is a mixture of pain and pleasure. (If you decide not to waste your pain, it would eventually be converted to pleasure for you)
People only care about you when they know you can offer them something.
What doesn't kill you makes you stronger, if you decide to pick your strength from the happening.
The most important thing in your life is what you've accepted about life and yourself, and what you've permitted to drive you on a daily basis.
I've adopted this process and it's been working for me. Though I'm not any close to where I want to be, but I'm very positive that the future is bright.
Knowing what you want to do – (Mission)
Accepting you have/need to do it – (foresight)
Understanding how to do it- (depth)
Believing you can do it – (Determination)
Never give excuses,
Learn NEW things,
Keep on doing it…
Make mistakes,
Don't quit,
Identify mistakes,
Re-strategize…
#REPEATprocessAGAIN