If you've ever had a health-related issue in Nigeria, then you will probably understand that it is extremely difficult to fund your treatment and navigate the healthcare system.
In view of this, BellaNaija launched the BN Community Centre. This online platform will feature "calls for help" as submitted to us. This includes information, photos and account numbers.
***
Muyassar Ajoke Olatunji was born to Mr Wasiu Olatunji and Mrs Modinat Okekunle Olatunji in Lagos State in February 2015.
Modinat is 36 years old, and is a petty trader. Her second child, Muyassar  was diagnosed with a hole in her heart and with cataract in her eyes, three months after she was born. Both cases are congenital.
Muyassar's doctors say she requires surgeries for her eyes and her heart respectively, so she can grow well and live a normal life. If she does not have her eyes surgery she could lose her sight.
Both surgeries have been estimated at nine million naira.
Muyassar has to be flown to India or China to have her heart operated on, while her eyes surgery can be performed at the Lagos University Teaching Hospital.
They have been managing her condition with her medications, but can no longer afford to buy her medications which was meant to be temporary, pending the period they can raise funds for her surgeries.
Modinat has exhausted all she has on the health of her baby, with barely any support and assistance from her husband and father of her baby.
The parents cannot afford the cost of her surgeries and decided to call out to well meaning Nigerians and foreigners to come to their aid.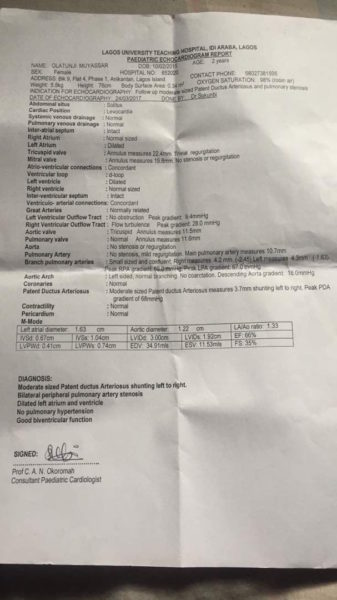 All donations can be sent to…..
Account Name: Okekunle Modinat
Account Number:2046531722
Bank Name:UBA
Please help us save Muyassar Ajoke Olatunji so that she can live a normal life. God bless you all. Thank you.
***
We, at BellaNaija, encourage you to give if you can. However, please ensure you perform independent verification prior to donating any funds.