This Twitter user @mrjasonowilson started an interesting discussion on the social networking platform after he posted a photo of him and his son cleaning the kitchen.
He captioned the photo "For 19 years I've always cleaned the kitchen after my wife cooks. I am training my son to do the same. Marriage is not 50/50 it's 100/100!"
@mrjasonowilson describes himself as a man saving boys through the Cave of Adullam "a Transformational Training Academy engaged in teaching, training and transforming boys into comprehensive men of God."
We love the discourse that followed and particularly because the discussants were civil (we're talking about Twitter here! LOL).
See below:
Some people thought there were other things involved:
Smart man!

Some learnt an important lesson also: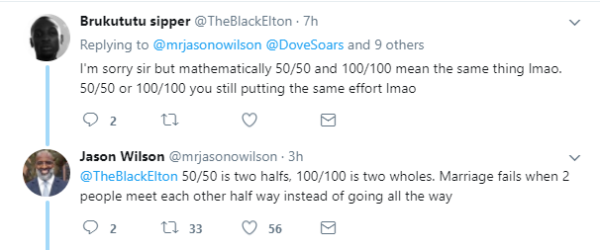 … and  Nigerians came to play!