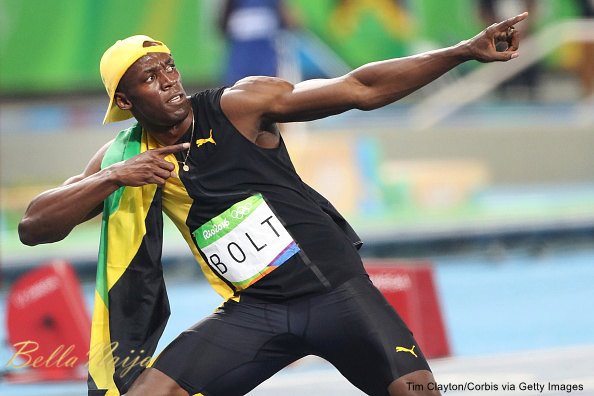 An illustrious career that spanned over 15 years ended in not-so-stellar fashion last Saturday. After coming an unexpected third in what used to be his "birth right" – the 100m race, Usain Bolt had just one more chance to write his name in gold again with the 4 x 100metres race.
The world had tuned in to watch with bated breaths – the man widely considered to be the greatest athlete of all time graced the big stage one last time.
He was the last man to take the baton; as should be, being the fastest of his men. Then, the most heartbreaking thing happened, worse than coming third in his penultimate race. Bolt pulled up with an injury. The anguish on his face said it all, as he held his calf. Just as he felt the pain from the injury, millions around the world felt it too. It was painful to admit, but there was no denying it…the end had come for the superstar. Bolt's reign as the undisputed king of the tracks had come to an end.
I can't think of a more unfair ending to a glittering career. Bolt's inability to finish the final race of his career was a development that couldn't have been scripted by anyone. It was a shame to see big man letting not just himself, but his team down through no fault of his. It certainly doesn't take away from the absolutely sterling career he's had for a decade and a half years. He will always be named among sporting greats; but the fact that an injury had to creep up on him on what should have been an epoch-making event, makes one almost wish he never participated in the competition.
It was almost impossible to imagine a Usain Bolt coming short in a race before now. He was perfect; beat his competitors with ease, and always seemed to be jogging, while his closest rival huffed and puffed to come a distant second. He was an athletes' athlete, the quintessential confident showman and an interviewer's delight. His showmanship was one of the things that made his disastrous outing at the IAAF World Athletic Championships this year all the more painful. The reporters were denied the opportunity to interview Bolt in his usual element. His responses to the questions asked after the 100m race sounded as though it was coming from someone else. It wasn't the Bolt we were used to.
Usian Bolt's journey to stardom, rise to the pinnacle of his career and long dominance of the tracks before his eventual decline is a testament to the finiteness of man. No one and nothing stays the same. These were the thoughts that filled my mind as I watched the once ebullient athlete who could put no foot wrong stumble and fall. It was certain that Bolt would run his last race in this year's competition, but the least his fans all over the world expected was for him to finish with a flourish.
It didn't happen, and beyond feeling sorry that our favourite athlete didn't finish with the sort of bang we anticipated, it should make us reflect on the inevitability that man and his activities and accomplishments are finite.
No beauty queen remains a beauty queen forever. One year down the line, she has to crown another. No boxer, wrestler, racer or tennis champion holds a title indefinitely. In a matter of time, they are beaten by someone who was once considered an underdog. In politics, business or governance, no man is at the helm of affairs forever, sooner or later, they have to step down willingly or forcibly. And even as individuals, we change; we have to. Life is wired in such a way that we can only spend so long in a particular phase, at the appointed time we become redundant if we hesitate to evolve or step down as the case maybe.
The finite nature of man is why it is important to recognise the times and seasons of life and be prepared when time is called out on a particular stage.
Everyone agreed that one major advantage Anthony Joshua had over Wladimir Klitschko during the build up to their April fight was the almost 14-year difference in their ages. Joshua had the advantage of youth, and it played out when he was declared the winner at the end of the fight.
Marilyn Monroe was one of the biggest sex symbols of the 20th century and a famous pop culture icon until her untimely death.
After her, several Hollywood stars and models have been touted as the "sexiest," the "most beautiful" and similar adjectives, with either Kim Kardashian or her little sister, Kylie Jenner appearing to be in line to wear the next "Miss Marilyn Monroe" crown.
Michael Jackson was the "King of Pop" and one of the greatest entertainers that ever lived too – until he died. These days, Chris Brown, Usher or Justin Timberlake are considered his successor (depending on whom one asks).
Bolt exuded a larger than life persona before now. He was unbeatable, the secret of his perennial success undecipherable. However, all that came to an end when he looked a shadow of his usually upbeat personality.
It's the way man is wired. One minute we are the next best thing after fish and chips, the next minute we are…well, just ordinary.
Photo Credit: Getty Images