A Night of Asian Food, Good Conversations & Wine!
Hey BellaNaijarians
Thursday night, Muna and I had dinner at Blowfish Hotel's Indian and Thai restaurant Purple to try out their menu.
Now, before anything, we must clarify: we aren't food critics; we're two people who felt unusually adventurous and decided to try out something new.
With that out of the way…
Purple is 1 of 5 of the Blowfish group's restaurants.
There's Vellvett, with its continental with Lebanese fusion; Mashawis, which serves strictly Lebanese cuisine; La Veranda, Italian; and Izanagi, Japanese.
With us at purple were other foodies with whom there was great conversation, including vlogger Sisi Yemmie, and Chef Daniel.
We were hosted by the lovely, lovely Folake Ekundayo, who ensured we had a good time, and, I think, planned for us to leave with sagging tummies.
She was successful.
We started with the masala papadam, a crispy Indian pancake with a topping of chopped onions and tomatoes fried or roasted.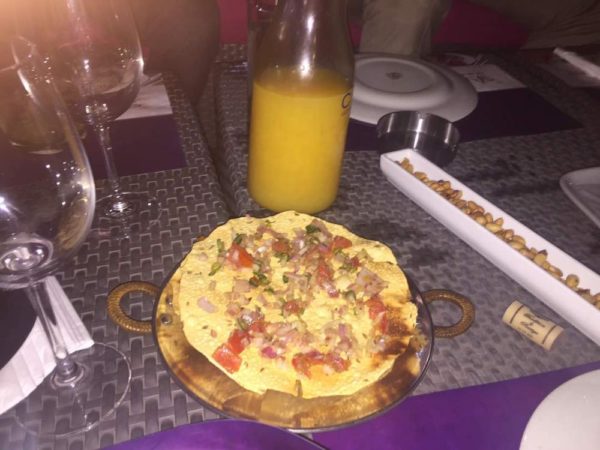 I particularly loved how different the taste was in the throat, to when in the mouth.
Then came the tom yam goong soup, a famous traditional Thai seafood soup with lemongrass, and we were hardly done with that before we welcomed one of my favorite dishes of the night: the som tom veg, a Thai salad with shredded green papaya, combined with tomatoes and drizzled with the chef's sweet and sour dressing. I couldn't get enough, and cleared my plate in a few minutes.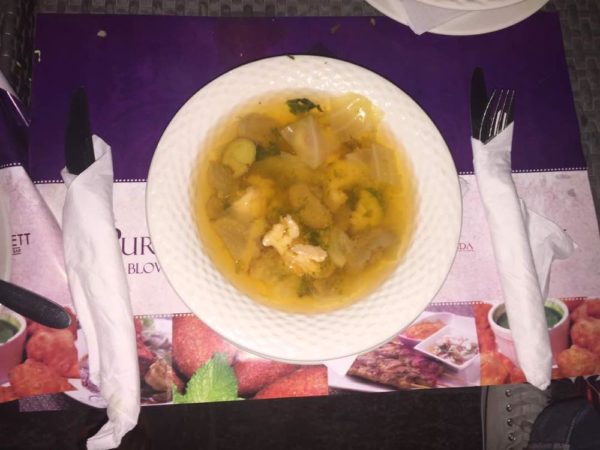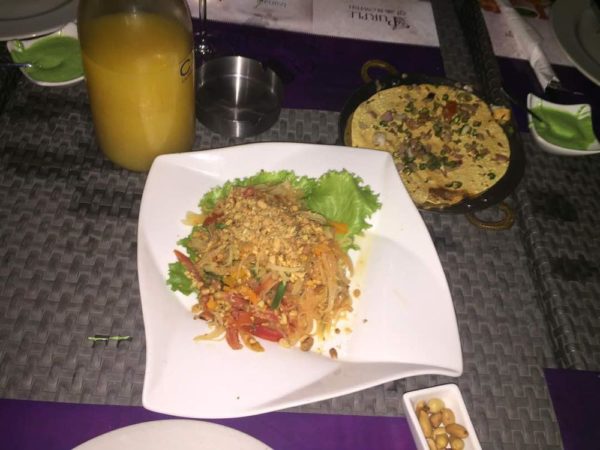 We also had the chicken satay, a thin stripped chicken marinated in coconut milk and barbecued to perfection, served with peanut sauce; the mutton seekh kebab, a tender minced lamb infused with fresh herbs, and a variety of aromatic spices baked on skewers until tender and juicy; and the tandoori fish tikka, which is fish fillet marinated in mixed tandoori spices and masala sauce – another favorite of mine.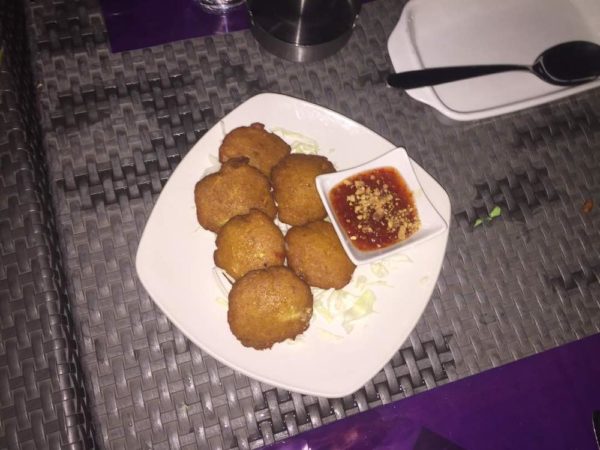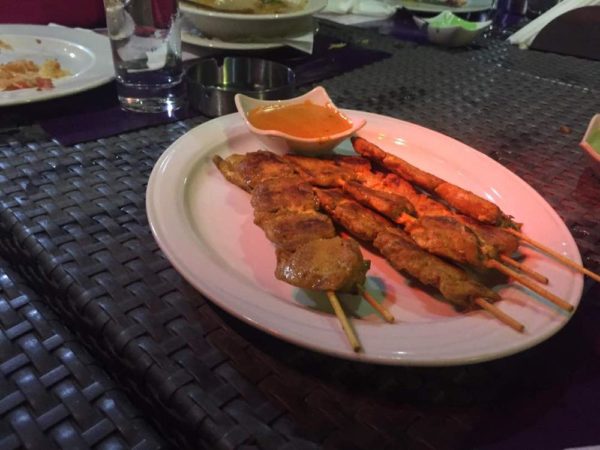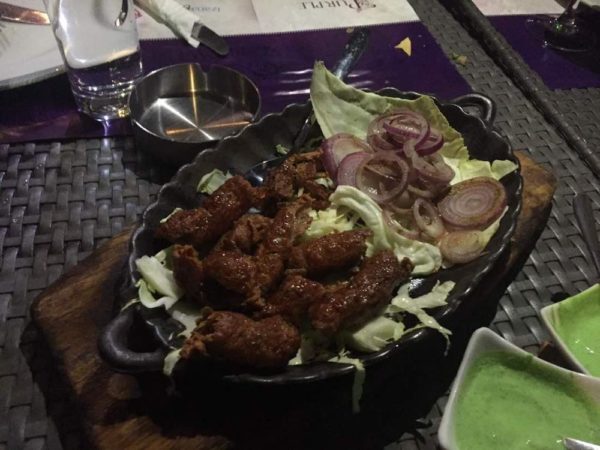 And, guys, all these were just starters.
Through all these, there was the refilling of glasses with the French wines on the menu – Longchamps (white wine), and Montmeyrac (red wine).
For the main course, we had the naan bread – garlic naan, cheese naan, butter naan, and plain naan; the mutton rogan josh, a tender baby lamb curry delicacy of Kashmir; and the murg makhanwala, boneless pieces of chicken cooked (so so good) in butter, coriander, tomatoes, and ginger.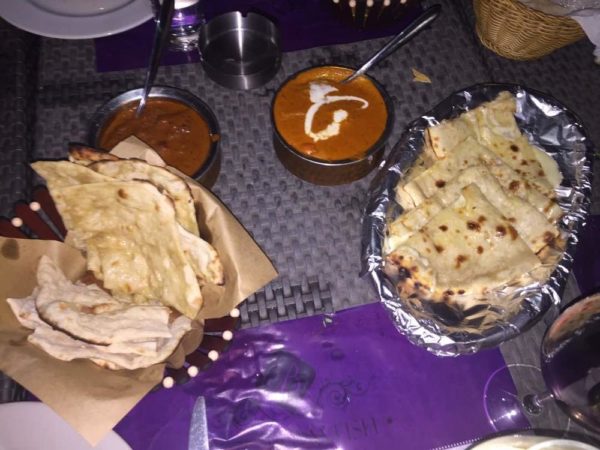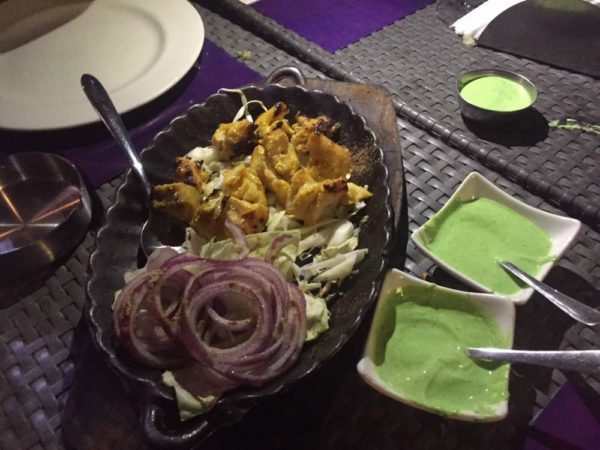 At this point, we honestly were pleading with Folake to let us go. To sit was difficult; how would we walk, drive?
Still, there was the khab ob supparod koong, pineapple backed fried rice served in pineapple shell with cashew nuts; kaeng phed koong prawns, a marvelous coconut milk fiery curry with prawns cooked until tender and succulent; and the pad meeh lueng chicken, which is a delicious stir-fried egg noodle with spring onions & soya sauce – so delicious, in fact, I took an extra helping, despite my stomach's inability to take any more food. It tasted so good!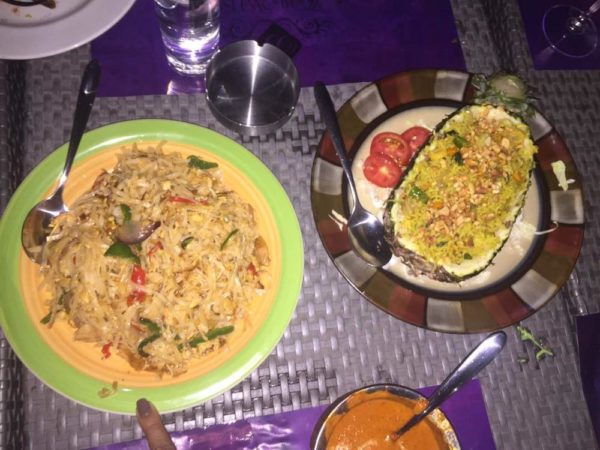 Of course, we were not allowed to leave until we'd had desert, which was a traditional homemade ice cream called kulfi.
After that, we were sent into the wild, our now-fat bodies waddling away, much too tired to lift our feet off the ground.
Muna and I do not often agree on a lot of things, but, surprisingly, our favorite dish of the night was the same – the cheese naan!