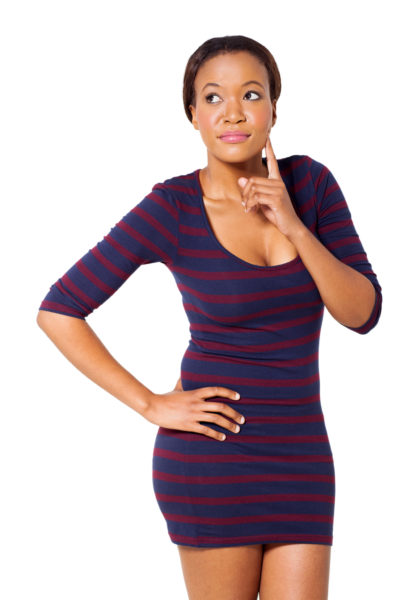 My name is Lauretta. I am a graduate. I earn eighty thousand naira monthly. I work in one of the new generation banks. I love wearing expensive shoes, and also carrying expensive bags; all which my salary cannot buoyantly support. Let me tell you what I do with my salary.
• I pay house rent- a rent of four hundred and fifty thousand naira a year (I live in Abuja and I live in town. Someone like me has no time to live in suburbs. What would people say, especially my high and good friends? No).
• I feed myself
• Pay for my transport to work (I take cabs of course)
• Recharge my big phones
• Buy things I do not need nor want but fits into the list of what I should have to earn social respect and somewhat acceptance.
• …And lots more
I'm fair, elegant and poise. When you see me, you'll think you just saw a billionaire's daughter, or better still, a celebrity. I'm the kind of person a guy would look at twice, and a lady would look at five times, because they feel intimidated or threatened by my presence. To round it up, my fair skin is as fresh as a baby's. I am every man's dream in terms of beauty, especially those who love their women fair, bright and extremely beautiful.
I carry Gucci bags, Michael Kors etc (I mean the original ones); all which my salary could not afford. So how do I live? You're right- I live on credit. I'm too decent to prostitute myself and take money from men to afford my lifestyle. I'm working hard, but my current hard work and the kind of money I desire is not at par so, credit seems to be the only way out.
So why do I do all I do? Just four words. I want to impress. I want to impress all of my friends; both the high ones and the low ones. I want the low ones to be proud of me, and I want to fit into the league of the high ones so I don't get looked down upon; and also so I would fit into their conversations the few times I saw them and we gisted.
Does it matter if my account is always in red and everything I do or buy has to be extra calculated? Maybe no. Does it matter that some days I have nothing to eat in the self-contained apartment I once used my six months' advance salary to beautify? Again no. Does it matter I owe a lot of people so much money so much that I have no idea how to pay back? No. So what matters? The fact that people look up to me; especially my fashion sense, and the fact that I do not feel all left alone in misery and poverty.
**
Why do we struggle for acceptance? So much so that we would go to any length to get it and to prove a point? Come to think of it: who cares about your point anyway? The highest perhaps you'll get is social respect, at the expense of your credit respect (financial respect). Why don't we all live satisfied lives?
Let me tell you a truth: people who love you will love you truly for who you are no matter what you wear or what you do not wear. Why buy false love with deceit? Why do we compare and compete at our own expense, especially knowing what would be at stake? Funny enough, the people you think you are competing with, can afford the lifestyle they live comfortably – so why do you want to be a wannabe?
You really don't have to go all out at your own expense to impress people. People who truly love you will be impressed with the lifestyle you have and the little you have. I love my close friends for who they are regardless of what they wear or do not wear. Their worth to me is never in what they wear, or who they carry; but who they are. Their worth to me is in their character: the integrity and loyalty we've spent years building and spending together. The worth of true friendship is not in competition; it's in stillness and peace knowing that you can be whatever you want to be with them, and you do not have to pretend in any way. The worth of true friendship is in the honesty and truthfulness shared; when you both can open up before one another and feel no shame. You should encourage one another and make each other feel better… knowing fully well that it's just a phase and it will soon pass.
Think about this today; who are your friends and why do you do what you do? Do you want what they have? If yes, to what extent would you go to get it? Besides, the people you have now and you call friends, do they inspire you to be better or competitive? One advice I'll give: stay on your lane and walk on your path. Compare your life to no other, because in the end, nobody really is like you. Nobody has your exact eyes, nose, legs, arms etc. You are simply unique; stop trying to be general, when in actual fact you are special.
Know that everybody is busy living their own lives, busy fighting their own battles such that they have no time to recognize the point you're trying to make that is sinking you. If you would prove a point, I'd rather it be an intellectual one – one that'll bring you joy, fulfilment and contentment; not one that makes your account red perpetually for no tangible reason.
I want to challenge you to look into your heart for your intentions for everything you do, and work on yourself as much and hard as you need to be so you can be better; your life can truly be an inspiration to people in every sense of it.
Till I come your way again, much love. Do enjoy the rest of your day.
Photo Credit: Hongqi Zhang (aka Michael Zhang) | Dreamstime