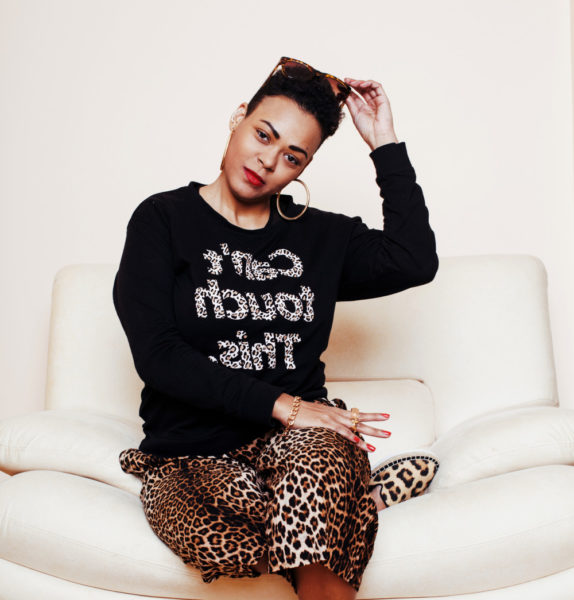 We are humans and the unique thing about us is we come in different shapes and sizes. Some have large round eyeball sthat would allow them to see the future if properly exploited; others have small beady eyes. Some are endowed with robust behinds, while others just a have extended backs that split into legs; And of course some have Barbie doll thighs with the gap in between. Finally, some of us have thick, beefy thighs a.k.a thunder thighs [who even came up with this hideous label? Couldn't they have come up with something cuter?]
When you hear "thick thighs" you imagine a woman, but truth be told, girls of all ages (and even men) deal with the struggle of thunder thighs. And although it can be a beautiful thing, big thighs can be incredibly frustrating and just inconvenient.
Some days, you look in the mirror and think, "Damn, I look good. I look like a tasty snack." Other times? Not so much; you are bogged down with so many struggles that come from being a thick-thighed angel.
If you have ever hated or even scolded your thighs because of its humongous and "inappropriate" size, chances are you can relate to these:
Chaffing a.k.a the "Chub rub"
Probably the worst thing about having thick thighs is the fact that they rub against each other when you walk, and there is really nothing much you can do about it. You see people with thigh gaps and you realize that you will never know what if it feels like to not have your thighs rub against each other.
Actually, this rubbing together of your thighs wouldn't be much of a problem if it didn't cause major chaffing -serious rashes between the thighs or just painful welts. The chaffing also causes major pain, as it constantly burns. You literally have to walk like someone with a hernia to avoid the pain.
There is also the fact that your inner thighs now get darker in color after so much friction over the years and you put off the lights before you let anyone near your thighs.
You have to deal with a lot of sweat
The thick thighs maybe curvy and luscious but 8 out of 10 times, the space between them when they are not gummed together, usually is sleek with sweat. Ok, maybe it is not that bad, but really, between those thick thighs is an entire pool of sweat-filled fun, especially when the weather is warm. You literally have to spread your legs out under a fan to air it out sometimes. And when you take a bath, you don't care that your friends give you the weird look, you go on to gloriously spray on some deodorant between your thighs, because you alone know your struggle. Also, you don't want to be that person with an inner thigh that stinks up the room every time they spread their legs.
Stretch Marks and Cellulite
Although it is not a rule that big thighs must come with stretch marks and cellulite, they almost always go hand-in-hand. You not only have tiny dimples all over your thighs, you also have lines all over them that make you feel like you may have been a Zebra in your past life. While the media has a way of making you feel these stretch marks and cellulite are disgusting, you have to stop feeling insecure about them. They are just normal, most humans have them and it doesn't make you any less attractive or awesome.
You're twice the woman your friends are…literally
You feel super awkward when you sit next to your friends because you keep getting distracted by the fact that one of your thighs equals two of theirs. Like, their legs look like nicely shaped corn dogs, but yours are like smoked turkey legs. You wouldn't be bothered about it too, but it is so obvious and the men across the room are staring at your thighs like you are some kind of object. …or are they?
Shopping for bottoms is harder than getting UK Visa
You hate shopping for bottoms because it is so rare to find a pair that fits. Also, you have to go into the store because you can't risk buying it online. You already know the fitting is a dicey affair, and you don't want to waste time and money. Unless it is custom made, they're either way too big in the waist or way too small in the legs. To find the one that is form fitting is just tug of war. The few that look like they might fit don't go up all the way, so you are left with a stroppy space and piece of the pants between your thighs that eventually hurt. And when you do find the one that fits, it is usually in some bright colour that makes your thighs look even larger than usual.
Constantly pulling up your bottoms
You finally found the right size of bottoms, but you still cannot have peace. They remain in a perpetual state of sliding down and you have to keep pulling them up with each step you take. Even if you wear a belt, it doesn't help much. Worse is when you are wearing shorts. The shorts keep riding up whether you are walking or sitting; unlike with trousers where you just easily pull them back up, it is usually difficult to pull the end curls of the short back down. You cannot pull it off without being really obvious about it and that can be embarrassing.
You can never comfortable fit your legs underneath a table
It's not like you are obese or anything, but you cannot just smoothly glide under a table. You either have to adjust your chair or sit with your legs out from under it. If you have to squeeze between two tables to sit at the booth, chances are you will knock over somebody's glass of water or something. You cannot even try crossing your legs under the table either. In fact, even if your legs are not under a table, crossing of the legs as a chore is a chore. It is a feat of agility that may not even be worth the aftermath, as the sitting position will make your thigh look even bigger…and not in a flattering way.
Do you relate to any of the following struggles? The struggles are quite a lot, but on the bright side, there are some joys to having thunder thighs. For instance: you can strangle or suffocate your enemy by trapping their head between your thighs. But on a serious note though, big eyes have been a thing, big butts have been a thing as well…when will big thighs have their own moment?
Photo Credit: Yunuli123 | Dreamstime