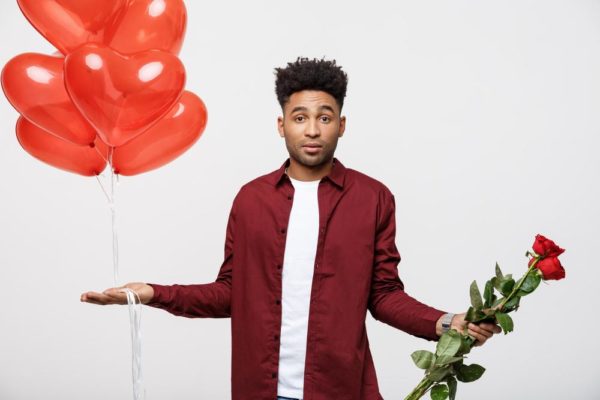 It is the evening of Valentine's 2010. I am on an okada bolting towards UNILAG gate, my unbuttoned black jacket flapping behind me at 45 miles per hour. I check the time. 6pm. Even though I cannot see the UNILAG gate, I crane my neck, hoping Jide will be there with the extra cash I need. I have just left my date at the Ozone Cinemas with our movie tickets in her hands and no popcorn. Shet! Our first real date and I just ruined it. I say a prayer for my bleeding approval ratings, willing the bike more speed, towards UNILAG, towards Jide… towards redemption. Maybe I should have listened to my friends and kept things simple. Maybe then I would have truly impressed her…
"Buy her the best box of chocolates," they said. "Girls love fine Swiss chocolate and a white teddy bear."
But Stephanie, my Stephanie, is no ordinary girl. She would probably mock the chocolates before doling them out to her sisters. Experiences. She loves experiences. That is her thing. Our thing.
So, I aimed for movies at the Ozone Cinemas in Sabo, Yaba. Other recommendations like fine-dining and clubbing were well beyond my 2500-naira budget. Cab fares alone would drain my wallet. Movie tickets are one-thousand naira apiece and, after joining the Campus Shuttle from UNILAG to Yaba, we would still have change for popcorn.
"Oya l'Ozone", I thought to myself.
Stephanie looked radiant when I picked her up for our date with nothing but the crook of my arm and the promise of a fun night. She was not extra made-up or anything. She had curly expression weaves on. She even wore her normal class clothes; that fine blue top with frills on the front combined with dark blue jeans. I had done extra-extra to dress like a proper gentleman. Or at least I thought I had. I wore my best shirt, the off-white St. Michaels under a black smokers jacket I had picked up from Yaba market. I had carved my punk at Femi's barbing salon in Eni Njoku Hall just hours earlier, trimming my date budget by 100 naira. To me, 2400 naira was still a lot of money. It should get us through. My shoes, high on kiwi polish, approved with a smile. My friends said I looked good before they let me out of the hostel. Stephanie agreed and off we went on the bus.
We arrived 20 minutes early for the next screening of the movie, the title of which I do not remember! So, we bought our tickets. I found the stubs surprisingly small for a one-thousand-naira experience; receipts at the UNILAG bookshop for 50-naira purchases were twice as big. Still, I hoped their popcorn would fill me up. Stephanie loooooved it, though I could not but wonder what the fuss was with common guguru. She smiled and clutched my hand like she was my mother on my first day of school. "You-caaaan't-understand," her face seemed to be telling me.
After walking around the E-centre complex for about fifteen minutes, we were back at the confection stand. I leaned on the counter, grinning shamelessly.
"That would be 800 naira", the attendant said with a smile.
Wait! What? 800 naira? 400 apiece for guguru and coke? Jeeeeeesooors! My smile slowly straightened as I patted my pocket for my wallet, thanking God every word since "Wait!" had played only in my mind.
"Cash or Card?" he asked, pointing at the POS unit with his lips.
"Card!" I blurted, like I was taking a polygraph. "Of course, card", I thought.
That was my only way out of this. All my cards were running on fumes of course. I knew what was coming; I just needed to buy some time. While he fumbled with his POS unit, I shot a quick text to Jide, keeping my side-eye on Stephanie to monitor her demeanor. She was calm as a ladybird.
"Brother! Help!! Money don finish!!!"
I could picture Jide laughing on the other end as he scrambled to save my life.
"Declined!" said the attendant.
"Huh?" I managed as I jerked my head towards the POS unit, pulling my best surprise face. Stephanie's calm implied she did not read through all that was going on.
For how long could I hide the guilt rising from under my skin to my face? On the one hand, I did not want to disappoint on the perfect cinema experience I had promised. I knew that popcorn was as crucial to perfecting that experience as I was. On the other hand, I wanted to spare her the feeling that making this happen required any sacrifices on my part. To me, it did not. Still, there was disappointment on either side of the tightrope I was walking through the parting of the popcorn sea.
"Steph… My card was declined. I need to run to the ATM after we find our seats. I will be back before the previews end."
"Oh… You can use my…." she started
"Thanks Steph," I cut her off, smiling. "This is our first date. It's on me. Besides, I think the POS has network issues." I stared the attendant into agreement. My guy… Abeg understand.
Stephanie smiled as I walked her into the dark screening room. I don't know why, but she looked impressed, her nostrils flared and wonder in her eyes. I noted our seat and made for the exit. Soon as I broke back into the light, I sprinted for the stairs, hoping the attendant did not see me.
Down three floors, out the glass doors, I picked from the swarm of okada riders by the gate and flew towards UNILAG. At 45 miles per hour, I negotiated a round trip for 150 naira.
Jide is waiting by the gate when I get there. "That was fast!"
He hands me the money quickly and pats me on the back. I am 4 inches taller, yet his pats always feel like those of my father. I hop back on the bike, my bike, to resume my pursuit of popcorn.
When I make it back to the attendant, he smiles . I am unsure if this is because I ticked a box in his sales target or because he can genuinely relate with my struggle. With two medium buckets of popcorn, a bottle of Coke and another of Sprite, I break into Screening Room 3.
Facing the narrow space between the seated moviegoers and the seats in front of them, I make my way to her.
Stephanie looks up and beckons me over with a smile. I feel like a champ as I shuffle in front of angry moviegoers. Nothing can bring me down.
As I sag into the seat beside Steph, I let out a huge sigh. She turns to me, squeezes my hand and says, "Thank you, Michael."
As I start to close my eyes to savor the moment, she adds, "Was Jide on time?"
My eyes pop back open and I laugh out loud, drawing a thousand eyes away from the screen to myself.
Whaaat?!!!!
Photo Credit: © Benzoix | Dreamstime.com