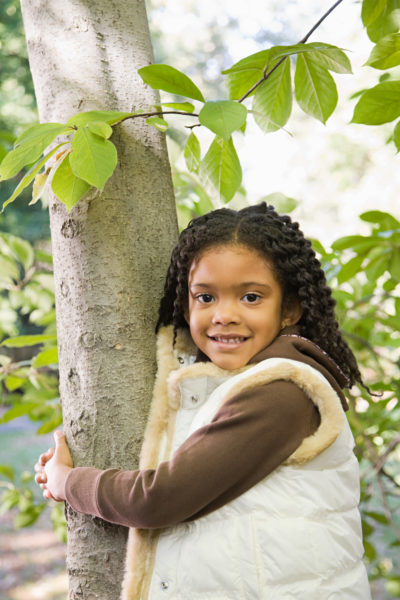 I was born into a family of 5 children – I have 3 sisters and a brother. As the youngest child, I got away with almost anything. My father was an Air Force officer and my mother was a businesswoman. Everyone said I looked and behaved like my mum. I was her carbon copy.
My mother was the bond that held all of us together. She was an integral part of my dad's life and life seemed pretty fair to us all. But everything changed the year I turned 10. It was the year my mum passed away. She was suspected to have been poisoned. Nothing prepared my siblings and I for what lay ahead of us, as in a flash, our lives changed. My memory of my mother is limited, since I was really young when she died.  I truly felt her presence as a loving mother. She was a mother in every sense of the word.
The death of my mum affected me so much that I didn't do well in my secondary school entrance examination and interview. The year my mum died was also the year my dad retired from the Air Force. In the absence of a mother figure, my dad sought the support of his sister, who never liked my mum.  She turned my dad's mind against my siblings and I.
I was admitted into Nigerian Air Force Secondary school. Throughout my years as a teenager in secondary school, I struggled with an identity crisis from the demise of my mum. I was lost and it seemed I craved relationships. I felt something was missing from my life,  but I couldn't place what it was. My siblings and I could not help each other because we all had the same struggle. I didn't know who I was and I had built a wall around me, making it difficult for people to know the real me. What did it matter when I didn't even know who I was?
On one of my birthdays, a friend wrote me in a card and said, 'Bimpe you are too secretive' and asked that I open up a little. Reading her words made me afraid. I was going through so much and was in search of something deeper that I could not quite place a finger on. I sought love in relationships that were not good for me, in friendships that yielded nothing valuable. I started to party and live my life as though there was no greater calling.
Before my mum passed, she did not have a good relationship with her in-laws. They didn't like her and there were several attempts by my dad's sister to match-make him with other women. She would even make promises to women on his behalf but somehow. My dad shielded us from a lot. He also never remarried. Maybe that was his way of keeping my mum's memory alive.
For my siblings and I, growing up without a mother was tough especially for the girls, but my dad tried to be a mother and father at the same time. We had good times; he cooked very well and taught us a couple of things. He was also very strict on us too, maybe because we had no mother.
The turning point for me was in 2001, when I joined a teenage church and met teenagers that were totally different from the ones I was used to.  I enjoyed being around them, and in 2003 I gave my life to Christ. I began to know who I was, what my talents and abilities are, I also began to experience peace and it seemed like life was getting more interesting for me. I loved the Lord with all my heart and nothing else mattered to me. I became a whole new person. I also joined a fellowship YDI-Young Disciples International, and began to meet new people who lived life purposefully.  I, also, decided to cut off from people who weren't adding any value to my life and made new friends whom have now become family.
Everyone around me could see that something had changed about me, even my family could see the difference. I began to evangelise to them and invite them to come attend church seminars with me. At this time, I came across motivational speakers like Fela Durotoye, Niyi Adesanya and the likes, who had a huge impact on my life.
I began to read books and seek for knowledge that helped me to build my confidence and transform my mindset. Things were changing in my family too. Our lives began to improve and it felt like we had finally moved on from my mum's death. I remember December of that year was unforgettable, we had so much fun. There was so much joy and laughter. This was the first in many years we were truly happy and nothing prepared us for what was coming.
I had attempted to gain admission into the university on two occasions to study the wrong courses. I first got in to study Pharmacy at OAU and then Microbiology at LASU, but it didn't take time for me to realise that wasn't what I was cut out for. I eventually gained admission into the University of Lagos through a diploma program and afterward proceeded to study Industrial Relations and Personnel Management.
In December 2005, my dad had just returned from Ogun State. He was resting from his journey when suddenly, he developed a heart attack. My older sisters rushed him to the hospital. My immediate older sister and I had just returned from Redemption camp for Holy Ghost congress and  Shiloh at Winners Chapel in Otta. We both began to pray with all the strength that was left in us. We could not afford to lose my dad; he was all we had. I was the one encouraging my sister to be strong in faith, that daddy was not going to die.
Later that day, however,  after when my older sisters arrived, we found out that my dad had passed even before they got to the hospital. With all the anger in me, I shouted, "daddy will not die. That's not the covenant I have with God!"  While my sister and I were praying, I felt assured that my dad was going to survive the heart attack. My sisters felt hopeless, why would God allow such to happen to us? why is it that evil persists even when God is watching? There were so many other questions: how were we going to live through this? Hadn't we been through enough already?
My dad had also been poisoned, the same cause of my mum's death exactly 9 years before. I was just 19 years.  Losing my mum was hard, but this seemed harder. Somehow, I heard God say to me, 'for where I am taking you to, this is your journey".
We lost everything to my dad's sister, whether it was through legal or fetish means, I really can't say. My siblings and I were forced to move to a rented apartment. At that time, my eldest sister had finished university and was going for NYSC. My brother at this time had moved to the U.S and was able to also support the family. But in all, God was faithful and my siblings and I never lacked anything. I also found support in my friends and their families who were always there for me.
One day, my eldest sister said to me: "Bimpe, you will never have to think about the fact that you no longer have a father."  True to her words I had everything I needed to get me through school. Who I was in the University was a long way from who I was in secondary school. I had become a more confident person, although I still shielded myself from people. In my own little way, I began to encourage people. Joining fellowships in school also helped me grow spiritually. I started up some businesses while studying to support myself and improve my skills. Whenever people heard that I had lost my parents, they were surprised to see how strong I was and how I was doing well for myself.
I wonder most times, how will my life have turned out if my parents were alive, what will be the climax of my story? Nonetheless, in everything I have learned to be grateful to God for taking me through the fire and bringing me out to show forth his glory. In all, I can boldly say my siblings and I overcame every challenge thrown at us. I am grateful for when I met Christ and all the people he had strategically placed in my life.
In the year 2010, I proceeded to do my masters in International business and human resources management at De Mont Fort University, Leicester, United Kingdom.
I got married to my longtime friend, who God used to be my support and encouragement during the dark phase of my life. I am a mother of 2 amazing children whom I'm so proud of, aged 4 and 2 and I live with my family in Leicester, United Kingdom. I have been able to explore my talents and gifting. I am an interior/ event decor and planner here in the UK, I am a property investor, I run an online store called Babies and Mums. I also work a 9-2pm at British Gas as a credit consultant and more importantly. Even more, I am a life coach vested in working young people in the process of living purposefully.
For teenagers who may be reading this, do not get caught up in the web of wanting to 'belong' to certain relationships that do not add value to you. Explore your talents and abilities and work towards being the best version of yourself. I got a second chance at life, but not many will be lucky to. Do not settle for anything less than God's best for you.
The reason I'm sharing my story is to encourage as many people that are going through what I went through. Who feel hopeless and feel there is no end to their pain. If I could overcome it, then you most definitely can. Let my experience in life be your guide, your solace, and your encouragement.
***
I am honored to have documented bits and parts of Bimpe's story and I hope this story inspires someone.
Photo Credit: Dreamstime