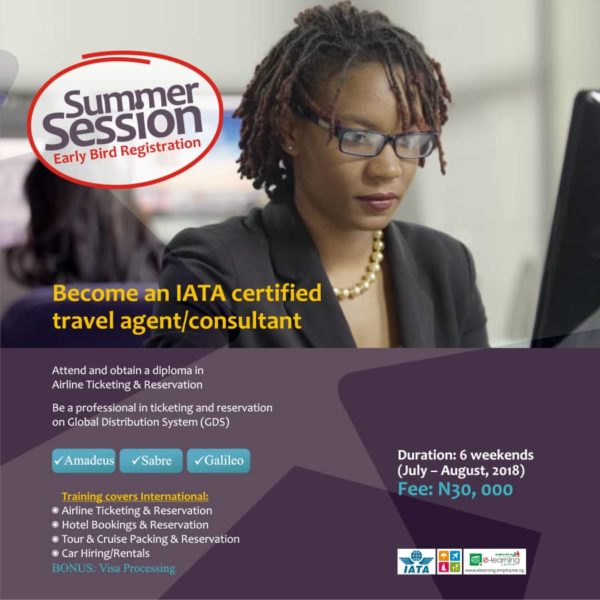 If you missed the spring edition of the IATA standard course; Air Reservation and Ticketing (ART) then make plans to attend the summer 2018 edition. The summer session is scheduled for six (6) weekends in all with a calendar trail of seven (7) weekends starting Saturday, July 28  to Saturday, September 1st. This program is open to persons interested in the growing world of travel and tourism industry in key three options:
Become a trained ticketing and reservation officer – with career opportunities in Airline, travel agencies and tour operators as a ticketing officer.
Become a certified travel consultant – open to working as an independent travel consultant working from home organizing tours, travel packages, holidays and making air, hotels, visa and tour bookings etc.
Become a recognized travel agent – set up own travel agency and join the growing list of travel agents offering all travel related businesses.
If you meet any of the above criteria, then avail yourself of this opportunity this summer. This edition sees more improve features from the spring edition, new features include;
Seven (7) weeks in total as against five (5) weeks at the spring edition.
Social prefect on instagblog session on Tour Packaging.
More practical session with login pins for participants on the GDS.
Opportunity to join National Association of Nigerian Travel Agents (NANTA).
The weekends-only programme will expound participants to all IATA global distribution systems of Amadeus, Galileo and Sabre.The Training Module Will Cover:
Airfares reservation & ticketing.
Visa Processing.
International Hotel Booking & Reservation.
Tours & Cruise Booking & Reservation.
International Car Hiring &Rentals.
Travel Insurance.
The event is jointly organized by EmployMe Nigeria and Tender Olives Ltd with Eduwhere aviation Dubai, UAE as the training and certification partner. Over 11 IATA licensed travel agencies will recruit participants from the programme as interns, full and part-time employees. Participants looking to work independently (work from home) will be linked to IATA agencies as sub-agents.
Course fee: $90 (ninety US dollars) or N30, 000 (thirty thousand naira).
Click here to PAY ONLINE
Read full details here.
To participate, contact:
EmployMe Nigeria
Lagos E- Learning Centre
01-2932996 | whatsapp – 0708 555 6666
Email: [email protected] | web: www.elearning.employme.ng
Eduwhere Aviation UAE
Whatsapp – +971 52 594 4074
www.eduwhere.com
Follow the program online on Twitter, Instagram and Facebook.
—————————————————————————————————————————————Sponsored Content