If you've ever had a health-related issue in Nigeria, then you will probably understand that it is extremely difficult to fund your treatment and navigate the healthcare system.
In view of this, BellaNaija launched the BN Community Centre. This online platform will feature calls for help as submitted to us.
This includes information, photos and account numbers.
**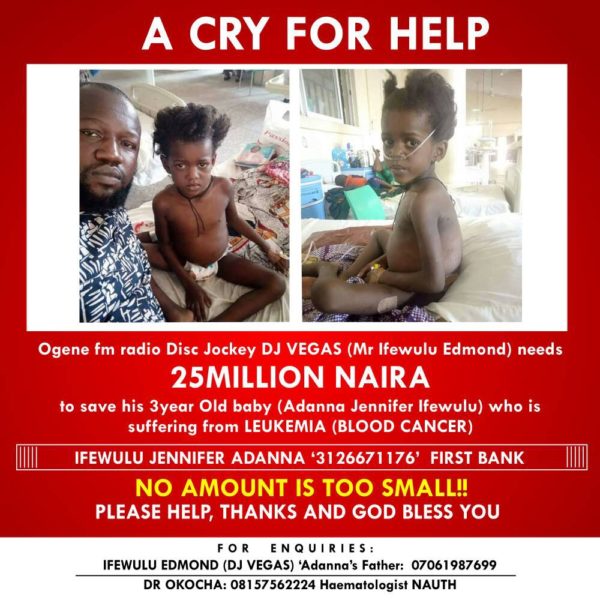 Little Adanna is only 3 years old, and she recently was diagnosed with leukaemia.
Her father, a DJ (DJ Vegas, @djvegas01 on Instagram and Twitter) with Ogene Radio in Awka, is burdened with the task of raising ₦25 million, which is Adanna's cost of treatment. He can't afford it on his own. They hope that with the help of well-meaning Nigerians, the money will be raised through crowdfunding.
Presently, little Adanna is on admission at the Pediatric ward of the Nnamdi Azikiwe University Teaching Hospital Awka. Her parents hope to move her to South Africa where she can receive treatment.
You can reach her father, Edmond Ifewulu (DJ Vegas) on ‭07061987699‬, and her mother, Chiamaka Ifewulu on ‭08036489570‬ and on Instagram @pamvillbeautybridalfashionceo.
They have attached two doctors' report from a doctor in Nigeria and another South Africa where she is to be treated to support their plea. Help them #SaveAdanna, help her get the treatment she needs.
Donations can be made through First Bank account 3126671176 Ifewulu Jennifer Adanna or through their GoFundMe. You can also follow the hashtag on Instagram #SaveAdanna. They believe that God through you will help them save little Adanna and help her get the treatment she needs.
This is the rest of the document we have. Please note that all communication with the hospital for her treatment has been through email. Also, the family is moving her to india as the South African hospital they were first referred to have been slow to respond. Adanna is At Nnamdi Azikiwe University Teaching Hospital Nnewi. You can call the hospital and confirm her case file which is stated in the first email sent.
Looking forward to a favorable feedback.

***
We, at BellaNaija, encourage you to give if you can. However, please ensure you perform independent verification prior to donating any funds.