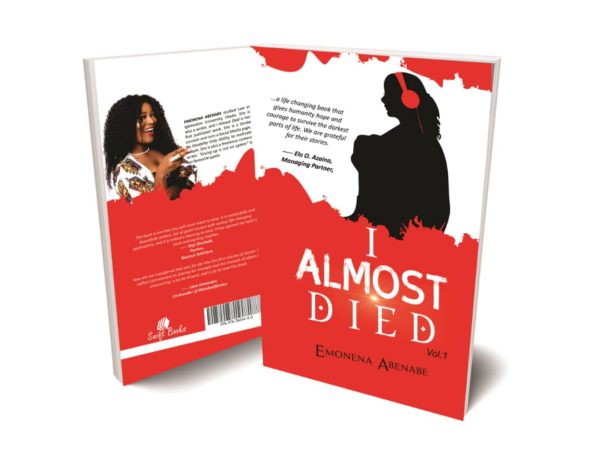 Let's talk about my bad days. Don't you think I sometimes cried during my recovery? I cried. I couldn't understand why I had stroke. I cried after my friends left my Uncle's place. They couldn't understand what I was saying because of the aphasia that came with the stroke. I didn't cry because I was depressed. No. Actually, depression did not stay with me for one day. But, I cried to relieve myself because I knew I was going to come out of it one day.
In 2017, around September, I found out that my mum was down with chronic kidney disease. "I'm still struggling with my recovery and now this," I called my friend-turned family and cried to her. I didn't know why all those things were happening. It's like when they people say bad things happen to good people. I may have understood why stroke attacked me, but this really made a statement. I'm the only child of my mother and my dad is late.
The struggle to be happy or sad began with my mum's chronic kidney diseases. Sometimes, she would call me, or someone would call me to come home because she thought she was dying, but it never happened. There was a time water gathered somewhere on her right leg after she had an injury. We took her to the hospital, and the doctor said the injury was infected, and they cut off a huge chunk of her leg. I came to the hospital, and when I saw the picture of how her leg was cut, I almost cried. The next day, while the doctor was attending to her wound, I took a picture of the infected leg. I was seeing life in reality, no longer in pictures. Another money problem, coupled with her dialysis issue (the medical process of removing some of a person's blood, cleaning it, and then returning it to the person's body). I always wondered why my blood pressure didn't get high during those times. It was painful, knowing I couldn't take away her pain. Sometimes we didn't have money for her dialysis, and when she was in so much pain, she cried, asking for death. Sometimes, I would cry to God, especially when we didn't have money for her dialysis, but I thought about it this way, "Crying will not solve the problem, neither worrying, nor fear. These three things are just agents of sadness, and if I dwell in them for long, they overcome everything. It might even lead to early death and what will happen to my mum?" I remembered what the Bible says about sad situations in Romans 8:28 "And we know that all things work together for good to them that love God, to them who are called according to his purpose."
I decided to stop crying. I prayed for the money for her dialysis and somehow, God always answered. My mum would always say that she would not die and that the terminal illness would not take her life. She is the number one person in my life, and I'm so happy that she is proud of me. She says it to me and to people around her.
REE.
Before the attack, I was a normal 17-year-old kid. I was always worrying about things like school, exams and how to impress boys. When I think back to my time in the hospital, having my neurologist walk in to tell me and my parents that I suffered a clot on the right side of my brain was surreal. My parents looked shocked and in despair, knowing that our lives would never be the same anymore. Their faces are forever stuck in my mind; the faces of two helpless parents who couldn't do anything.
KYLE
Before the attack, he said, "I was playing all-star baseball at a beach away from my parents. That year of throwing my first no-hitter, scoring a triple-double in basketball, having my first kiss. My life at 11 years old was good." A few days to the attack, he was having unusual headaches. He began to worry and sensed that everything was not right with him. Every evening, he would call home from a payphone when they were camping at the beach and yet he was having a blast with his friends like every other normal kid. On July 16, 1997, he was in the shower at the campsite, still wearing his bathing suit. He was laughing one minute and the other minute, he felt like a knife was stabbing him in the head. His friends and a really tall man, carried him in front of their campsite. People all around him kept asking for his name and he couldn't reply. He was saying gibberish and passed out. He also said, "Before I passed out, I heard a sweet lady's voice saying, "It's ok. It's ok. Just go to sleep."
***
Ena is a 26 year old writer who studied Law at Igbinedion University Okada. "I Almost Died" is her first published work. Ena is a stroke survivor whose mom passed away in November 2018.  She can be reached on Instagram and Twitter via the handles @kingena_ybg @nodisabilityonlyability where she seeks to inspire people. You can buy a copy of I Almost Died HERE on Okadabooks.