The Nana Khadija Centre Formally Launches in Sokoto State to Support Survivors of Gender-Based Violence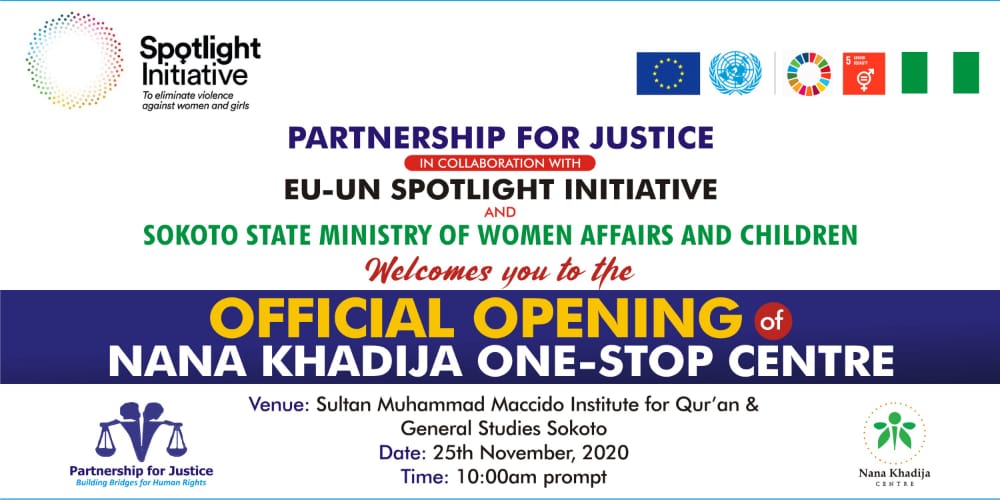 Nana Khadija Centre, the first one-stop centre for survivors of gender-based violence in Northwest Nigeria, formally launches in Sokoto State this Wednesday, the 25th of November 2020.
Funded by the EU-UN Spotlight Initiative and implemented by Partnership for Justice, the Nana Khadija Centre was set up to provide medical, psychosocial, and legal support to survivors of gender-based violence in Sokoto State and its environs.
Speaking on the launch, Itoro Eze-Anaba, the founder of the Nana Khadija Centre said, "Survivors of gender-based violence are often left to deal with the trauma that these experiences can elicit, especially in states around the country where there is no centre to provide survivors with the support they need. While we're launching formally this Wednesday, the Nana Khadija Centre has been operating since March, right at the beginning of the COVID-19 pandemic. We wanted to make sure that survivors in Sokoto State knew that they were not alone during that time and after."
In addition to providing holistic services to survivors, the centre also organizes capacity building training for personnel across the reporting chain.
At this time, the Nana Khadija Centre has provided medical care, psychosocial and legal support to over 200 survivors of gender-based violence.