By Louisa Olubukola Kinoshi
Her hips switch as the DJ cranks the base, Kemi walks slowly yet gracefully to the end table and excitedly picks up a piece of Suya, carefully making sure that the open sleeves from her cream Tiffany Amber inspired dress doesn't touch the stew mix. As the tunes slow down, moving from an energetic Don Jazzy beat to the more soulful voice of Dare Art Alade, Kwame begins to admire the Kehinde Wiley painting that will soon hang in his office at Deloitte. This is a typical scene at a gathering of African cosmopolitans or "Afripolitans" as they have recently been termed. Whether it's Baltimore, New York, Chicago or even London, young Africans are consciously expressing their heritage and culture through fashion and art. Blending their African identity with modern ideals, Africans are creating new traditions. From Ankara, Kente to Adiré, African textiles are back in style, and not just on the streets of Brooklyn and Brixton but also the runways of Bryant Park and Cromwell Road. African fashion has infiltrated mainstream culture and it can be found in various collections by western fashion designers and even in MIA's "Paper Planes" video.
In Africa, fashion is defined by the materials and textiles used in creating the clothes. African textiles are intricate pieces of art made with complex techniques usually signifying a social message. This month, the prestigious Metropolitan Museum of Art and the Grey Art Gallery (NYU) have dedicated exhibitions to Africa's most exported art works. African textiles have been the most underappreciated components of African visual culture invoking the lessons of the past, the culture of the present and the hopes of the future. In his essay, "Seeing and Wearing: Textiles in West Africa" renowned African scholar John Picton addresses the relationship between textile and local and transnational histories. He notes that as part of the anti-colonial politics of 19th century Lagos, men and women discarded the European dress in favor of traditional outfits. Picton writes that certain textiles are used to commemorate particular events, constitute a body of local knowledge and signify a sense of identity within an inherited tradition.
The Metropolitan Museum of Art and the Grey Art Gallery are drawing attention to the vital and often exuberant African textile traditions, which have too often been overshadowed in the western art community by classical African sculpture. I spoke to Alisa LaGamma, the curator of the Met's exhibit, "The Essential Art of African Textiles: Design Without End." LaGamma chose textiles because they are the major form of expression that Africans used to define themselves. More than 40 works are currently being exhibited dating from the early 19th century to the present—the contemporary artists on display include Yinka Shonibare (England), El Antsui (Ghana), Malick Sidibé (Mali) Sokari Douglas Camp (Nigeria) Grace Ndiritu (UK) and many others. According to La Gamma, "it is meaningful to see the continuity between past and present." The contemporary artists on display engage with aspects of their heritage and strongly reflect African textiles as "the art of the people."
Sampling of Artists Works
Yinka Shonibare (MBE)
In 1990 I developed another way of questioning ideas about cultural authenticity. I started to use "African" fabric purchased from Brixton Market in my work. Batik, which is commonly known as "African" fabric, has its origins in Indonesia and is industrially produced in Holland and Manchester for export to Africa where it is made into traditional dress. The adoption of the fabric, particularly in West Africa, has led to the development of local industries which also manufacture fabrics…In my own practice, I have used the fabrics as a metaphor for challenging various notions of authenticity both in art and identity (London, 1996).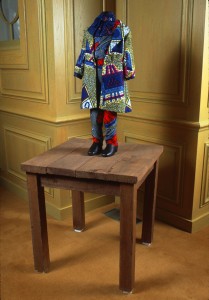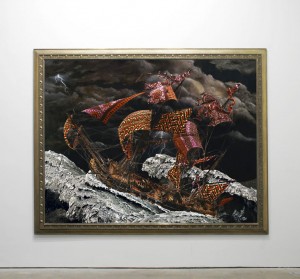 Sokari Douglas Camp, CBE (b.1958 British):
Kalabari culture revolves around cloth especially for women. Our heirlooms are cloth. A key concern is how much important cloth you have to clothe the family for big occasions, funerals, births, marriages. We lay cloth out for wakes, covering rooms, beds, and even the deceased. When the body is buried a display of the cloth, used for the wake is exhibited for a week with coral and jewelry. As a girl I graduated from beads to wearing a dress and subsequently additional cloths over time. The way the cloth is wrapped around one's body and the height of it depended on one's age and importance. So I was always very conscious of fabric. Some cloths (prints) can not be worn in some areas of my town during important occasions.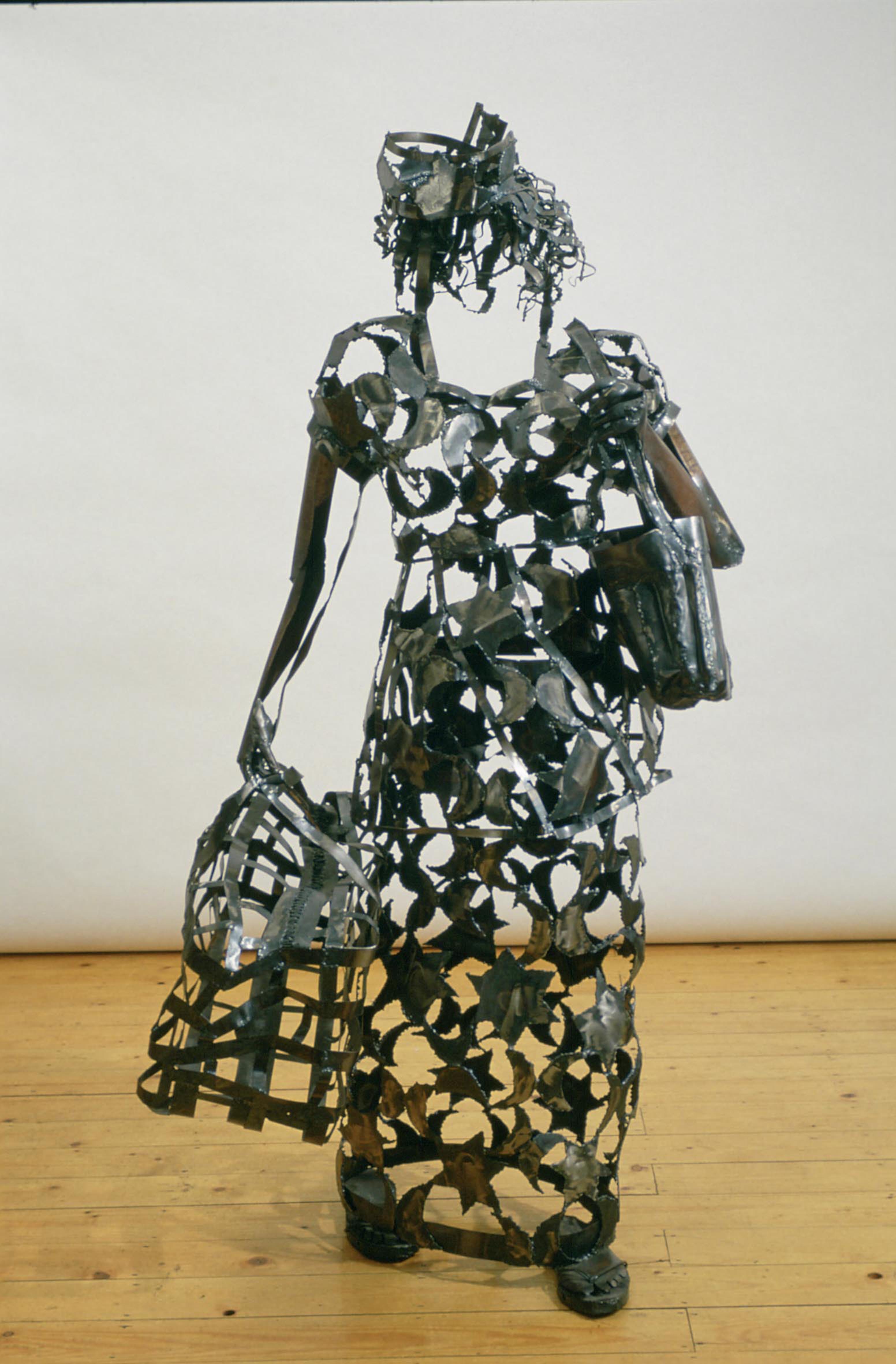 El Anatsui (b.1944 Ghanaian):
The scope of meaning associated with cloth is so wide I have not heard it more aptly and succinctly put than by Sonya Clark…that cloth is to the African what monuments are to Westerners. Indeed their capacity and application to commemorate events, issues, persons, and objectives outside of themselves are so immense and fluid it even rubs off on other practices (2003).