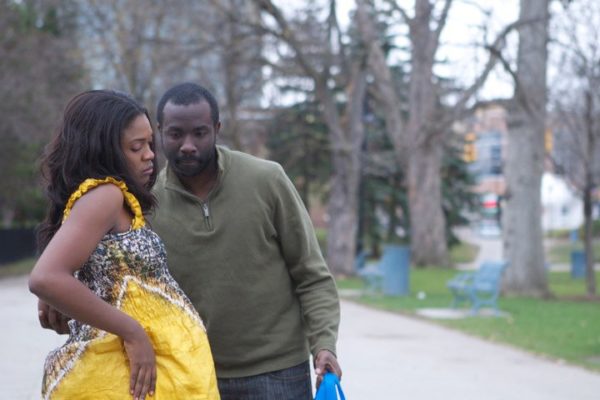 Her sterling performance in "The Figurine" was Nigerian actress Omoni Oboli's star-making moment, now "Anchor Baby" will show that it was not a fluke.
I did not know what to expect when I clicked to watch the "Anchor Baby" trailer but as I watched it, I was transfixed. I have to admit that this is the first Nigerian movie trailer that has elicited an emotional reaction from me. The theme of the movie is love, dreams, desperation, betrayal and struggles, faced by these non-citizens in order to belong to the American society. "Anchor Baby" is actually a derogatory term for children born by immigrants or other non-citizens in the United States.
"Anchor Baby" tells the tale of Joyce and Paul Unango, illegal immigrants living in the US. Married illegal immigrant couple, Joyce (Omoni Oboli) and Paul Unanga (Sam Sarpong) have been ordered by the US immigration to leave the country by voluntary departure. They agree to leave; but only after Joyce who is 5 months pregnant delivers her baby inside the US. This will guarantee automatic citizenship for their child. The couple ignores the deportation order, and go into hiding.
Later, Paul is caught and deported by a team of overzealous Immigration officers, led by agent Mark Castello (Michael Scratch). This leaves Joyce to struggle on her own to accomplish their dream.
Then, Joyce meets Susan Backley (Terri Oliver), a married freelance writer who offers to help her with free accommodation until her baby is born. Joyce accepts the offer and moves in. Now, with the help of Susan, Joyce sets out on the most daring journey of her life; to achieve the "American Dream" for her unborn child. She will try by any means necessary.
The movie Anchor Baby is set in the United States, but was shot in Brampton and Hamilton, Ontario, Canada. Anchor Baby is written, directed and produced by a Nigerian first time director Lonzo Nzekwe.
Watch the trailer for Anchor Baby