We are extremely excited to present BN Bargains
In the quest to ensure that all our BellaNaija.com readers obtain the best value for money, we will be publishing information on sales promotions, contests, giveaways and discounts from selected vendors.
Every Wednesday we will publish a group post which will be the place for all the deals, sales and giveaways, here companies can give out vouchers through competitions or codes for discounts.
___________________________________________________________________________________________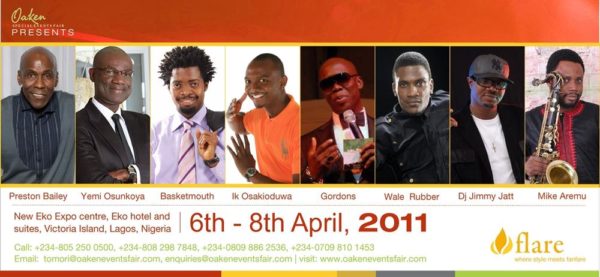 Foremost events company, Oaken, is launching a special events fair in April 2011. The event has been christened "FLARE" and will be an amazing melange of exhibitions, seminars and networking. The headliner of the event is none other than Preston Bailey! Preston is a legend in the event decoration industry. He has designed events for celebrities, including Oprah and his work remains the gold standard and point of reference for all professionals in that industry.
The Fair is specially designed to;
• Create a long-term affair between Local and International participants.
• Put the spotlight on small medium enterprises and give them the exposure the deserve.
• Give young professionals in the Event Industry a pedestal upon which to express remarkable talent, interact, share ideas and make vital contacts in business/career wonderland.
• Introduce and showcase different products with a view to highlight bespoke services offered by different event suppliers and exhibitors.
• Serve as a forum where everyday people can rub shoulders with successful role models and mentor figures as they share their success secrets and principles.
Date: Wednesday 6April 2011 to Friday 8 April 2011
Time:
Venue: The New Eko Expo Centre, Eko Hotel & Suites, Victoria Island, Lagos
As part of the event, there will be up to 50hrs of informative and educational sessions where seasoned experts will help young entrepreneurs looking to build their business and break into new horizons. Five (5) free Educational Session Tickets (each worth N5,000) are up for grabs today! All you have to do to stand a chance to win one of these tickets is answer the following question:
*Mention the names of the International Guest Stars and What they do.
Send your answers to [email protected], including your name, e-mail address, and phone number. Your mail should be titled "Oaken Fair".
Deadline: 5PM on Friday 1 April 2011
___________________________________________________________________________________________
Sponsored Content
Will you like to have bargain to be featured on BN Bargains? Email us via [email protected]