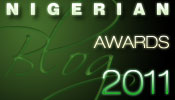 The nominees for the 2011 Nigerian Blog Awards are:
Best Beauty Blog
Best Blog by a Blogger based outside of Nigeria
Best Blog by a Nigeria-based Blogger
Best Book, Poetry or Writing Blog
Best Collaborative or Group Blog
Best Daily Read
Best Designed Blog
Best Entertainment Blog
Best Fashion or Style Blog
Best Fitness or Health Blog
Best Food Blog
Best Magazine or News Blog
Best Music Blog
Best New Blog
Best Parenting Blog
Best Personal Blog
Best Photography Blog
Best Political Blog
Best Religion Blog
Best Science or Technology Blog
Best Sports Blog
Best Student Blog
Best Travel Blog
Best Wedding Blog
Most Controversial Blog
Most Humourous Blog
Most Educational Blog
Most Inspiring Blog
Most Unique Voice in a Blog
Nigerian Blog of the Year
Please vote for your favourite blogs by visiting the voting page. Votes will be received until 11:59pm EST on July 9, 2011 (4:59am Nigerian Time on July 10, 2011).
If you are a blogger and you would like your blog to be listed on the Nigerian Blog Awards website, please send an email to [email protected].
Note
Due to the size of our team and our editorial structure, though we started as a blog, we do not categorize BellaNaija.com as a blog and respectfully declined being included.
Thanks!