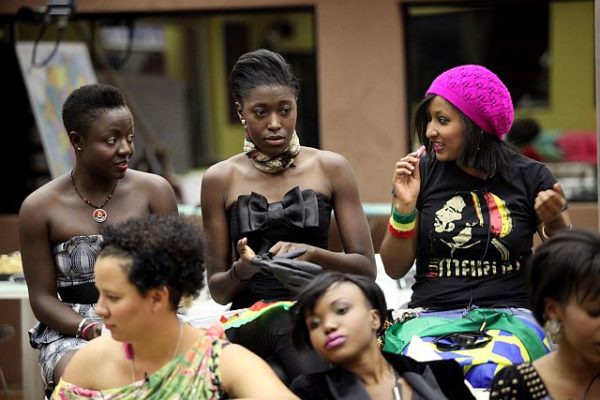 The Housemates on M-Net's Big Brother Amplified got two massive surprises this week – the Houses merged on Monday, and then nobody was evicted on Sunday 3 July 2011 during the live eviction show! Rest assured though – Big Brother has a ton of tricks up his sleeve and is sure to shock any Housemates who have let their guard down, with just 4 weeks of the show to go!
IK kicked off the show with a review of the merge and how the Heads Housemates had struggled to come to terms with the confrontational atmosphere in the Tails House. After Zambian lyrical masters Zone Fam rocked the Amplified stage with "Shaka Zulu On 'Em" (revealing that their favourite Housemate is Sharon O), IK gave viewers some insight into the burgeoning romance in the merged House this week. The merge and the subsequent 'power cut' set pulses racing as the Housemates re-jigged strategy and followed their hearts, with some serious effects on the game.
Lomwe seems to have forgotten about Vina's overtures and turned his attention to Kim, who seems to be struggling with her feelings for the Malawian. She's suspicious of his sudden interest – but clearly the feeling is mutual! The relationship between Miss P, Alex and Weza is more complicated than a mystery novel – Weza initially declared her love for Alex, but now that Alex is reciprocating, she seems unsure of how to proceed. She told him to his face that she isn't sure that his feelings are sincere, but he's sworn that he likes her. He says he likes Miss P in "a motherly kind of way" but is physically attracted to Weza. Weza broke down on Sunday afternoon after Alex confessed his love for her and Luclay behaved less than kindly towards her.
Zeus seems intent on dodging Karen's enthusiastic advances. She's demanding kisses, but he's maintaining that he has a girlfriend! Despite his protests, he gladly accepted a massage from the Nigerian and his resolve seems to be waning – could he be falling for her too?
IK then gave viewers the chance to catch up with last week's evicted Housemate, Felicia. "The Big Brother experience for me was fun, crazy in a way, but I had a good experience," she said. "I loved the tasks, I loved the parties, I loved the people, it was fun."
"When Vina swapped me, it was obvious – I saw it coming, but I didn't think that that would be my exit. But I understand her because she didn't have much of a choice – I was the only one who wasn't nominated and she had been nominated three times in a row before that, so she needed a break," she said of her surprise exit at the hands of the distraught Nigerian. She said that being part of Big Brother Amplified had taught her to go after the things she wanted and given her a fascinating insight into the lives and cultures of her fellow Africans. She revealed that she had felt closest to Millicent during her time in the House, while her least favourite Housemate was Hanni.
Back on stage, Zone Fam rocked the stage again with "Mbama" before Soul Candi diva Lolo wrapped up the show with a medley of some of her red-hot hits.
With emotions and hormones seeming to rule the House this past week, it'll be interesting to see how the nominations go on Monday – and how Head of House Karen, now in charge of a 'merged' if not 'united' House will use her power to influence things. Stay tuned to Big Brother Amplified 24/7 on DStv Channel 198 to see the intrigue unfold.
Two Big Brother Amplified Housemates will walk away with massive prizes of USD200 000 each on 31 July – there's still a lot of action to come on Big Brother Amplified! Big Brother Amplified is headline sponsored by Coca-Cola. Fans can catch all the latest news, video – and all-important voting information – at www.mnetafrica.com/bigbrother. Tweet Big Brother @BigBroAfrica, send SMS messages to the on-screen strap, visit the Big Brother Africa Facebook Group to get the low-down on the continent's favourite reality show and get updated news and two video streams by pressing the "OK" button on your DStv remote when on DStv Channel 198.
M-NET'S BIG BROTHER AMPLIFIED – Nominations
Karen Sacrifices herself as knives come out for Miss P

The Housemates had a reminder of how tough life in M-Net's Big Brother Amplified House is on Monday (4 July) when they were forced to begin nominations again – after getting last week off, following the merge. Karen, Alex, Miss P, Sharon O and Weza are up for eviction this week after Head of House Karen sensationally refused to nominate anyone – and then didn't use her save & replace to alter the nominations. Karen revealed her shock decision during her nomination session in the Chat Room earlier in the day. She told Big Brother that everyone deserves to take the money home and it was not up to her to make the decision on who leaves the House.
· Miss P seems to be the victim of a plot amongst the ladies in the house as 5 of them nominated her for eviction. Luclay was the only guy to nominate her, saying it was nothing personal and he felt that she would "cope better" outside the House. The ladies were all in agreement that Miss P had made an error in telling them that her dalliance with Alex was purely strategic. Sharon O said she never "clicked" with Miss P from day 1, which made her decision simple. Weza, who has had several disagreements with Miss P in the last 48 hours, said that trust was key and she felt Miss P broke that by using Alex as a pawn in her game. Mumba had a lot to say about Miss P – but not a lot of it was positive! She labeled her as selfish and childish and berated her for not being herself.
· Weza's second nomination went to Millicent – but Millicent didn't return the favour, choosing to nominate Kim and Alex instead.
· Alex was the only male Housemate to nominate one of his fellow men – he named Zeus as he is convinced that there's an alliance amongst the men, which Zeus is leading.
· Kim nominated Bernadina and the Namibian returned the favour, claiming that Kim was confusing her with her game plan.
· Miss P nominated Mumba and Weza – and Mumba nominated her right back.
· Vina nominated Zeus and Wendall, who shot the nomination right back at the Nigerian.
When the dust had settled, Miss P led the nomination chart with 6, followed by Alex and Karen on 4 each, with Sharon O and Weza on 3 apiece. The winner of Big Brother Amplified, headline sponsored by Coca-Cola, will be named on 31 July – and the power to award USD200 000 each to TWO winners, rests in the hands of the viewers.
Big Brother wants your vote: Just remember you are voting to keep a nominated Housemate in the House!
Which means, the more you vote for your favourite nominated Housemate, the better their chance of staying in the house.
When you Vote, you also stand the chance of winning weekly prizes, including DStv Decoders, and from Samsung: Cameras, Camcorders, Laptops, Smartphones and the Galaxy Tab.
The Housemate who receives the least number of votes will be Evicted.
You can vote to keep a nominated Housemate in the house in three different ways:
1. Using MXit
2. Via the website, or the WAPsite on your mobile phone.
3. By sending an SMS
To vote using MXit: open the browser on your WAP-enabled mobile phone, and type in m.mxit.com to download MXit for free. Then locate MXit on your phone in the applications or games section and register. Once in MXit, go to Tradepost -> Entertainment -> Mnet. You will find the Big Brother contact in the M-Net bot. Add the Big Brother contact. Please note that voting on MXit is free and you can vote up to 10 times on MXit per voting period
To vote online: Register on DStv Connect, or use your existing DStv Connect profile details to log in. (www.mnetafrica.com/bigbrother). Please note that voting on the website or wapsite is free and you are allowed to vote once per hour during the voting period.
To vote via SMS: send the word VOTE followed by the Housemate's name to the number for your country. SMS's are charged per specified network tariffs in the various countries. VAS rates apply. Free minutes do not apply. Please note that you can vote 100 times by SMS per telephone number during each voting period.
Angola
Unitel – 43333 – UTT 6.6 per SMS
Botswana
Mascom – 16626 – P2.50 per SMS
Orange – 16626 – P2.50 per SMS
BEMOBILE – 16626 – P2.50 per SMS
Ethiopia
Ethio Telecom – 835 – 5 Birr per SMS
Ghana
MTN – 1477 – GHC 0.60 per SMS
Vodafone – 1477 – GHC 0.60 per SMS
Tigo – 1477 – GHC 0.60 per SMS
Espresso – 1477 – GHC 0.60 per SMS
Airtel – 1477 – GHC 0.60 per SMS
Kenya
Safaricom – 5626 – Kes 30 per SMS
Orange – 5626 – Kes 30 per SMS
Airtel – 5626 – Kes 30 per SMS
Malawi
TNM – 15626 – MK 48.00 per SMS
Airtel – 15626 – MK 48.00 per SMS
Mozambique
Vodacom – 99026 – MT 20.00 per SMS
Mcel – 99026 – MT 20.00 per SMS
Namibia
Leo – 15626 – N$ 3 per SMS
MTC – 15626 – N$ 3 per SMS
Telecom – 15626 – N$ 3 per SMS
Nigeria
MTN – 34350 – N75 per SMS
Airtel – 34350 – N75 per SMS
Glo – 34350 – N75 per SMS
Etisalat – 34350 – N75 per SMS
Starcomm – 34350 – N75 per SMS
South Africa
Vodacom – 33729 – R1.50 per SMS
MTN – 33729 – R1.50 per SMS
Cell C – 33729 – R1.50 per SMS
Tanzania
Vodacom – 15726 – Tsh 600 per SMS
Tigo – 15726 – Tsh 600 per SMS
Zantel – 15726 – Tsh 600 per SMS
SASATEL – 15726 – Tsh 600 per SMS
Uganda
UTL – 6626 – Ugx 1000 per SMS
Warid – 6626 – Ugx 1000 per SMS
Zambia
MTN – 15626 – ZK 2000 per SMS
Zamtel – 15626 – ZK 2000 per SMS
Zimbabwe
Econet – 33334 – USD 0.50 per SMS
NetOne – 15626 – USD 0.50 per SMS
Voting begins immediately after the nomination show on Monday nights and closes at 06:00 CAT on the following Sunday morning.
Find out who has received the least number of votes and will be evicted by tuning in to DStv Channel 198 on Sunday nights for the live eviction show at 19:00 CAT.
___________________________________________________________________________________________
Sponsored Content