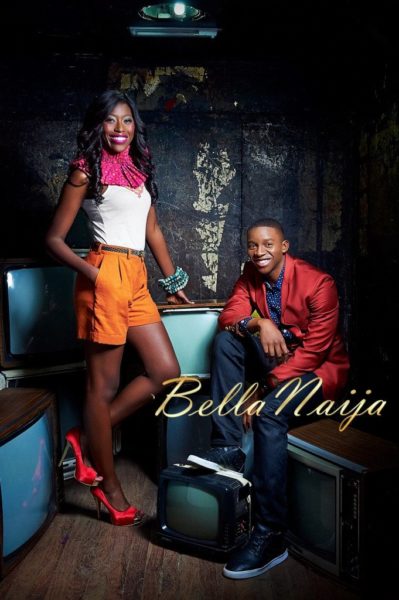 Africa Magic has always got us tuning in to their African entertainment round-up show, Star Gist to catch up on the latest news, gossip and more from the African entertainment industry as a whole.
The show's hosts are Zimbabwean Big Brother Amplified star, Vimbai Mutinhiri and South African Lawrence Maleka and their wit and banter always keeps us glued to the screen. As the show is getting revamped, the two exciting hosts got themselves all dressed up for a new promo shoot and here's what it looks like.
Vimbai looked very relaxed as she rocked a laid-back afrocentric ensemble and then, took on a fierce look in an all-black 'errthang leather ensemble.
On the other hand, Lawrence chose to stay dapper throughout as he wore a red blazer, blue button-up shirt, jeans and sneakers. And, to compliment Vimbai's fierce leather ensemble, he too wore all-black 'errthang. He swagged out a tee shirt with pants and sneakers,  and layered up with a fitting black blazer with a leather lapel and red pocket square.
Check on it!
Vimbai Mutinhiri
Lawrence Maleka
Vimbai Mutinhiri & Lawrence Maleka
Photo Credit: Africamagic.dstv.com