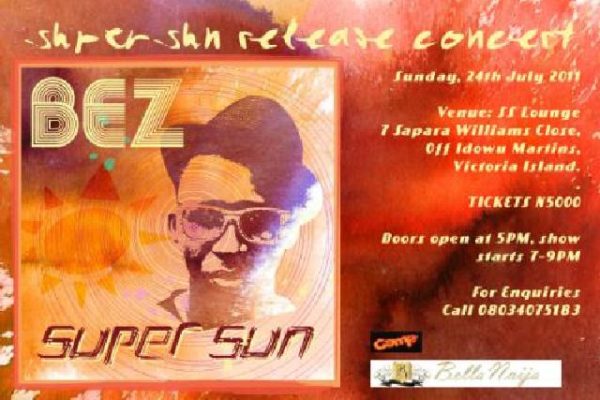 Who's going to the Bez Album Release Concert?
And the crowd goes wild.
You see, word is that there will be only 300 seats at the concert. You know what that means, yes? Anyway, we're giving you a chance to win one of two tickets to the concert on Sunday. Not only that, you get the chance to hangout with Bez after the concert, take pictures and the like.
All you need to do is answer these two easy questions:
What state in Nigeria is Bez from?
How Old is he?
Put your answer in the comments with your real email address so we can reach you, if you're a winner.
CONTEST CLOSED
The winners are:
Ronke Taiwo
Becca
Again, the details of the event are:
Date: Sunday 24th July 2011
Time: Doors open @ 5PM, show starts 7-9PM
Venue: SS Lounge, 7 Sapara Williams Close, Off Idowu Martins, Victoria Island, Lagos
Ticket Price: N5,000
Contact: For Ticket Enquiries Call 08034075183
In case you missed it yesterday, get a first listen to the songs on the album:
| | | |
| --- | --- | --- |
| S/N | TRACK-LISTING | PLAY |
| 1. | Super Sun | [audio:https://www.bellanaija.com/wp-content/uploads/2011/07/Super-Sun-Snippet.mp3] |
| 2. | Over you | [audio:https://www.bellanaija.com/wp-content/uploads/2011/07/Over-You-Snippet.mp3] |
| 3. | Zuciya Daya | [audio:https://www.bellanaija.com/wp-content/uploads/2011/07/Zuciya-Daya-Snippet.mp3] |
| 4. | I Know | [audio:https://www.bellanaija.com/wp-content/uploads/2011/07/I-Know-Snippet.mp3] |
| 5. | Say | [audio:https://www.bellanaija.com/wp-content/uploads/2011/07/Say-Snippet.mp3] |
| 6. | The Good, The Bad, The Ugly | [audio:https://www.bellanaija.com/wp-content/uploads/2011/07/The-Good-The-Bad-The-Ugly-Snippet.mp3] |
| 7. | More You [LIVE] | [audio:https://www.bellanaija.com/wp-content/uploads/2011/07/More-You-Live-Snippet.mp3] |
| 8. | This This This | [audio:https://www.bellanaija.com/wp-content/uploads/2011/07/This-This-This-Snippet.mp3] |
| 9. | Technically | [audio:https://www.bellanaija.com/wp-content/uploads/2011/07/Technically-Snippet.mp3] |
| 10. | Stop Pretending [LIVE] | [audio:https://www.bellanaija.com/wp-content/uploads/2011/07/Stop-Pretending-Live-Snippet.mp3] |
| 11. | More You | [audio:https://www.bellanaija.com/wp-content/uploads/2011/07/More-You-Snippet.mp3] |
| 12. | Stronger | [audio:https://www.bellanaija.com/wp-content/uploads/2011/07/Stronger-Snippet.mp3] |
| 13. | Stop Pretending | [audio:https://www.bellanaija.com/wp-content/uploads/2011/07/Stop-Pretending-Live-Snippet.mp3] |
| 14. | Super Sun [Remix] Feat. eLDee, Eva Alordiah & Ice Prince | [audio:https://www.bellanaija.com/wp-content/uploads/2011/07/Super-Sun-Remix-Snippet.mp3] |
| 15. | That Stupid Song Feat. Praiz | [audio:https://www.bellanaija.com/wp-content/uploads/2011/07/That-Stupid-Song-Snippet.mp3] |
| | | |