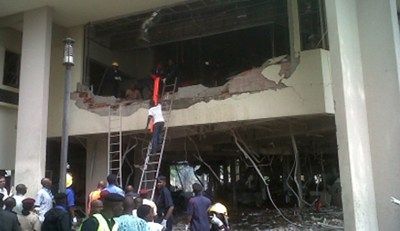 Katherine sprinkled the content of the plastic bottle she was holding in her right hand, all over the living room. She laid more emphasis on the framed picture of Lawrence's mother, hanging on the wall, just beside her and Lawrence's wedding portrait. Some of the Holy Water splashed on the wedding picture, and thoughts uncontrollably flooded her mind. She held the bottle tight, staring again at the photo.
She had been twenty two, and Lawrence, a thirty year old lawyer. Their marriage had begun before their wedding because they had been living together with a daughter. Like every other relationship, theirs had started out well, but things took a turn when he got that big break in his career. He had gotten a job as a legal adviser for an oil company which fetched an above average standard of living for their family. Things took an even turn when Lawrence became radical and said he no longer wanted a comfort zone job, and that his passion lay in active Human Right practise. He partnered with an old friend from Law School, and they set up a Legal Practise for International and Municipal Human Rights Enforcement. He became so buried in work that he got himself immersed in ensuring that Justice was manifestly seen to have been done. The name Lawrence Adegoke, soon became top shot in the country. He soon began getting official appointments and political offers, which he mostly turned down. He always said they were trying to buy him over.
Those offers soon began to translate into threats. When these threats made no impact on Lawrence, the perpetrators moved to threatening Katherine. This forced Katherine to sit her husband down and talk some sense into him. She had gotten a phone call the other day warning her that if Lawrence did not hands off a particular pending suit, she would be burying her husband sooner than she would like. Anyone who knew Lawrence could figure that he was a strong force whose mind was almost impossible to convince. The more Katherine tried to convince him, the more determined he became to take on the suit.
When his Partner was appointed as a Justice of the High Court, things began to take another turn. Katherine remembered that her husband called it networking of an immense betrayal. His life began to go down the drain bit by bit. He could not even afford to pay supporting staff, and the once thriving Firm, became a sole practitionership which was struggling for survival. Her gaze shifted from their wedding photo, to her mother-in- law's, which was just next to theirs. The older woman, since Lawrence's set back, stepped into their home and sought to do the undoable. She wanted to conquer civilization with illiteracy, by asserting that Katherine was responsible for all the problems in Lawrence's career. Of course she had no grounds for her argument other than the fact that Katherine was an Ijaw woman who could not have a son.
Today was Friday, and as usual, Katherine had just returned from the morning mass. The bus dropped her at the gate of their estate, so she had to walk down to their house on Awolowo road. The house was empty. Lawrence had travelled to Abuja for a meeting at the United Nations to deliberate and propose some legal affairs, and their daughter was at the boarding school. Her mother in law, who had come to set up her tent in their home, was also not around. She had been out since the previous day. Katherine remembered what the Reverend Father had told her. She brought out the plastic bottle containing the Holy Water he gave her after the Mass, and begun sprinkling all over the house. Perhaps it was God's timing that Lawrence's mother was not at home. She began singing, at the same time saying the Joyful Mystery on her rosary, when she found a wooden stick with red fabric fastened to the middle, gently placed under her and Lawrence's bed.
"Holy Mary mother of God!"
Just then her She heard her phone ring. She thought it was Lawrence because he had called when she was on the bus, to inform her that he was inside the United Nations Building, and that the meeting was for 10AM. It was her sister, however, on the phone. She told her to put on her television and change the channel to CNN. Piers Morgan was on. Her eyes ran swiftly to the headlines scrolling across the screen and then, more things began to take a turn. There had been a bombing in the United Nations Building in Abuja, and members of the religious sect; Boko Haram, where being suspected. Just that morning at the Mass, the Rev. Father was preaching about how the end times were fast approaching, and that floods in ibadan, and problems in Libya were signs of the end time. She ran for her phone and dialled Lawrence's number.
"The number you have dialled is not reachable at the moment. Please try again later."
Fear gripped her skin deep, as calls began coming in. She did not want to imagine what already circumvented her mind. She brushed the thoughts away, rigourously sprinkling more Holy Water. Things took a turn when CNN announced that some people were feared dead. As the headlines scrolled across the screen, she recaptured her life scrolling away, in bits and pieces.
It was Friday afternoon, August 26 2011.
Truth caught up with her when Lawrence's friends brought his body to Lagos. Reality found her when her mother-in-law began wailing and blaming her for pushing Lawrence to go for the meeting in Abuja. Katherine, wrapped in black, held her daughters hands, as the Reverend Father sprinkled Holy Water on Lawrence's coffin, and as she looked away, she realised things had begun to take another turn.
_________________________________________________________________________________________________________
Our heartfelt prayers go out to the families of those who lost loved ones as a result of the bomb blast on August 26th 2011. You will always remain in our prayers. May the memories of those who lost their lives live on and may God grant peace to Nigeria.