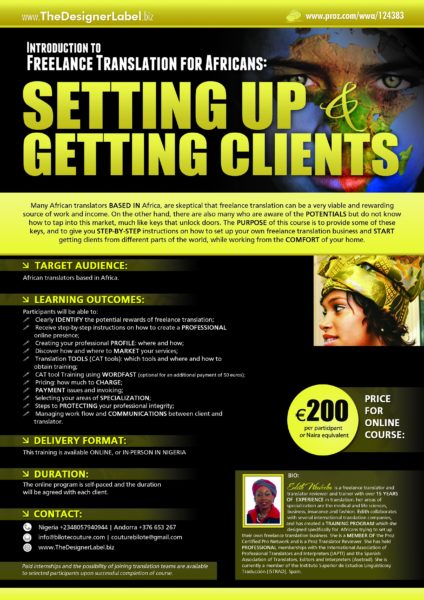 A translation, writing and Cross-Cultural Consultancy – The Designer Label is pleased to introduce its new training program tagged Introduction to Freelance Translation for Africans: Setting Up and Getting Clients.
Many are aware of the potentials but do not know how to tap into this market, much like keys that unlock doors. The purpose of this course is to provide some of these keys, and to give you step-by-step instructions on how to set up your own freelance translation business and start getting clients from different parts of the world, while working from the comfort of your home.
Learning Outcomes:
Clearly identify the potential rewards of freelance translation;
Receive step-by-step instructions on how to create a professional online presence;
Creating your professional profile: where and how;
Discover how and where to market your services;
Translation tools (CAT tools): which tools and where and how to obtain training;
CAT tool Training (for an additional fee);
Pricing: how much to charge;
Payment issues and invoicing;
Writing winning bids;
Selecting your areas of specialization;
Steps to protecting your professional integrity;
Managing work flow and communications between client and translator;
Understanding the challenges of being an African translator in the global market;
Dealing with the challenges faced by freelance translators based in Africa;
This is a self-paced, practical, hands-on course available both online and in Nigeria.
Date: Online courses begin Thursday April 12th 2012
Registration Fee: €200 or Naira equivalent
Payment Terms: 100% before commencement of training
Contact: For more details on registration, course dates in Nigeria and more;
________________________________________________________________________________________________________________
Sponsored Content