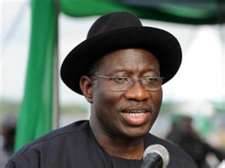 I really don't know whether Nigerians are supposed to take this as good news and start jumping for joy or should weep for what is to come. But anyway you choose to receive this news, I guess this is one of the strongest indications that President Goodluck Jonathan is indeed planning on running for a second term in office.
His Special Adviser on Political Matters, Mr. Ahmed Gulak affirmed this yesterday during a meeting with the North Central Women Forum.
Here's how Punch reported it:
The Special Adviser to President Goodluck Jonathan on Political Matters, Mr. Ahmed Gulak, has said the President won't stay more than eight years in office.
Gulak said this on Wednesday during a courtesy call on him by the North Central Women Forum led by a former member of the House of Representatives, Mrs. Amina Aliyu.
Gulak also promised to implement the 35 percent affirmative action for women in board appointments.
He said, "Please take the gospel of peace and tolerance irrespective of your religion and ethnicity to them because this country belongs to all of us and God has given us President Goodluck Jonathan. Goodluck Jonathan is the President today but he is not going to stay more than eight years. Nigeria belongs to all of us and not for one person."
"Without the women our democracy will not be complete. I have seen it all during the campaign and Mr. president appreciates the role of women in our democracy and the role the women played in installing this administration. That is the reason the President gave more than 35 per cent in his appointment."
Gulak added, "I will also urge you the women in the North Central that peace is what we need in this country. We are happy and glad that the North Central is relatively peaceful than the North East. This government relies on women because the young people and children who are used by the mischief makers are your children.
"All of us must say enough is enough for these mischief makers. The history of this country cannot be written without mentioning the role of women who played important roles during the pre-colonial era, including the Aba Women riot (of 1929) which gingered the independence of this country."
So then, do we say one down, seven more to go?
President Goodluck Jonathan resumed office as a democratically elected President after he won the General elections in April 2011. Prior to this, he was sworn in as President Umaru Yar'Adua's successor following his death on May 5th 2010. So in actual fact, he has spent two years in office, one after succeeding Yar'Adua and one as a democratically elected President.
However, his tenure as President has been fraught with many challenges, ranging from corruption to security, poor development, high unemployment rate and many more.
So then, how do you feel about this news? Do you think Goodluck Jonathan deserves the chance to lead Nigeria for another seven more years?
Please share your thoughts.