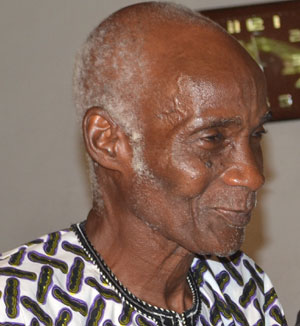 An 80 year-old retired civil servant, Pa Alimi Olarenwaju Amodu yesterday received his Second Class Honours degree in Sociology from the Lagos State University.
At the University's 17th convocation cerenmony, Pa Amodu was amongst the over 27,087 students who graduated from the institution. The father of seven is undoubtedly Nigeria's oldest University student.
When a 74 year old man gained admission to study Law in April 2012 at Obafemi Awolowo University, many thought he was the oldest Nigerian student. However, Pa Amodu's determination and courage to search for knowledge in spite of his age is certainly something quite enviable.
The octogenarian does not just have his sights set on a Bachelors degree but wants to have a PhD before he returns to his creator. He has already sat for and passed a Master's degree examination to study Industrial Relations in LASU. After his Ph.D, he plans to give back to the society by establishing a primary school in his home town, Oniyangi.
He never failed any course during his undergraduate days and was popularly known as "Youngest Student" and "Baba Bookwarm" amongst other students.
"It was by God's grace that I graduated from LASU without having to re-sit for any carry-over course. Although during my undergraduate days, I faced a lot of challenging moments like having to wake up very early to catch a bus to school. What really helped me to succeed throughout was that I had from the foundation learned from my mother to wake up as early as 3.00 a.m. I usually read from 3.00 a.m. to 6.00 a.m to constantly update my scope of knowledge, and I thank God who saw me through to this point."
On how he felt sitting together to receive lectures with students who are young enough to be his grand children, he said: "That's very good. It was a stiff competition between me and them. When you are competing with young students, there's no age consideration. I have to always struggle to sit at the front in class. Another point is that the lecturers address everyone as equal in the university."
Sharing his most memorable moment on campus, he recalled the incident that occurred in class sometime ago, when he dozed off during a lecture. "That day, my lecturer caught me dozing in class. He said to me: 'Baba you are sleeping' and I said, 'No sir, I wasn't sleeping."
So he said: 'If you weren't sleeping, what did I say last?" I couldn't answer. He asked me what I ate before coming to school, and I told him I ate rice. Then he advised me not to take heavy meals before coming to school , but just a cup of tea and some slices of bread. "The funniest thing is that I was disciplined by standing up till the end of the lecture."
Pa Amodu surely has had an interesting journey through the University.
Congratulations Sir! I pray you achieve all that you have set out for in all you endeavours. With your resilience, you have shown that there is no age limit to dreaming, setting goals and achieving success.
News Source: Vanguard