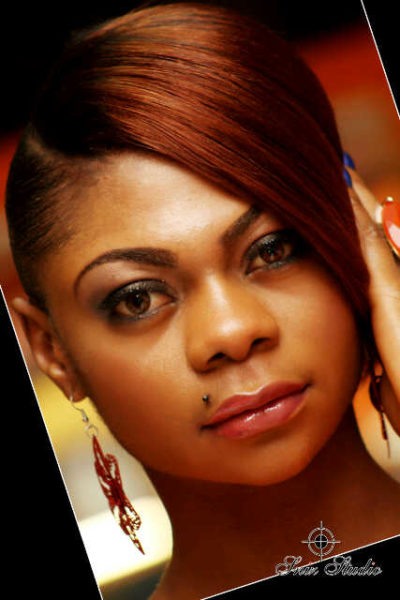 Former Next Movie Star girl and Big Brother Amplified winner, Karen Igho, is one lady who is absolutely hard to ignore,  highly controversial but strong and determined in the face of it all.
In 2011, she carted away the top prize of $200,000 as winner of the coveted Reality TV show alongside her co-winner Wendall. She was the first woman from Nigeria to win the Big Brother Africa show and the third Nigerian to win it in a row since 2009, following closely after Kevin Pam and Uti Nwachukwu.
Before she went into the Big Brother house, she was a model.
Born in Nigeria, Karen attended Federal Government College, Jos before going to London to study Business Administration at Southwark College.
She recently landed a gig as an On-Air Personality at Naija FM where she hosts a show called Wetin Dey with Ifektive, proving that she can do well not just on TV, but also on Radio.
She speaks with Adeola Adeyemo in this exclusive interview about the before and after moments of Big Brother Amplified and all the things that makes her unique.
Karen was funny and easy to chat with. At the restaurant where we met for the interview, she got pulled aside time after time for a chat or a picture or a simple "hello, I'm a big fan" from people around. She made me laugh with her funny replies and her interesting blend of Pidgin and English made our time together more interesting.
How have you been Karen? What have you been up to since winning Big Brother Amplified?
So far I've been good. It hasn't been easy. I've been really busy and sometimes it gets to me. But I thank God for giving me this opportunity. I had no idea what Uti went through. Poor Uti. Uti and Kevin, you tried. But one thing I've realized, when I see my fans come up to me, I know that I'm loved; that somewhere, somebody loves me. Even though I don't know the person, it feels good. Even though I'm upset, I would start gisting with the person and it makes me feel better.
I noticed you've been hosting a number of events recently. Tell me about some places you've been to.
I've been going around Nigeria, presenting and hosting shows in Abuja, Calabar, Port-Harcourt, Warri, Benin, Asaba. I'm going to South Africa soon.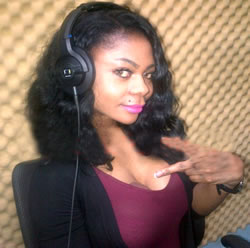 You recently came on Radio as an On Air Personality. Is this what you've always wanted and how has the feedback from listeners been like?
I'm now working with Naija Fm 102.7, on a show called Wetin Dey which I co-host with Ifektive. I'm not a professional presenter to be honest, I never went to Radio school or anything but the opportunity came my way and I'm trying my best. If people like it, why not? I'd just be me, the normal me, always. I get worried sometimes, you know how it is when you've never done something before. But Ifektive is a cool guy and I'm learning from him.
Tell me about the show. What do you get to talk about and what makes it interesting for you and the listeners?
The show starts from 10pm every Monday, Wednesdays and Thursdays. It's basically about your everyday life, what happened to you that day. People call in, we give scenarios, we joke, we talk, we tease one another. We just talk about any random thing that comes up; it can be sex, peer pressure, education, politics, entertainment. At the end of the day we leave the listeners with inspiring words.
I understand it's a show where you get to speak only Pidgin English. How have you blended well into the routine of speaking Pidgin English on air? Are you finding it easy?
I'm a full Nigerian. Why I wan front when I sabi speak the pidgin?  (Why would I want to put up a front when I can speak Pidgin?)
That's interesting. Then it must be fun for you while getting paid at the same time.
How you go tell me say make I come speak pidgin say you wan pay me? (How will you tell me to come and speak Pidgin and say you want to pay me?) That's free money. You want me to speak Pidgin, no English? That's fine. Give me the money!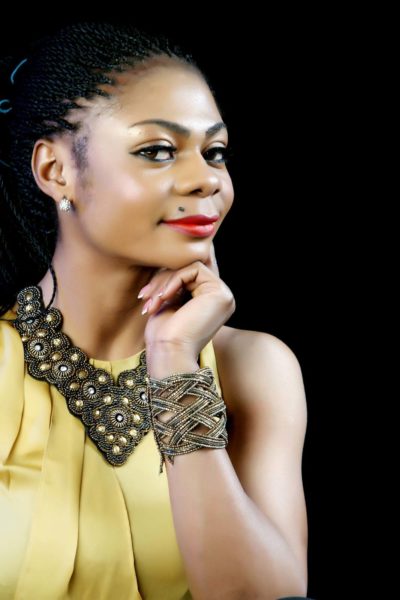 Growing Up, Education & Early Influences
Where did you learn to speak Pidgin English like this? Did it have anything to do with your upbringing?
When I'm with my Grandma, I speak pidgin. When I'm with my Mum I speak English. I'm from Urhobo, and my Grandma is from Warri. I grew up partially with my Grandma, partially with my Mum. I lived two lives – the Pako side and Aje Butter side. No big deal.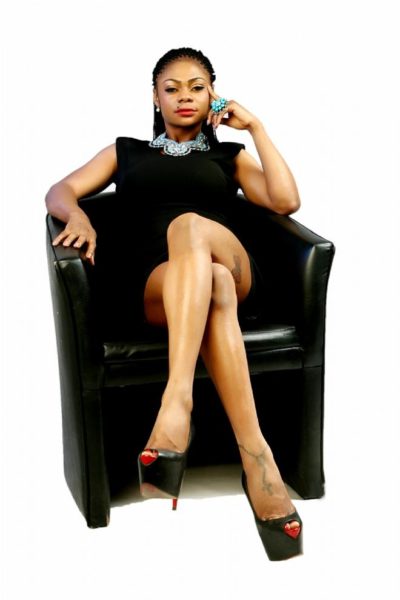 How has having a taste of both the privileged and not too privileged life shaped the kind of person you are now?
My parents separated when I was two and I started living with my Grandma and adapted to life in the village. If you put me in a village, I would live in a village. If you put me in a city, I would be a city girl. I have those two things in me and that's what makes me Karen. I'm still the same. I'm much calmer now, I'm more lady like.
What other languages can you speak aside from Pidgin and English?
I can speak Urhobo, Hausa, a bit of Igbo and playful Yoruba. I'm trying to learn French also.
Tell me about your educational background. Where did you school?
I went to a very privileged Primary School and then to Federal Government College, Jos. After my Secondary School, I went to live with my Uncle in London and I studied Business Administration at Southwark College, UK.
The 'Real' Karen
People have different perceptions about your personality. The most common is that you're a very outspoken person. In your own words, how would you describe Karen?
Karen is just a down to earth, playful, kind, sweet, caring, loving, forgiving and loud kind of girl. She's also the girl next door. She's a tom boy, very smart but people don't see. She's privileged to have lived in the best of both worlds.
What were you doing professionally before you went into the BBA house?
When I was studying in London, I worked as a waitress, as a fundraiser for charity, as a sales girl. One day I was minding my business as usual, I went to the swimming pool and one lady came up to me and said I should be a model. I said what kind of model? She said I had a nice body and I would be good to model bikinis and lingerie. I said OK why not? I modeled for like 6 months before I came back to Nigeria. Coming back to Nigeria was different. Some things changed in my life. That was when Big Brother came along.
You had fame dropped right on you when you went into the BBA house and even more when you won. Has it always been your dream to be famous?
You know when you're young, everybody has that 'it won't be bad if I'm famous someday' moment. I had that moment too but I grew out of it. And when I grew out of it, Big Brother came.
Dealing with Critics, Media & Controversies
You went on Twitter some months ago saying somebody proposed to you and added a picture of an engagement ring on a finger. Many interpreted this saying you got engaged and the news went viral. They were surprised to read your statement later on that you weren't engaged…
If you read the sentence, it said "He said Karen would you marry me?" They didn't even wait to hear whether I said yes or not, they just carried the gist.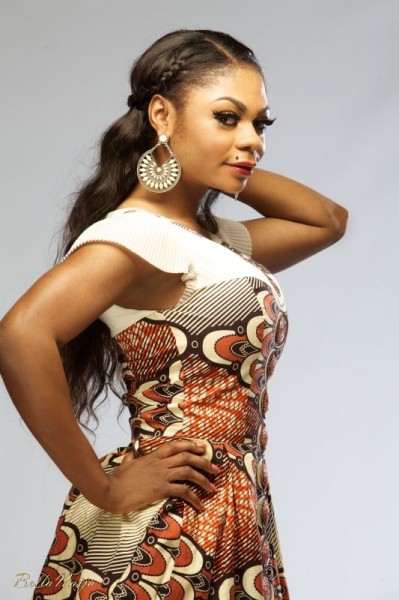 The Tweet might have made many people think you were engaged because of the picture of the engagement ring on the finger…
See how they started insulting my hand o, hand that is not even mine. It was my sister's hand. I liked the nail polish on her fingers that's why I used the picture. I'm a human being, am I not allowed to be normal? It is social network, I'm allowed to write what I want.
So tell me, what was going through your mind when you wrote that on Twitter. Did someone actually propose to you?
I went to Warri for a show and when I got there, a fan of mine proposed to me. He went on his knees. It was a joke and I was talking about it. I wanted to tell the story and people didn't even let me finish.
If that wasn't the real proposal, when should we be expecting to hear about the real one?
Who doesn't want to get married? I want to get married and have kids. Every woman should settle down one day. I'd prefer it sooner if possible but God's time is the best. No be Mama born me, why I no go marry born. I go marry o. My husband dey come for me, no worry. My Prince Charming, biko, hapum aka.(Is it not my mother that gave birth to me. Why won't I marry and give birth? I will get married. My husband is coming for me, don't worry. My Prince Charming, please hurry up.)
What kind of guy would be your Prince Charming?
Just a normal regular guy. I'm not asking for much.
You are one BBA winner who has had more than a fair share of negative media attention with allegations of once being a stripper and having nude pictures circulating the internet. How would you react to this?
Without the media, I wouldn't be where I am honestly, but the way they twist stories baffles me. Maybe they thought that because I had this bad girl image, I had to be all those things. See how they judged me. But what I like is the fact that they let me be myself in the end.
Your complexion has also caused some controversy. Someone once made a comment about your complexion comparing the different skin tones to Coke and Fanta. What is your reaction to this statement?
At the end of the day, I'm only human and they can judge all they want to and say Fanta and Coke. It's not a bad thing, Fanta and Coke is sweet. If I eat and my butt grows big, they'd say I did butt implants. If I get thin, they'd say I did something to my body. At the end, just be happy with what you see. I'm happy with myself so what people say doesn't matter to me.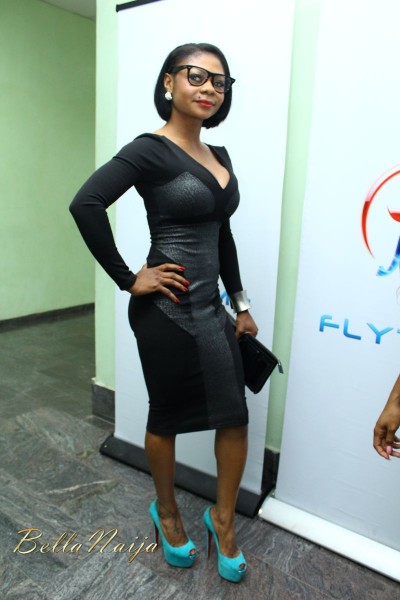 Fashion, Friends & More
You get really daring with your fashion style sometimes and dress conservatively the next minute. Quite a mix. What inspires your choice of outfits?
If today I want to dress smart and classy, why not? And tomorrow I want to dress sexy and edgy, why not? As long as I can pull it off. I realized it's not by showing your body parts that means sexy. Sexy is how you present yourself, how you carry yourself, how you feel inside. When you feel sexy inside, you look sexy outside. I think everybody is sexy and beautiful in their own way.
Do you have a favourite designer?
I love designers. The list is very long, I can't say them all. But I like to mix things. I have Nigerian and African designers and international designers that I like. I combine everything basically.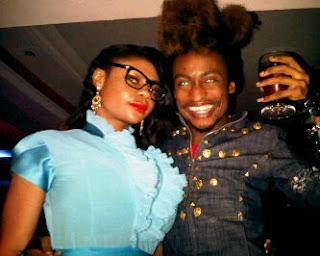 You have a very close friendship with TV presenter, Denrele Edun. Tell me about you guys. How did you kick off as friends?
Denrele and I go way back. He's been my friend since 2008. I met him at his birthday when I came for holidays from London and we became friends. We kept in touch. The next time I came was in December 2010. When we got into the New Year, Denrele told me to go for Big Brother. He got the form and filled it for me.
How would you describe Denrele? What makes him special?
Denrele is a nice person with a good heart, a very caring and loving person. Everybody tells him their problems, and I ask, Denrele who do you tell your problems? He is so strong. He is a nice person and a very good friend.
For those wishing there could be more than friendship between you two, is there any hope of that happening?
He is more like my brother. I don't think anything would ever happen.
Who is your role model?
My mum is my role model.
You had a birthday party this year that created a buzz around town. Why did you call it 'Karen Amplified'?
I didn't choose a name, my fans gave me the name.
What was the most memorable part of your party?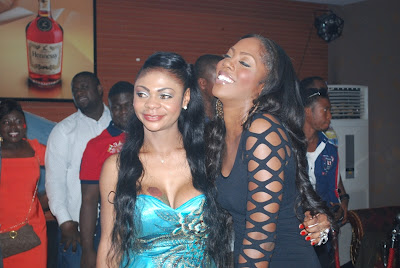 The best part was having my family and friends around. And then having all those wonderful celebs come to my party. Oh it was sweet. I was like 'Oh my God, me too I'm a celebrity oh, ah, thank you God'.
Goldie recently got evicted from the BBA House while many were hoping a Nigerian would win again. What do you think about Goldie's performance in the House?
Honestly speaking, I don't know Goldie, but from the little I've heard, she's really a nice person but that game was too tough for her. Prezzo just distracted her, he pretended to her. I have my own faults too. I remember when I fell for Zeus. Now we're just friends so it's cool. But Goldie did well at the end of the day. I'm not going to sit down and judge Goldie because it's only you that is in the house that will know how it feels like to play the game. Goldie is very soft and emotional and that's why little things got to her.
Tell me about some charity organizations and events you are associated with.
I usually visit the Lagos State Motherless Babies Home in Lekki and other orphanages. I spent my last birthday with kids that have cancer. I also joined the group that went to Kirikiri Prisons recently. But I've been working with other charities like SOS even before I went for Big Brother.
Have you featured in any movies since you won BBA?
I've acted in some movies and they should be coming out soon. Heavy Beauty and Blackberry Babes Season 2.
What were your dreams before you went into the BBA house?
I liked the idea of Business. But if I didn't do business, I would have gone into Law.
What are your dreams now?
To be a household name. To keep being the Karen that I am and to make Nigeria proud.
It was fun chatting with Karen and from the entire Bellanaija team, we wish her the very best.
Clips from Karen Amplified Birthday Party

Karen gets Pranked on The Big Friday Show with Basket Mouth