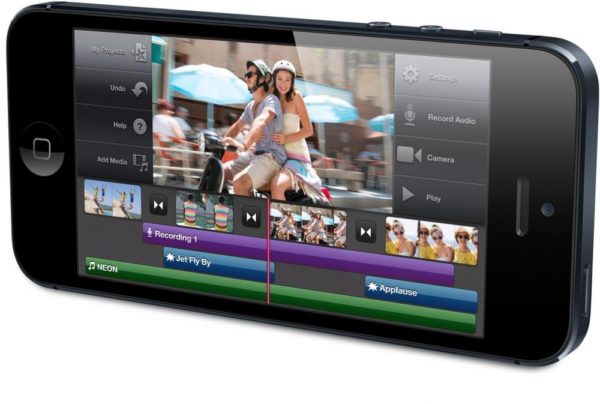 Gadgets and smartphone lovers across the world have had the name iPhone 5 trending on their lips and on social media for a while now.
The tablet was unveiled yesterday in the US after weeks of anticipation and hype. On the Apple website, it is described as "the biggest thing to happen to iPhone since iPhone".
The new version of Apple's flagship device  is 18 percent thinner than before and 20 percent lighter than the 4S, thanks to  new technology that eliminates a separate touch-sensing layer in the screen.  It is made entirely of glass and aluminium and sports a larger, 4-inch screen.
Apple describes the iPhone 5 as the thinnest smartphone in the world.
Apple Vice president of Marketing, Phil Schiller said at the special unveiling published by Fox News that the new iPhone 5 is twice as fast as the 4S  thanks to a  smaller, faster processor called the A6. The new phone sports an 8MP camera, similar to earlier models, but it has better low-light performance and faster image captures.
Reading through the upgraded features and applications released by Apple makes me just want to have one in my hand right now. Here are some excerpts of its features:
iPhone 5 supports ultrafast wireless standards including LTE and DC-HSDPA, so you can browse, download and stream content even faster. To support the latest LTE technology, Apple has pioneered a unique single-radio LTE solution that provides blazing fast speeds while fitting perfectly into the new remarkably thin design. iPhone 5 features dual-band 802.11n Wi-Fi support for a wireless experience up to 150 Mbps.
The 8 megapixel iSight camera is the most popular camera in the world and with iPhone 5, it's even better. The new camera is completely redesigned with incredible optical performance, yet amazingly it's 25 percent smaller than the camera in iPhone 4S. The new iSight camera in iPhone 5 features a sapphire crystal lens cover that is thinner and more durable than standard glass with the ability to provide crystal clear images. The new panorama feature lets you capture jaw-dropping panorama images of up to 28 megapixels by simply moving the camera across a scene in one smooth motion.
iPhone 5 introduces new enhanced audio features including a new beam-forming, directional microphone system for higher quality sound, while background noise fades away with new noise canceling technology. iPhone 5 now includes support for cellular wideband audio for crisper word clarity and more natural sounding speech.
iPhone 5 comes with iOS 6, the world's most advanced mobile operating system with over 200 new user features including: an all new Maps app with Apple-designed cartography, turn-by-turn navigation and an amazing new Flyover view; Facebook integration for Contacts and Calendar, with the ability to post directly from Notification Center; Passbook, the simplest way to get all your passes in one place.
It doesn't look much different from iPhone 4, still its sleek and attractive self. The smartphone which comes in either white & silver or black & slate is not yet availabe in stores but Apple notes that the suggested retail price in the US is $199 (N31,452) for the 16GB model and $299 (N47,257) for the 32GB model and $399 (N63,062) for the 64GB model.
Would you be getting this smartphone?
Photo Credit: www.apple.com