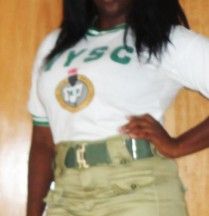 I just completed my one-year stint in the National Youth Service Corps program. In the past year, I blogged about my experience "The Aje-Butter's Guide to NYSC", Why Aje-Butter? Well, I am a classic Aje-Butter and will never deny it! I took the liberty of defining Aje-Butter as: 'An individual born into a privileged lifestyle in Nigeria.' I can attest that compared to the average Nigerian, we are more than comfortable. To God be the glory (I'm also an aspiring Nollywood actress)
I left secondary school at 15 and moved immediately to the States for college. I lived there for 14 years, before I decided to make the move to come back to Nigeria for at least one year, during which I would complete NYSC. A lot of people wondered if I was crazy for leaving a comfortable life to come back to Naija madness. Others were sure I was moving back because I was almost 30, unmarried and wanted to find a husband . I really moved back because I felt unfulfilled in my career and wanted to explore other opportunities.
Coming back was a TOTAL culture shock, especially since I had visited just 4 or 5 times during my 14 years away. For instance, someone demanded that I use my right hand to hand him something… in 2012, really? My strategy regarding NYSC was to work for a few months (at a company that didn't require the certificate) and then sign up for the 2011 Batch C group. In retrospect, I should have registered immediately and started serving the following month with the Batch B group.
Anyway, here's my journey broken down into the different stages of the service year.
MOBILIZATION
As a foreign graduate, I had to register at the NYSC Headquarters in Abuja. My first attempt was not successful, as I didn't have one of the required documents – who knew your statement of WAEC result isn't the same thing as the WAEC certificate? My second attempt to register was successful, but had its complications. First of all, I needed a billion and one passport photographs and my picture came out making me look lightskinned. Throughout the year, different NYSC officials argued that I wasn't the same person in my ID card! Additionally, all but one of my documents had my first, middle and last names – the other document had just my first and last name. Because of this, I had to go across the street to the High Court and get a sworn affidavit stating that 'Berry Choco Latte' is the same person as 'Berry Latte' and that all documents belonged to me. I eventually registered and was told to pick up my Call-Up letter in my state of residence in a few weeks.
Now, being a foreign-graduate, I was expecting to be posted to Lagos or Abuja – or my state-of-choice. However, one of the first signs you see when you walk into the NYSC Headquarters is: Foreign Graduates are NOT ALLOWED to select their state postings. Needless to say, waiting for my call-up letter was a tad nerve wracking. Well, when I picked up my letter, I laughed in disbelief. I cannot divulge further information, but let's just say the powers-that-be intervened and I was en-route to Iyana-Ipaja, Lagos NYSC camp.
ORIENTATION
I never went to boarding school in Nigeria so living in a dorm/hostel in Nigeria (albeit for 3 weeks) was a completely new and terrifying experience. Registering and getting accommodation in camp was a bit of a nightmare. I got to camp the day after it started – through enough hustling, smiling innocently at officials and a screaming match, I got settled under 6 hours. Because I came late, I didn't get a room, but a hallway had been converted into one and I managed to get the last bunk there. Sleeping there the first night was hard, and it didn't improve the rest of the time. My mattress was 1 inch thick, the spring on my bunk was bad and caved inwards, and it was HOT . Then the mosquitoes made me dread every night on camp. I even succumbed to tears a few times. My friends on the outside pleaded with me to escape, but I was determined to survive camp in one piece.
I tried to eat as little as possible so I wouldn't have to use the bathroom often – yes the horror stories are true! Nasty, disgusting, filthy, atrocious conditions! After a few days though, I noticed that while morning drills went on, there were women cleaning the bathrooms, so I timed my baths to right after drills.
Daytime in camp wasn't that bad. In fact, compared to other camps, we had it pretty good in Lagos. The mami market was a bustling hub of vendors – coffee, fast food, bars, shops, salons, etc. I heard there was even a spot where you could rent a bed for "sexy time."! I wasn't a mami-market kinda person, so I got involved in my platoon's activities to make friends and keep busy. I marched everyday up until the last week, and participated in the drama competition. Our platoon won BEST DRAMA by the way – I portrayed Bella the seductive school girl trying to get her corper teacher to give her higher grades (I told you I was an aspiring Nollywood actress). There were also BORING seminars and lectures, during which I slept or read a book. 22 days after I got there, I left camp knowing that I could do anything I set my mind to, and I'm not as fragile as everyone thinks!
PRIMARY ASSIGNMENT/COMMUNITY DEVELOPMENT SERVICE
One of the reasons why I didn't want to be posted to Port Harcourt where I grew up, was that all corpers in Rivers State were mandated to teach. So for my primary assignment, I was posted to an oil company in Lagos. Thankfully, my batch was the last one before the new NYSC Director General made it compulsory to serve in Health, Rural Government, Agriculture or Teaching. Now, one would think that serving where I did would result a year-of-fun and/or gainful work experience. Well, I was BORED OUT OF MY MIND for most of it. Although my first words to my supervisor were "Hello, I'm Berry. I have an MBA and have worked professionally for 3.5 years so kindly make use of my skills as much as possible," I spent most of my workdays browsing the internet, blogging, reading and daydreaming. I'm one of the few people who would say an emphatic NO to being retained, given that I did nothing for one whole year. It's not all bad though – I made a few contacts that would be helpful in the future, made some amazing friends, and at least have a foot in the door if I try to come back through another department.
For my CD (Community Development), I was 100% sure I didn't want to participate in any of my local government activities. I had heard corpers just go and sit down for a few hours, waiting for their CD cards to be signed. I wanted to engage my mind and explore my creativity so I signed up for one of the skills acquisition classes and proceeded to learn Beadmaking, Wedding Accessories, Gele Tying and Make-Over Arts. The makeover class ended up being a joke – one time the instructor shaved off most of my eye-bros during a demonstration – notice I wrote eye-BROS , not BROWS. I could tie a gele for a period of 3 weeks.My favorite classes were beadmaking and wedding accessories. I have the tools and skills necessary to start up my own business if I so choose. The instructors were really friendly and eager to teach , and I really appreciate their efforts.
A friend I made in camp and I had actually wanted to do a combined individual CD project – writing a proposal and getting funds to make the Lagos camp registration process easier via computers and internet access. We never followed up. Another idea I had was to get crowd control props for my local government office in Lagos Island. Going to General CD (once a month) at that office almost always turned into a battle – I have to ask why adult men and women cannot stand in line peacefully. Nigerians, can we teach our children orderliness please? I think it's too late for my generation already.
WINDING UP/PASSING OUT
The last 2 months of my service year , I mentally, literally, figuratively, financially, educationally, everything-ally counted down to my Passing Out day. Time passes so quickly and ironically just when you can see the light at the end of the tunnel, time draaaags! I barely participated in the winding up activities – I attended the Job Awareness seminar, and the Passing Out Parade rehearsals were cancelled last-minute. On Passing Out day, my friends and I piled up in a car and headed to Iyana-Ipaja for the last time. Imagine the HUGE sigh of relief when I finally collected my NYSC certificate! I'm going to scan, photocopy, laminate and frame it!
I have spent a lot of time trying to decide what next. At the time of the tragic Dana crash, I was so disheartened that I made up my mind I would leave Nigeria the first chance I got. However, the truth is Nigeria isn't the worst place in the world.
I'm inclined to say NYSC is a waste of time and big joke BUT the reason why it was started in the first place was for Nigerian youths to assimilate into other tribes/communities/cultures, and get much-needed valuable work experience. If the necessary infrastructures were properly in place, it would be a program that would serve Nigerians as a whole, Nigerian youths, and the government so much better. There is no reason why security for corpers should be an issue. There is no reason why corps members should be glorified errand boys and girls. I remember my mum saying in her day, corpers left the program fielding job offers from multiple institutions and organizations. There was also a time when corpers were looked at fondly by the general public. It's sad what the state of Nigeria has come to. I try hard to hold onto hope that things will get better in my lifetime.
If anyone wants to sign up for NYSC from the diaspora, I strongly encourage you to read my blog entries. I wanted not only to keep myself busy, but give a FULL firsthand account of the NYSC service year.
Happy reading and wish you luck!