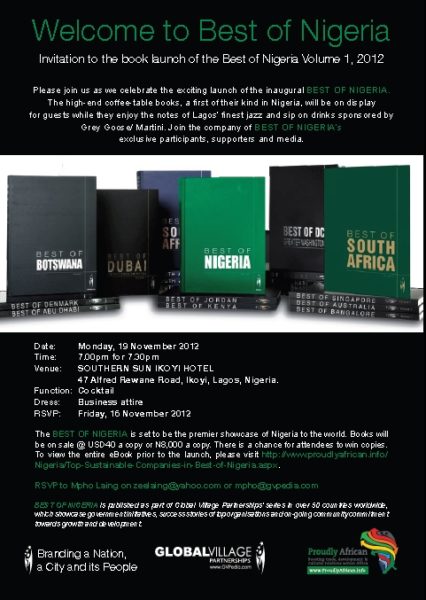 You are cordially invited to the launch of Best of Nigeria Volume 1, a book that showcases all that Nigeria has to offer from natural resources to nature and tourism, to investment and industry, to government and culture, this Monday 19th November 2012 at the Southern Sun Hotel, Ikoyi, Lagos.
According to Best of Nigeria's rep, the high-end coffee table book tells the lesser-known side of the story needed to entice foreign trade and investment – which is said to rival South Africa's economy by 2020. The book will be made available for sale after the event.
Kicking off at 7:30 PM, but attendees are expected to arrive by 7 PM, this event promises to be interesting and insightful as guests enjoy Jazz music and sip on refreshing glasses of Grey Groose or Martini.
To view the entire e-book, which retails for N 8,000, prior to the launch, click here http://www.proudlyafrican.info/Nigeria/Top-Sustainable-Companies-in-Best-of-Nigeria.aspx
This event is strictly by invitation.
Best of Nigeria is currently distributed by organisations of Nigeria as a corporate gifting tool to international delegates. For more information on this book and other projects, log on to www.GVPedia.com and www.ProudlyAfrican.Info
Date: Monday 19th November 2012
Time: 7 PM
Venue: Southern Sun Hotel, 47 Alfred Rewane Road, Ikoyi, Lagos
Dress Code: Business Attire
_____________________________________________________________________________________
Sponsored Content