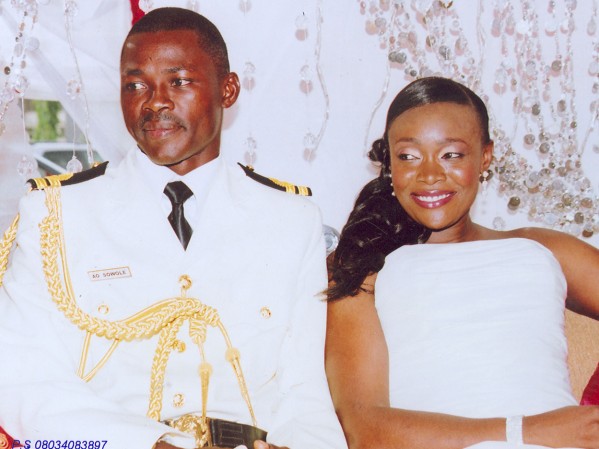 He was aged 32, got married on March 26th 2011 to his wife, Eniola and had his first daughter, Teniola barely nine months ago. He was the bread winner of his family and his parents are still alive. That is the sad story of Lt. David Adeyemi Sowole, the co-pilot of the ill-fated Navy helicopter that crashed on Saturday in Bayelsa state.
At his home in Iyana-Ipaja, Lagos, The Nation captured the gloomy mood of his parents as they mourned their son.
Hid dad, Solomon Kolawole Sowole said he heard the tragic news of his son's death on "Koko inu Iwe Iroyin", a Yoruba language newspaper review programme on Sunday morning.
He described his late son as "a very gentle, honest, humble, trustworthy and highly disciplined person, who does not want people to deceive other people. He was a man who believed in sincerity to all and malice to none."
He said he last spoke with his son on Friday, when he called from Warri, Delta State, where he went on a relief duty for three weeks. He said he had instructions to stay back in Warri because he would be involved in a special assignment.
"On Friday, his mother said she was weak generally in the body and he asked me to take her to the hospital. He had earlier called my wife and they discussed. Thereafter, he asked me to arrange to take her to the hospital. During the night, my wife could not sleep and was complaining of body pains. At about 6 am on Saturday, his younger brother drove their mother to the hospital," he said.
Sowole said he discussed with his son about his job. "I asked him about his job and he told me it was okay. He asked after everybody, his brothers, his sisters, his mother and every other member of the family. "
His Mum, Olufunke Sowole, while recounting her last conversation with her son said he was initially due to be back in Lagos on Saturday, the day he flew in the crashed helicopter. She added that he called her when he was about to board the chopper at Okoroba for Port Harcourt that fateful Saturday and assured her that he would be back soon. She said she discussed with her son for about 20 minutes on the telephone and that there was no sign that something would go wrong.
"He called me several times and asked me to go to the hospital. When I would not go, he called his father and insisted that he must make me to go to the hospital. He asked after everybody in the house. It never occurred to me that he would not be back," she lamented.
According to his father, the family became apprehensive when they heard the news on the radio on Saturday that there was a helicopter crash somewhere in Bayelsa State.
"We called all his mobile phone numbers, but we couldn't make any contact with him. When I visited his mother in the hospital, I couldn't tell her anything because of the state of her health. While we were listening to the news on the television that night, a boy came from Warri to Lagos and called his younger brother, Owolabi. I found the call rather unusual and concluded that something must have happened."
From the account of his parents, he was a man who was well loved by his family. He left behind a little daughter and his wife. They must be going through a difficult period now and we express our deepest condolences to his family. May God grant them the fortitude to bear the loss.
____________________________________________________________________________________________
Lt. David Adeyemi Sowole  was the co-pilot of the helicopter that crashed in Bayelsa state on Saturday 15th December 2012 killing all six people on board. The other occupants of the helicopter were Governor of Kaduna State, Patrick Yakowa; the former National Security Adviser, Andrew Azazi; Dauda Tsoho, an aide to Governor Yakowa; Warrant Officer Mohammed Kamal, an aide to former National Security Adviser, Owoye Azazi and Commander Muritala Mohammed Daba, the pilot.