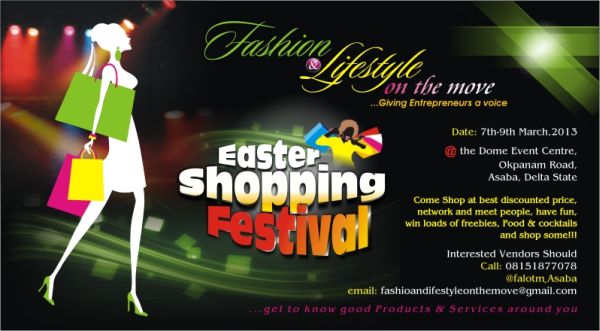 After a successful Christmas shopping outing last year, Fashion & Lifestyle On The Move is set to debut its Easter shopping festival this March!
The three-day fair is aimed at promoting and publicizing local businesses to help them reach their target market and make shopping easier and fun for their customers.
Vendors who would be at the festival include makeup artistes, event/wedding/party planners, boutiques for men, women and kids, accessories, beauty consultants, home decor/wares, IT gadgets, caterers, bakers, fabric merchants and so on. There will also be a children for rides, bouncy castles, swimming pool and loads of fun games and prizes to win.
Come shop at best discounted prices, network and meet people, have fun, win loads of freebies, food and cocktails! Admission is FREE.
Date: Thursday 7th – Saturday 9th March 2012
Venue: The Dome Event Center, Okpanam road Asaba.
Contact: Interested vendors should call 08151877078 | Email [email protected] | Twitter @falotm_Asaba.
_____________________________________________________________________________________________
Sponsored Content