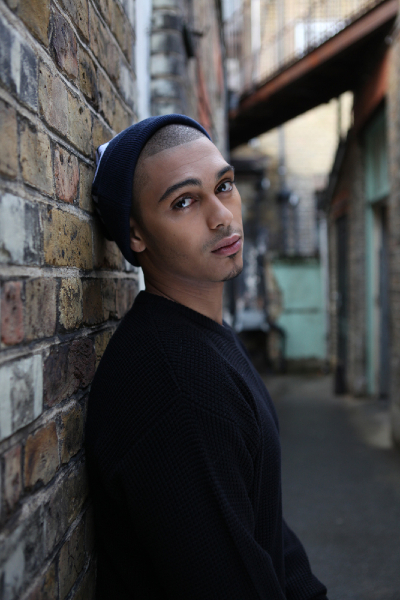 Laptop screens, phone calls and office conversations – that's my day to day. But, a radio tour, endorsement meetings, conversations with celebrities and performance rehearsals – that was my Wednesday, April 3 2013. That day, I was 'just one of the boys' in L Marshall's entourage and it was awesome.
L Marshall has been the BN Music Radar ever since 2011 when the UK-born, Nigeria & Brazil-bred artist dropped his debut mixtape, "The Wait". Commonly referred to as 'the UK Drake', the budding superstar has already begun to 'blow' (as we tend to say) on the international scene.
Fun Facts
His friends and family call him TJ
He is related to veteran actress and director, Joke Silva.
He also has two musician brothers – a talented singer-songwriter, Joe Bond and producer – Bibby Jones
He has a little crush on Rhythm FM OAP, Toke Makinwa and a childhood crush on Genevieve Nnaji.
He studied Audio Engineering at the SAE Institute in London.
He is signed to the former Mercury Records, now Virgin EMI Records in the UK.
The Hook-Up
L Marshall came on a short trip to Nigeria to see his family and friends as well as promote himself and his new single, "Castles". When BN caught wind of what was about to go down, we had to get the exclusive scoop. But, an interview wasn't going to be enough and that's how I got into the picture.
His Entourage
The crew was huge! There was L Marshall, of course, two managers – Tope Ajani & Jimi Adesanya, his brother, Joe Bond, his guitarist, David Keiffer and a long-time friend, Jugganut. But that wasn't all, there was Segun Baruwa, the bodyguard; me and we were joined by his good friends Chykay and fellow Blackbody artist friend, Uzzy Tebudiga.
Although, in the words of L Marshall, 'I'm underselling' this entourage, it just seemed to grow exponentially. It is completely fair of me to say that at some points L's mum and Tosyn Bucknor were part of the crew.
My Day with L Marshall
The day started off a little relaxed. I met up the crew at the Top Radio FM Station for an interview with the bubbly Tosyn Bucknor.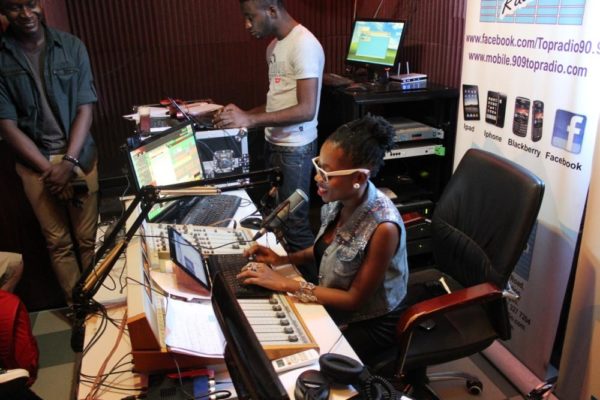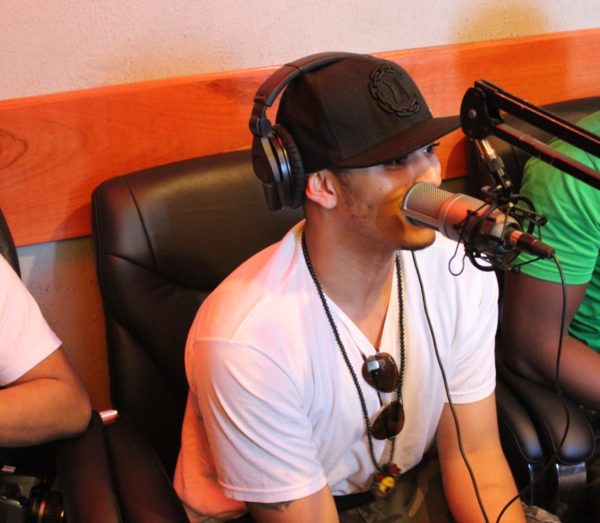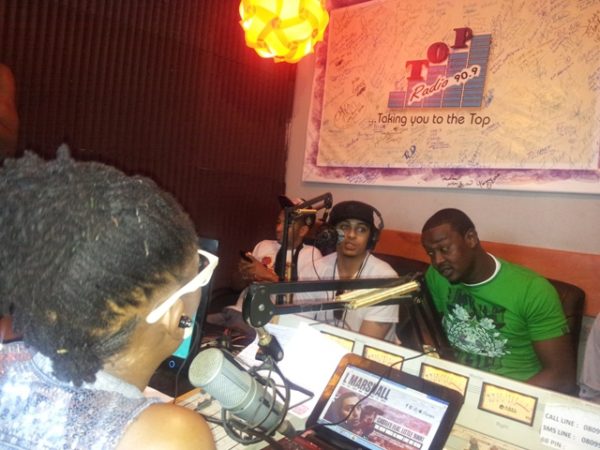 From figuring out Yoruba proverbs and funny 'stalker'-related subjects, the radio interview was certainly a fun first experience for me. Most especially, when David burst out his guitar and L performed an impromptu acoustic set of his single, "Castles". That was the moment that I realized that I was in for a fun ride.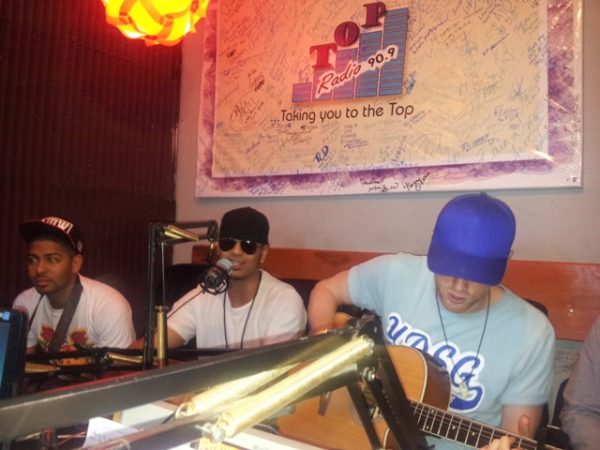 And, then, we were off…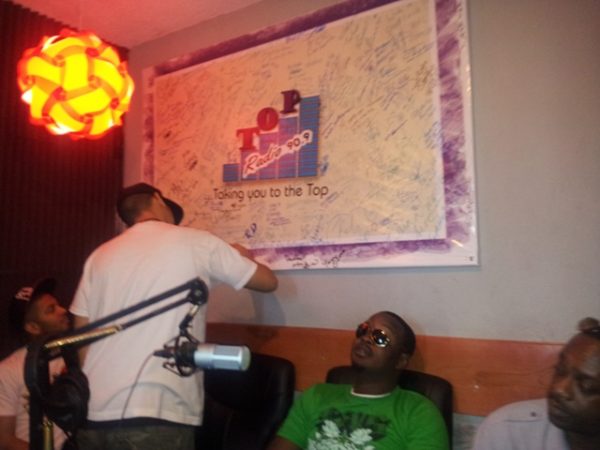 But, just as we got to the car to head off to the next gig, L got ambushed by a fan. So we popped the trunk and she got herself an autographed poster.
And, we were off, for real this time, to a meeting on the island. Getting caught in Lagos traffic can be tedious sometimes, especially when you and the radio aren't quite in sync. So, I decided to take a leap from my shy shell and engage in productive conversation. I was part of the crew, wasn't I?
We talked about adverts on the radio and how they still sound how they did eight years ago, when he was last in Nigeria. I listened to a variety of new music, almost everyone in the entourage had strong music leanings and soon, as usual, girls became the chief topic of conversation. I think I'll keep some of those details to myself or will I?
L was still pretty tired from the previous day's activities so the car journeys were his nap time. We didn't really get a chance to talk as a result, but he was really friendly and seriously focused.
After the meeting with Hennessy, we had a scrumptious shawarma lunch at Mega Plaza and then it was off to Silverbird Galleria for an interview at Rhythm FM. We got there early but you know what they say about 'African time'.

Out of the blue, who walks by? DJ Sose! Who would have known that he and L Marshall go way back? Well, now you do. He was at work actually, so it wasn't really out of the blue. DJ Sose happened to have been hosting Studio 53 extra cameras so I'm pretty sure L Marshall made a cameo.
The Rhythm FM interview with Big Tyme went extraordinarily smoothly. I don't think there were any adverts during its course and once again, he blew them away with his acoustic performance of "Castles". I recall Vina looking completely entranced during it. That was also quite entertaining.
Industry Nite Rehearsals
We got to GET Arena around 5pm and the stage for Industry Nite was still being set up. Burna Boy was slated to host the night so he was bringing L Marshall out as a surprise performance. Needless to say that they would both perform L Marshall's "Castles Remix" featuring Burna Boy and Niyola.
So while we were waiting for the set-up to be done, we decided to chill outside, catch up on everyone's gist and before we knew it, a freestyle session broke out.

The Interview
It was about time L Marshall and I had some one-on-one time. I realized that as much as the stereotype of a musician goes, L Marshall wasn't quite part of it. He was very business-minded and saw every single situation he was in as work so kept himself disciplined. He's into martial arts after all so i got the drift. Here's what he had to say: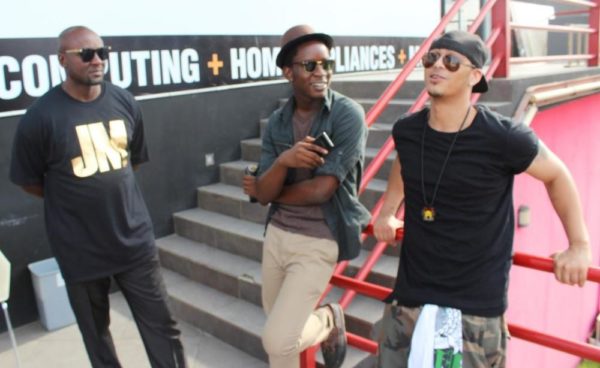 The Afrobeats scene in UK
I think it looks a lot bigger from here than it actually is. Artists are going out there and doing shows and doing tours but are kind of just performing for the Nigerian audiences out there. But, the thing with English people is English people want to get down so they go with their friends. And, as much as people want to talk about it, it actually hasn't blown yet. But, I really think it will.
This is the problem. People are always in a rush to go abroad, I remember when Dancehall blew up. Dancehall had to become huge in Jamaica first and when it was the biggest thing coming from there, everyone in America started asking what's going on in Jamaica and it blew up from there. Give Afrobeats another few years, let it become omnipotent here and the rest of the world will have to take note.
With people like Tinie Tempah signing Wizkid and D'Banj; me and D'Banj are on the same label, it's a sign that it's getting there, but it's not quite there yet. How you know something's about to blow – all the labels out there will start signing Afrobeats artist left, right and centre and I'm not hearing that yet.
How do you handle the ladies?
I think I handle it alright. First of all, I know that it's not a good look to hop on any chick that wants to try . Secondly, I'm working. If a hot girl was trying to come on to me when I was relaxing, that's one thing, I'd be really personable. But, right now, I'm trying to do these rehearsals and I'm just coming from one thing and then, to the next thing so, I don't have time for that seriously. I'm trying to work and I'm here to see my family.
Nigerian Celebrity Crushes
Tiwa Savage
Toke Makinwa
Genevieve Nnaji
Agbani Darego
Do you play Soccer?
Football! When did you guys start calling it soccer? Na wa!
Your Celebrity Football team
I'd have Tinie Tempah, Sneakbo and Example. D'Banj would be top striker while Wizkid and Davido would play the wings. I'm a mid-fielder so I have to see everything from the middle. Then, I'd get Wretch 32 to be the goalie because he's really tall.
Rita Ora and Iggy Azalea would be my defenders and their job would be to distract the other team's strikers.
We can be short one. That would be my team.
If you weren't doing music, what would you be doing?
I have no idea, man. I've been doing this since I was a kid.
So you don't have a plan B?
Plan B? Plan B is for people who fail at Plan A.
Look, if I hadn't gone to uni to study sound engineering, I would have studied mechanical engineering. It's hard to say. At one point, I was really interested in Law. I've always been good at maths so it made sense I was going to do something maths-based but at the end of the day, I didn't go to uni to study that because this is what I wanted to do. It's what I've always wanted to do. It's what I'm best at and it's what I really excel at. I can brag about my music. I'm not going to brag about anything else. This is what I do.
How much trouble did you actually get into for your mother to send you back to Nigeria?
Let's not talk about my troubles. I got into a lot of trouble. But, at the same time, you have to ask – "How much trouble warrants that type of discipline to a Nigerian mother?". Because, if my mum were English, I wouldn't have been sent to anywhere. Then again, may be I would have.
If Aladdin gave you his Genie lamp and you could make only three wishes, what would they be?
Three wishes? I wouldn't make three wishes. I'd make one and probably wish for something like being able to fly or teleport. I'd keep it real. Then, once I've got my new toy, I'll save the other two wishes. Now, let me ask you a question – you get given three wishes by a magical genie, a once in a lifetime experience and you use them all at the same time?
My first wish would probably be for another thousand wishes
Ha! But they never let that one happen. You get your three and that's all you've got. For me, I'd wish for something that's impossible because hey, if we're talking genies, let's go all out. I want to be able to teleport. That way I can escape anything. That way, If my babe calls me and says where am I, I can just go like – "I'm behind you! I'm here. I'm always here". I'd wish for something like that and save the other two wishes until I was older. Wait till I'm like 90 and say I wish to be 25 again.
The one thing I wouldn't do is to wish for anything to do with money. That's the type of thing that if I spend my whole life trying to get rich and failed, then I would consider using that wish.
It was a fun chat with L Marshall but it had to be cut short because it was time for rehearsals and Burna Boy had just arrived. So, we all went in and they did their thing.
Industry Nite
After rehearsals, we went back to L's house for a quick nap, some dinner and to get ready for the show. Before we knew it, it was almost 11pm and it had started to rain. So, we bundled ourselves out of the house and got a move on. I didn't bring a change of clothes so I had to get real inventive with my fashion.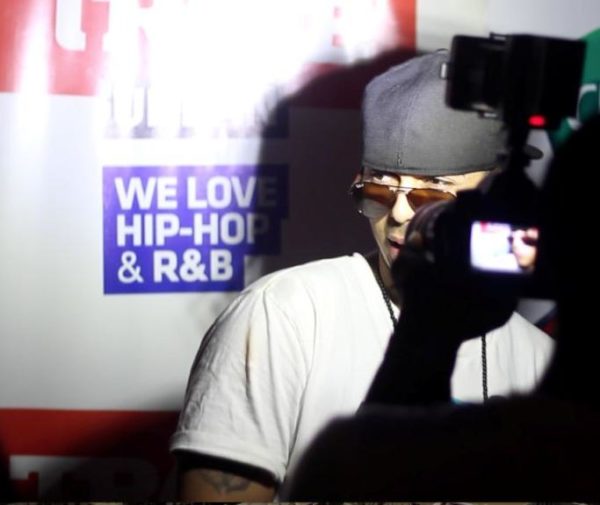 When we arrived, we had a special section reserved close to the stage, VIP lifestyle. L's mum had officially joined the entourage but had to leave early though because it was getting too late. We watched artists like Phyno and Aristokrat Records ensigns, Kamar, Pucado and Ozee perform.
The place was full and very lively. After a few drinks, it was time for L to hit the stage.
How did you manage to stay in focus before the performance?
I haven't been drinking.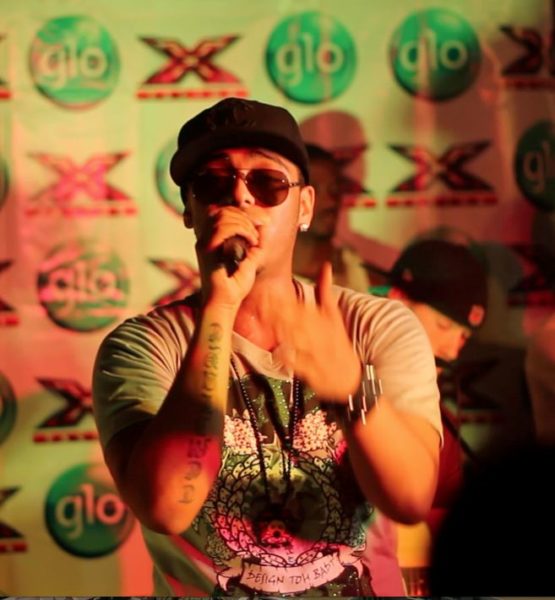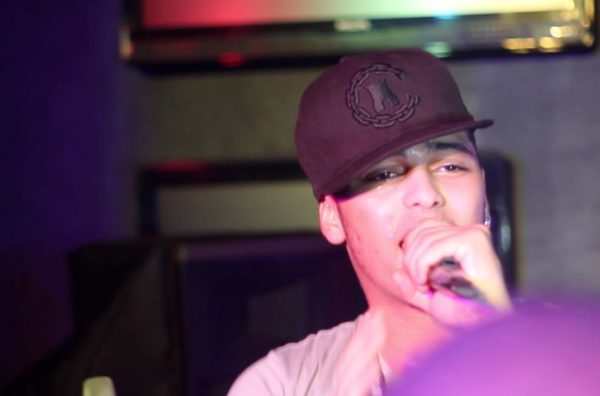 After performing "My Ex", "Purple Skies" and "Castles", Burna Boy hopped on the stage with L Marshall for the "Castles Remix"
And so does Niyola…
After that, Burna Boy performed a smashing set with hit songs, "Like To Party", "Tonight" and "Run My Race" performed as a medley. Once Burna Boy was done, it was off to the after party and what a night it was.
If you haven't heard "Castles" or it's exciting Studio Magic-produced remix with Burna Boy and Niyola, here's your chance:
Play L. Marshall Feat. Burna Boy & Niyola – Castles Remix
[audio: https://www.bellanaija.com/wp-content/uploads/2013/03/L_Marshall_-_Castles_Remix_ft._Burna_Boy__Niyola_BellaNaija.com_.mp3]
Download
Acoustic Performance Live at the Beat FM Studio

You can follow him on Twitter & Instagram – @LMarshallmusic
Photo Credits: J-Management | Lmarshallmusic.com