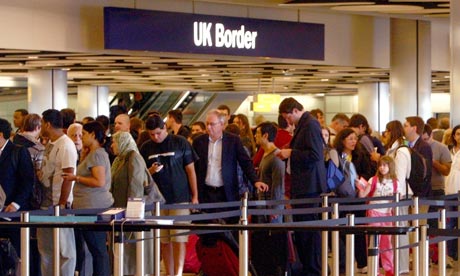 Everyone is talking about the United Kingdom's proposed pilot scheme which will "penalize" citizens of "high risk nations" including Nigeria by charging a refundable £3,000 bond prior to entry into their country.
The Sunday Times broke the news yesterday, "Visitors from India, Pakistan, Nigeria and other "high risk" countries in Asia and Africa will be forced to pay a £3,000 cash bond before they can enter Britain.
From November, a pilot scheme will target visitors from seven countries who will have to pay the government a form of cash guarantee or deposit to deter immigration abuse. They will forfeit the £3,000 if they overstay in Britain and fail to return to their home countries by the time their visa has expired."
According to initial reports, visitors to the UK who access public funds such as healthcare benefits will also forfeit the £3,000 bond.
The UK Daily Mail reports that "the scheme will be piloted from November, for people from India, Pakistan, Bangladesh, Sri Lanka, Nigeria and Ghana. They are being targeted because of the high volume of visitor visa applications and relatively high levels of abuse." Home Secretary Theresa May has pointed out that "the intention was to make the immigration system more 'selective' and deter people from 'overstaying' once their visitor visa has expired. In the long-term, she hopes to extend the Australian-style bond scheme to also include foreign workers and students."
The move has been met with online protest by citizens of the affected nations who have called for their respective nations to retaliate with similar fees and bonds for UK citizens. Others have applauded the move as a valiant attempt to block foreign nationals from exploiting the UK immigration and benefits system. The plan has not been fully approved and it remains to be seen if the scheme will come to fruition in November.
What are your thoughts?