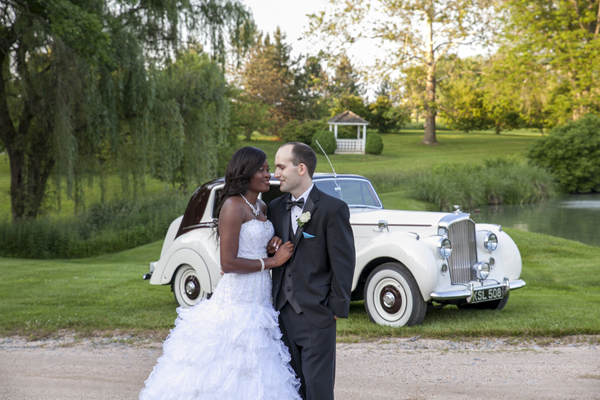 BellaNaija Weddings in collaboration with Munaluchi Bride Magazine brings you Shirley & Bryan's pretty wedding in Maryland.
Shirley and Bryan's proposal story and wedding day epitomize all things sweet. The Ghanaian-American couple had so many personal touches in their charming outdoor ceremony and elegant reception. After proposing to Shirley in the dessert, it was only appropriate they gave away honey as wedding favors. The wedding programs that doubled as fans for their wedding guests were thoughtful & the signs held by the ring bearers – oh so adorable!
Enjoy!
_____________________________________________________________________________________________
Bride: Shirley Boateng
Groom: Bryan Lapek
Wedding date: June 8 2013
Location: Middletown, MD
Photography: PW Photography
Proposal – it was really "sweet"!
From the bride:
On a cold night in February, Bryan came over to see me. Something was a bit different though. He was exceptionally nervous, and he actually ended up falling sick to his stomach, having to spend the night. That was a Sunday and it was the night before we were supposed to go out to celebrate Valentine's Day (we intended to celebrate it early so as not to deal with large crowds on the day itself). I figured because he was so sick, our plans might not go forward on Monday night. However, I was wrong. Bryan called me from work on Monday to confirm our dinner date for the evening. I figured it was going to be just like any other dinner date. Boy, was I wrong!
When Bryan arrived on Monday night, he was looking especially dapper. Anyone who knows him knows that he loves to wear jeans and t-shirts. On this night, he was dressed in his suit and came bearing valentines gifts of a cute teddy bear and a box of chocolates, along with a card. Typical Valentine's Day gifts, I supposed. When we got to the restaurant, Ristorante Picolo, the atmosphere was totally amazing. There was a musician serenading guests at individual tables. The place felt special. All through dinner, Bryan seemed to be a bit nervous. I suspected that it was because he still had a bit of the stomach bug from the previous night, especially when he got up to use the restroom after dinner and before dessert. Before he left for the bathroom (again), Bryan had given me a crossword puzzle. When he came back and sat down, the waiter followed shortly thereafter and delivered a cheesecake to Bryan and just a plate to me. I said to myself, "why do I just get a plate?" Maybe it had something to do with the crossword puzzle. But, then I looked at it again and it had "Will You Marry Me?" written on it in chocolate icing – the sweetest proposal ever! The phrase also happened to be the answer to the crossword puzzle, which I was finishing just as the dessert was delivered! Bryan was very nervous though, as he initially just placed the ring box on top of the table by my plate. I had to ask him if there was something he wanted to ask me 🙂 He then proceeded to attempt to get down on his knee to ask me properly, but his nerves got the better of him as he fell over and knocked down the chairs as well. LOL.
He did finally get the question out of his mouth, and put the ring on my finger, as I said "YES!". The entire restaurant cheered and gave us a congratulatory ovation. We finished our desserts and proceeded to leave. It was then that Bryan's nerves got the best of him again, as he had forgotten where he had parked the car. He did find it 2 car garages later and did take me home. It was a very interesting and unique proposal, one that I am sure we will never forget. Bryan does regret the embarrassment of the night and wishes that he had been less nervous, but it is all fine by me as I am happy to be marrying such a wonderful man.
Culture
I am Ghanaian and my husband American so we knew from the start that we wanted to honour both cultures. We chose a DJ with experience playing multi-cultural weddings and events. We gave him a list of Ghanaian songs to blend in with the more traditional American wedding songs. For our food, we had a traditional caterer but we were also able to have them serve several Ghanaian dishes along with their selections.
For more of Shirley and Bryan's sweet day, visit https://munaluchibridal.com/?p=29001
Vendors
Dress Salon: Demetrios Bridal – www.demetriosbride.com
Bridesmaids Dresses: Eden Bridals – www.edenbridals.com
Makeup: Melanie Jones – www.melaniejonesbeauty.com
Shoes:  Angela Nuran – www.angelanuran.com
Ceremony & Reception Location:  Stone Manor Country Club – www.stonemanorcountryclub.com
Photography: PW Photography – www.pwphotography.com
Videography: Black Tie Video – www.blacktievideo.net
Florist: Ory Custom Florals – www.oryflorals.com
Cake: Sugar Bakers Cakes – www.sugarbakerscakes.com
Stationery: The Organized Bride – theorganizedbridestore.com
_______________________________________________________________________________________
We love weddings as much as you do – get in touch for inquiries, inspiration & more!
E-mail: weddings (at) bellanaija.com
Instagram: BellaNaijaWeddings
Twitter: BellaNaijaWed
FB: BellaNaijaWeddings