To help you with the TVC competition search, Stanbic IBTC has released a second clue. All you need to do is look in the puzzle below and search for 5 key words that you can find within the video. But be careful, only one of these key words is correct.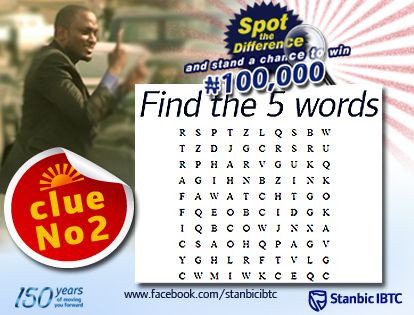 If you haven't been following and you want to join in the search, check out the video below or on their YouTube channel HERE. Who knows, you could be one of the 10 lucky winners of N100, 000 each.
Here's how to play:
– Watch the video
– Note all the differences you can spot within the video
– Send in your answer.
For example, in one scene the car could be green and in the next scene the same car could be yellow. Watch out for such differences and submit as many answers as you want.
You can submit your answers on any of their social media platforms:
Youtube: comment on the YouTube video
Twitter: send your answers to @stanbicibtc making sure you also include the hash tag #moveit in your answer.
Facebook: you can submit your answer on their page Facebook.com/Stanbicibtc
Watch the video

The competition closes on Friday 19th July 2013, so hurry.
Terms and conditions apply.Best of luck.
_____________________________________________________________________________________________________________
Sponsored Content