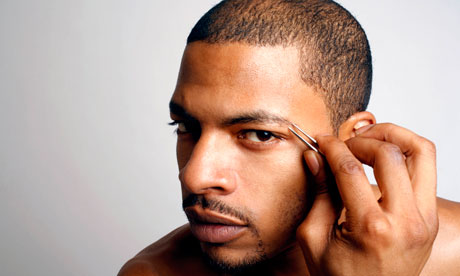 It's Monday! I usually wouldn't add an exclamation mark behind the most dreaded day of the week but what the heck, I'm in a good mood.
I especially thank the little voice in my head that told me to look for what to wear last night instead of my usual Monday morning struggle. It's the same thing every Monday "Should I wear a dress or a top & trousers? Is black too gloomy for a Monday morning? What bag should I carry?" The questions are sometimes endless. I often wonder if guys take the same time to get dressed for Monday mornings?
In my mind it probably goes something like opens wardrobe, grabs a shirt, grabs trousers, picks brown belt, dusts brown shoes and he's off. Simple!
Personally, like it when a man takes his time to look good. Shave (your jaw & underarms), cut your hair, polish your shoes, match your shoes with your belt etc. For me, neat & looking good is a double plus. I don't know if I've been watching too much Mad Men, but there is something about seeing a man who has clearly taken the time to look great everyday that makes me super happy.
This reminds me of a friend of mine, Shewa who ran into some metro-sexual issues with her boyfriend. Apparently, she was finding it difficult to come to terms with the fact that her boyfriend spends about an hour everyday to get ready for anything. "He always goes the extra mile with his dressing, he carries 'man bags', uses face powder and grooms his eyebrows."
To her, that is not the way a man should get dressed. She likes it when a man looks rugged (sort of like a lumberjack) and manly. Shewa wants her man to have a manly musk, under arm hair, a beard, rough features…*sigh* Frankly, I think she has been reading too many romance novels. "To top it off, he uses facial products like facial washes and cleansers, what kind of man does that?".
Today, a man who dresses well and takes his time to look good is tagged as being metro-sexual, but is there anything wrong with looking good? On a regular basis women are expected to look their best; get their hair done, wear heels, put on some make up, work out, put on earrings, dress to impress, the list goes on. But is it bad to expect that from a man too. Does being a man exempt them from grooming? Even if he uses skin products, does the fact that he is a man deny him the pleasure of keeping his face pimple free? Don't they need it even more because they grow facial hair?
When I asked my good friend Musa about the issue of metro-sexual men, his answer couldn't have surprised me more. "I think metro-sexual men are okay. I am not saying they should go over board like my friends who squeaks every time he finds a stain on his shirt, but just take care of yourself. I can tell my girlfriend even appreciates it because when we go out, she holds my hand like she walking a prize winning dog that can play the piano and recite poetry. Besides your appearance is the first thing people notice about you. It might as well be a great one."
In all sincerity I do agree with his points but there are still a lot of people like Shewa who would rather have a caveman to Scott Disick. So the question still stands, how metro sexual can a man be? Is it wrong for a man to take extra care of his appearances? How can you tell a guy that you think he takes his appearances too seriously? I would really like to hear your thoughts so Shewa can get some proper advice.
Photo Credit: Theguardian