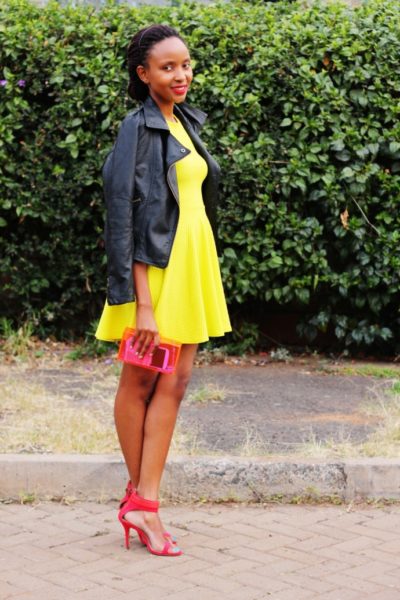 Wait! Before you decide this post isn't even worth your time because you think leather cannot be worn in the summer, let's see if that is really true. Thanks to the recycled nature of fashion, leather has come around again and this time its even been seen in 'Summer' collections even though leather isn't always associated with the heat. So I thought, can leather really be worn in hot weather or is it strictly for the 'Summer' collections on the runway? Today, BN Style requires the expertise of the BN Stylistas to reach a verdict.
First let's state some facts.
Leather isn't always associated with hot weather; the heavy and uncomfortable material can make a heat rash look like a welcome luxury. However, there are some types and styles of leather that can easily be transformed to a cool summer trend.
Thanks to the creation of faux leather (fake leather) and pleather (a mixture of plastic and leather), there are now more convenient alternatives to wearing leather clothing items. Faux leather is man made from a fabric base which is chemically treated with wax and is dyed or polyurethane treated for whatever colour and texture intended. It has the resemblance of real leather but at a lower cost. Pleather on the other hand is a type of faux leather. It is a plastic fabric made to look like leather, is lighter and can be dyed any colour. The other types of faux leather include leatherette and vegan leather.
With these types of leather out there, how can you differentiate between the fake and real leather? Here are a few tips to help out.
Read the label: sometimes the type of leather used is clearly written on the label. If the label says "made from man made materials", then it is not made from real leather.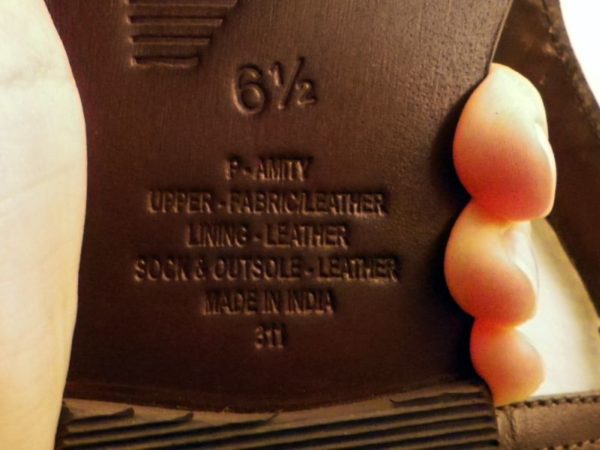 Take a look at the edges: Real leather will have a rough look at the edge while faux leather will look swollen and air filled.
Examine the pores of the material: Leather usually comes with tiny pores on the surface. To differentiate between the real leather and fake leather take a look at the pores. Faux leather will have a consistent pattern of pores while the real leather will have inconsistent pores and sometimes has no pores at all.

Touch & Feel the leather: Generally leather, depending on the quality can be coarse or smooth. It can also be flexible and soft. To know if it is faux leather, check if it's smoother than normal and feels more like plastic. Also, faux leather tends to stretch more than real leather.
Smell the Leather: The smell of real leather cannot be replicated by synthetic materials. So it could pay off if you become acquainted with the smell of real leather to know if you are buying a fake.
The Pro's and Con's of Real and Faux Leather
Now, I understand there are some fashionistas here who would rather give up a date with Lynxxx and Trey Songz at once than wear faux leather. So, in the spirit of finding out if leather can be made weather appropriate, we need to know the pros and cons of real and fake leather.
Pros of Real Leather
Real leather gives an aura of class and luxury. No two hides are the same, so each type of leather has its own unique features. It gets more comfortable over time so it has a unique ageing process (like vintage wine). If maintained properly, leather would last for a while and is easy to clean.
Cons of Real Leather
Real leather costs more than faux leather. It cannot stand excessive sunlight and will fade. Any liquid that comes in contact with it, if not taken care of quick, will be soaked in and could lead to a permanent stain.
Pros of Faux Leather
Faux leather is more affordable than real leather. If you are an animal lover, you can safely say you do not have any's hide on your back. It is fade resistant and comes in many colours.
Cons of Faux Leather
Faux leather doesn't last as long as real leather. Because it is made of plastic, it could end up smelling of it. Also, it becomes more uncomfortable over time and doesn't offer any kind of warmth.
How to Wear Leather
When it comes to wearing leather in hot weather, obviously faux leather is the way to go because of its ventilation and light weight. If you still need more facts on how leather can be incorporated into your everyday style, here are a few pointers to guide you.
Loose is Better
When wearing leather in hot or warm weather, it is better to opt for clothing that doesn't cling to the body. You could decide to go for an a-line skirt that doesn't hug as much as a pencil skirt or a leather coated pair of joggers.  This way you avoid sweating and feeling uncomfortable. Check out Kristine from Thriftykristine in her knee length faux leather skirt.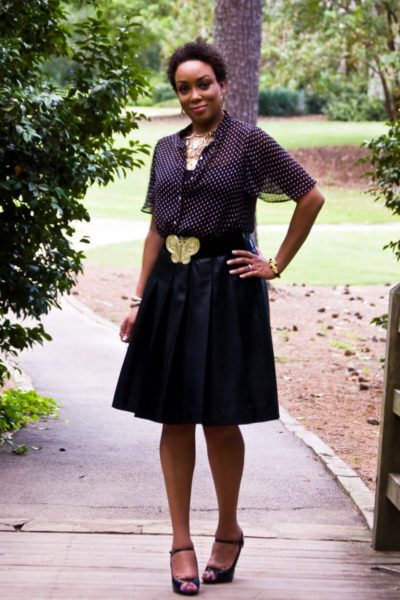 Choose your Colours wisely
Even when it comes to wearing leather, you have to be colour conscious. The colour black attracts more heat than white or any other colour. So, even though leather usually comes in black, try going for a different colour. I know you all remember Stella of Jádorefashion in her fab leather skirt.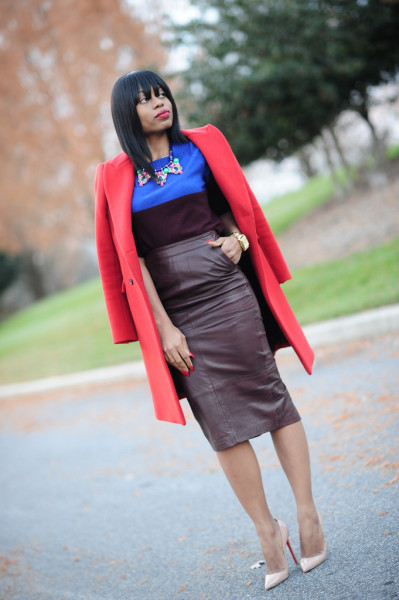 Go for Shorter Hemlines
A great way to still wear leather in the heat is to wear pieces with shorter hemlines. Short pleated skirts, shorts and mini dresses can all serve this purpose. Check out the sexy high waist skirt on Efya at the DKM concert.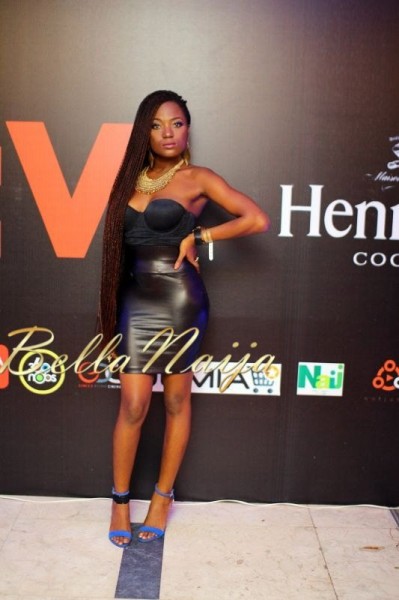 Wear it in Small Doses
If you are not sure about the leather trend and you really want to try it out, you could just incorporate it with small items. Try a pair of leather shorts under a big loose top or a pair of trousers with leather detail. This way you are not really committing to it, but your trying it out.
Here Nancie of Nanciemwai has worn a pair of black trousers with leather detail. She still incorporated the leather detail in her outfit but it didn't overtake the whole outfit.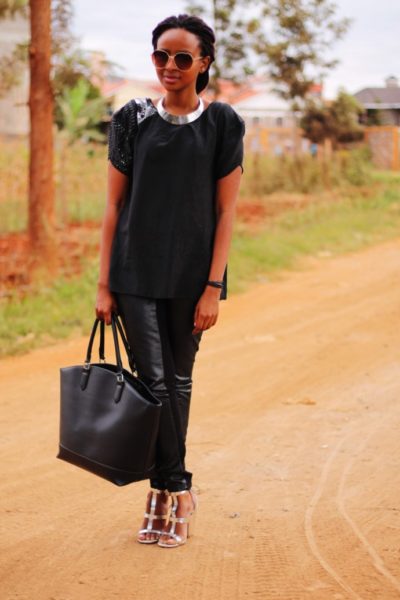 Now that we have stated the basics on leather, has the jury reached a verdict? Is leather simply a no-no for summer or hot weather? Can it be manipulated to still be worn all year round? Can you wear faux leather? Let's discuss.
Photo Credit: Thriftykristine | Muubaa | Styleforum | Paulbraytondesigns | Ericabunker | Nanciemwai | Nanciemwai |