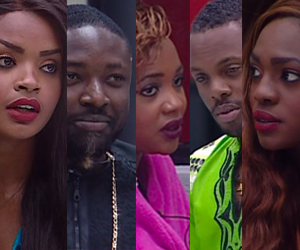 And the winner of Big Brother Africa Season 8: The Chase is…
…you will just have to wait to find out!
After 91 days in the Big Brother House, this Sunday 25th August 2013 during the 2-hour live finale, one of the 5 finalists – Nigeria's Beverly, Ghana's Elikem, Namibia's Dillish, Nigeria's Melvin and Zambia's Cleo, will win a whooping $ 300,000.
From the beginning till now, Africa has watched each of the contestants fully transition into their own.
With Nigeria leading with 2 contestants, it is left for Ghana, Namibia and Zambia's contestants to battle for the top spot.
Hosted by Nigerian media personality IK Osakioduwa, the finale will witness loads of electrifying on stage performances.
Nigerian rapper Ice Prince, South Africa's DJ Ganyani, award winning Ugandan rap star Keko and Ghanaian group R2BEES, have all been confirmed to provide musical entertainment on Sunday.
DSTV recently profiled a few fun facts about the finalists on the official website.
Check it out!
Originally a Ruby, Beverly is probably the luckiest of the pack having gone through the entire Season without facing the dreaded Eviction dagger.
It's safe to say that the Nigerian lass literally walked her way to the Finale. On love, she had a bad experience very early in the game when Uganda's LK4 tried two-timing her with South Africa's Koketso.
Seeing the Ugandan choose Koketso over her must have been a huge blow but she soldiered on, thanks to being swapped to the Diamond House.
No one wanted to believe that Betty's Bolt had his eyes fixed on Beverly but that was her story and she stuck to it. It was only after Bolt moved to the Ruby House that he started confessing to a few transgressions. Beverly won HoH twice during the Season.
"That nigga Elikem", as his beau the gorgeous Pokello refers to him, became the first confirmed finalist of The Chase. The Ghanaian Chasemate fought quite a few battles to make it to the finish line in one piece.
Having been the target of serious frenemy squabbles, it took Elikem a while to wake up and smell the coffee. The Taylor was quite popular with the ladies before settling with Zimbabwe's Pokello and the ladies had to take a chill pill.
A man of firsts, Elikem is also the only Chasemate to have had the nerve to nominate his love-interest when he put up Pokello. He is also the first Ghanaian to make it to the finale.
This original Diamond became Head of House three times and survived five Evictions; twice by Africa and three times by the respective HoH.
The last confirmed finalist, Diamond Dillish must still be pinching herself after surviving the last eviction that saw South Africa's Angelo and Ethiopia's Bimp bite the dust.
The princess, as Pebbles calls her, is another one that became a regular under the guillotine but Africa would not hear any of it and she was saved on all occasions.
Though she managed to go through the entire Season without falling for any of the guys, Dillish occasionally spoke about yearning for some good loving. Sadly, the Namibian princess failed dismally to make Head of House.
The only Chasemate to have tested fate and put his own head on the chopping block during his tenure as Head of House, a move that will go down as one of the boldest of the Season.
Perhaps that's the reason why his fellow Housemates could not nominate him ever again, they were still picking up their jaws from the floor. The Nigerian hottie almost wears a permanent smile and never bothers anyone.
That's why it was quite a spectacle when Dillish rubbed him the wrong way this week, making him very angry. Though he only faced Eviction once, by his own doing anyway, Melvin won Head of House three times during his days as a Diamond.
This actually made it hard to recall that Melvin is actually an original Ruby.
Hakeem's sweetheart or Mrs Mandaza as she became fondly known on the Big Brother Africa Twitter streets, Cleo surprised many when she pulled herself together and continued with The Chase even after her beau was booted out.
Having survived four evictions, the Zambian emcee has proved to be quite a strong contender in the game. Though this original Ruby couldn't quite crack winning Head of House, she really pulled her weight and was always so close.
Who is your pick? Let us know!