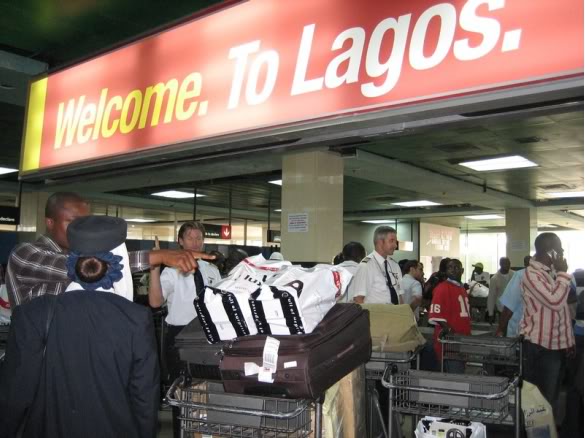 "How was your flight?"
"Ugh, the airport was so hot! And my bags came out so late!"
"I tried to enter with my American passport, so they kept me waiting for hours, but my parents came to get me later!"
Welcome to Christmas in Lagos. Or Abuja. Or any big city in Nigeria in late December/early January. It's the season of "I Just Got Back"(s) or #IJGB! In the old days, someone who just came back was known as a "JJC" aka Johnny Just Come – Johnny, to represent the playful English name of a foreigner. Or perhaps the nickname you adapted because they (oyinbos) couldn't pronounce your name.
How can you tell who they (or we) are? There are 2 main categories – those who just moved back for extended periods of time – for NYSC, a job, or for good, and those who are here for a brief holiday or a major occasion like a relative's wedding – for a few days to a few weeks.
It depends how well you adapt, but after 6 months to a year, your #ijgb status is revoked.
How can you spot us? Well let me give you a couple of pointers –
We often complain about everything. The heat. The traffic. The rudeness. Customer Care Service. The questions – When are you getting married? When are you moving back? – (for people in the second category) People not minding their business.
We find it hard to "price" things down (bargain, negotiate).
We tend to stay roaming on our foreign networks as we are only here for a while.
The accent.
The way we react to people – shocked/outraged at regular things that happen everyday here.
"We" read BellaNaija. Lol
Any other ways to spot us? If you're a Nigerian graduate, do you think IJGBs look down on you? If you're an IJGB that thinks you don't fit in the category completely – maybe you visited every single school holiday and adjusting is a breeze let us know!
Perhaps you only went away for a Masters program after schooling in Nigeria all your life. Do you count? We often hear complaints in our "Move Back To Nigeria" column that anything less than 5 years abroad doesn't qualify as "moving back".
Are you reading this abroad right now readying for your return this Christmas?
If your IJGB status has been revoked, what advice do you have for your former group – IJGBs to adjust quickly?
Please mention in the comments!
Just for laughs, see some tweets with the hash tag #ijgb, there's even a Twitter account @ijgb_ng and website, Lol.
Dear All, IJGB, please come back with an eso-Ebi so we can identity you people whenever & wherever we see you.

— Noble Igwe (@Nobsdaslushhkid) December 8, 2013
"The IJGB", like it's an ethnic group…

— ErrMaGerrrd (@MotleyMusings) October 1, 2013
Dear IJGB, 'price' cabs well abeg.Apart from the airport,only place u shld pay over a thousand for is heaven,dont cause problems for us biko

— Joy (@Joikar) December 7, 2013
Share your thoughts!
________________________________________________________________________________________
Nkechi "Ink" Eze is the Weddings Co-Editor at BellaNaija. And Yes, she just got back.