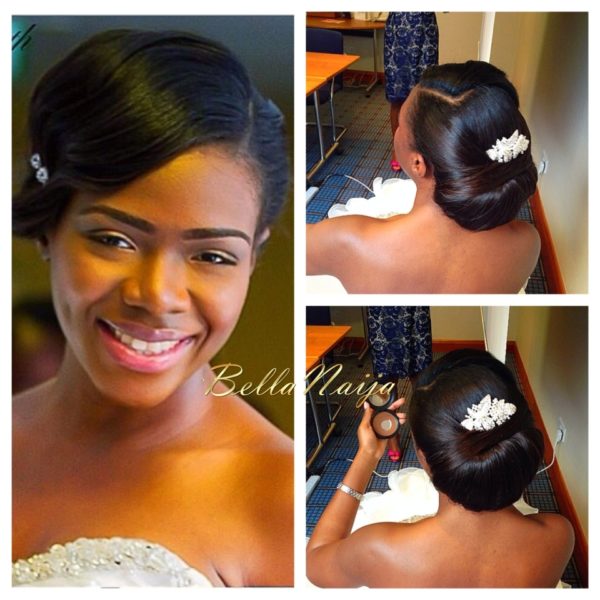 It's that time again for a BN Bridal Beauty!
BN Weddings introduced this feature last year to highlight bridal beauty looks – from traditional to the white wedding – for your inspiration.
Today we meet with one of the UK's foremost hair artists (Yes, after you see her work, you will agree she is truly a hair artist!) – self-trained Tola Olayanju, the brain behind Charis Hair. She's best known for the elegant hairstyles she makes for her brides.
Tola recently did a shoot with a top UK makeup artist, but before we share the photos, hear more from her on her experience. If you're an up and coming hair stylist or MUA, she serves as inspiration that you don't need to attend formal classes – if you have the drive and tools you can start small before you make it big.
***
Tola speaks on her experience – from a part time job in secondary school and uni days, to a full time career:
I am a self trained freelance hairstylist. I started perfecting the art of hair braiding and styling during secondary school and through to university. I used hairdressing as a medium to make money (jobs were not flexible enough to allow study time, so I opted for this). Shortly after, I decided to branch into session styling (bridal, photo shoots, fashion shows etc.) as I enjoyed the creative side of hair more and needed a challenge.

I have worked with professionals in the industry, here in the UK, mainly as related to Caucasian hair in order to broaden my horizons and learn some tricks of the trade. Reading books and watching videos are also main contributors to my skills.

I am inspired by various people across the world. I particularly draw inspiration from Russian and Middle Eastern hairstylists – their eye for detail and focus on precision is out of this world 🙂 It makes me understand that indeed 'hair is art'.
How I Work with My Brides:
Most brides have little or no idea what they want or what would suit the shape of their faces. I start by easing them up and setting up a consultation where we can discuss various hair styles with illustrative pictures. This helps to narrow down what they feel would look nice on them and, of course, suit the 'wedding theme' they are going for.

Choosing the hairstyle can be tasking for the bride as there are many options from which to choose. Once this is done, a trial can be done, making the decision easier at this point.

I enjoy the art of hair styling and find that it is never the same experience with each bride – a fact which continues to fascinate and inspire me to provide a service that is specific to the individual, yet universal to women.
Enjoy the beautiful shoot she did with Maradarah Beauty – then see some of her work on real brides below!
See real brides with Charis Hair bridal hair!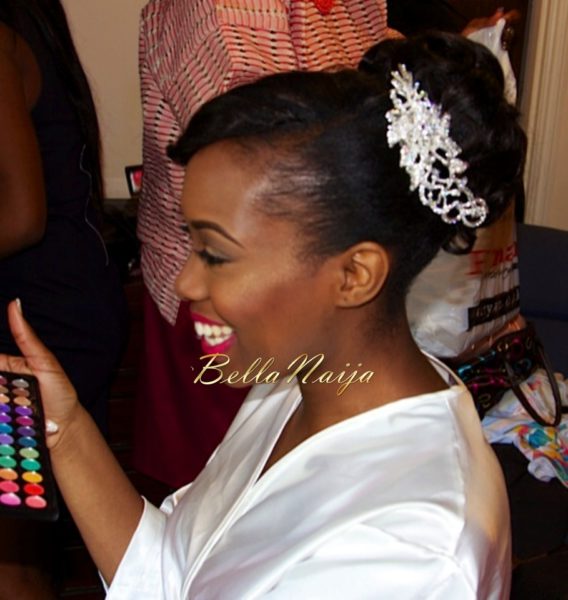 If this article has inspired you in any way, feel free to Share or Pin!
xoxo
BN Weddings Team
Contact Charis Hair: e-mail – info (at) mycharishair.com | http://www.mycharishair.com | instagram.com/charishair
Photoshoot Credits 
Models: Iqra, Sasha and Christine
Makeup: Maradarah Beauty
Hair: Charis Hair
Photography: Natalie Photography
________________________________________________________________________________
We love weddings as much as you do – get in touch for inquiries, inspiration & more!
E-mail: weddings (at) bellanaija.com | E-mail for #AsoEbiBella: asoebibella (at) gmail.com