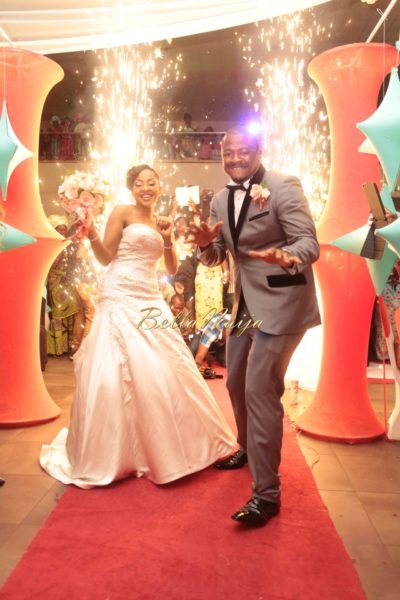 Annette and Gerald sitting in a tree, K-I-S-S…! Gennette's love is so cute, they'll have you singing nursery rhymes!
The accomplished couple – Annette, a medical doctor and Gerald – a chartered accountant – celebrated both their traditional and white wedding in Benin City, Edo State.
We featured their adorable pre-wedding shoot here, now time for their fabulous wedding!
***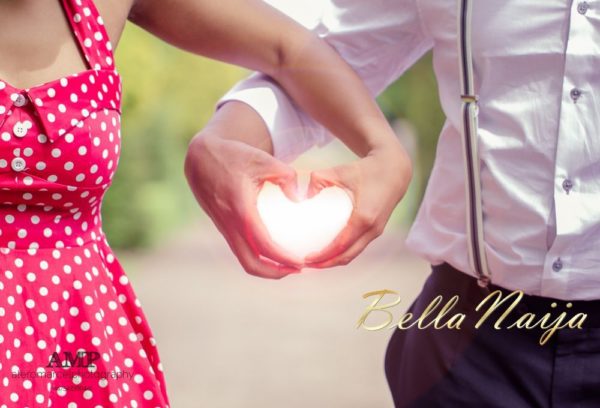 How We Met
by Gerald
We met through a mutual friend of ours, Ify, who we've now dubbed "Cupid". I've known Ify for a few years now. She went to Nottingham Uni with me and then did a post grad course at Oxford Uni with Annette. She basically did an undercover match making exercise. One evening, I got a call from Ify saying there's this girl she thinks I will like. Unbeknown to me, she had done the exact same thing to Annette as well. On a very basic level, she just thought to herself that, as we were both from the same place and both single, we'll make a good match. She could never have predicted how much of an excellent match it would prove to be and how we will fit each other like a hand and a glove.
After she introduced us, we exchanged bb pins and phone numbers and then got chatting. We got on like a house on fire and would spend hours and hours on the phone at a time. Conversation just flowed naturally and she was just so easy to talk to. We loved each other's sense of humour and we just seemed to understand each other from the very beginning. It was as if I'd known her for years. We found out that we had quite a few mutual friends, and that she went to the same Uni as my cousin Jermaine.
Eventually we decided to meet up. We planned a Saturday where we were both free, and then after photo psychoanalysing her through her page on Facebook, I drove up to Oxford to spend the whole day with her. We went to the museum, then the restaurant, then on a scenic walk around the city landmarks and finally ended up in church where we attended the evening mass. Time just seemed to fly by when I was with her and before we knew it, the day was already over. So I drove back to London and kept thinking the whole way through how she MUST be The One. Immediately I got home that evening, the first thing I said to my flatmate Umogbai was "Dude, I've found my future wife". I was convinced and I knew it literally from the first day I met her. The rest as they say is history.
Now, we keep on saying to each other that it was "divine intervention" as that is really the best way to describe how easily we clicked and how quickly we got on and into a relationship and into marriage. Even now she teases me that I never really had to "toast" her or work hard to get her and that I had it easy. And that's because it was very obvious from the start that it was meant to be. It was too clear, and it would have been silly to fight it or deny and prolong the inevitable.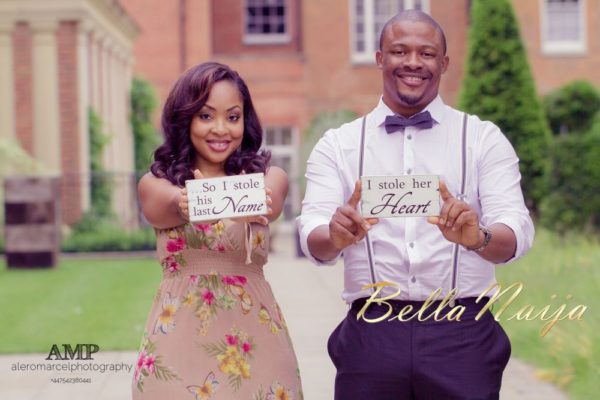 The Proposal
by Annette
So I was invited to speak on the panel at a conference in Deauville, France. It was the Women's Forum for the Economy and Society and I was super excited to be representing the ExxonMobil Foundation at such a huge conference. Naturally I asked Gerald to accompany me but he explained he couldn't get time off as it was a busy period at work but promised me a treat to France at a future date. I was gutted he couldn't make it but I understood, so we drafted my speech together (he's my public speaking coach) and off I went, alone.
On the penultimate day of the conference we had a dinner hosted by Cartier. I called him when I arrived at the venue, gushing about how lovely and grand it was, and how top female executives of Fortune 500 companies were in attendance. He was on his way to play football and said he had to rush off, but that he was very excited for me and wished me all the best.
It was a gala event so I was going about networking, exchanging business cards and socialising. Next thing, I heard a clink on a glass a few yards away from me and suddenly the whole room which was filled with about a thousand women just went dead silent.
In one nanosecond, the space around me had cleared and I saw a clean cut gentleman, down on one knee, holding a small box in his hand and making some incomprehensible sounds. It was all a haze! It's funny how the brain works because it actually took me a while to recognise Gerald and to realise what this was all about.
I spoke to him only an hour ago and he was on his way to play footy, and now here he is, in a different country, looking resplendent in a dinner suit and on one knee saying some words in French. It was all too much for my brain to unravel at the time.
When I finally grasped the scenario I gave him my left hand and he slipped in the most dainty and most gorgeous piece of vanity I'd ever seen. I said YES (in English) and the relay of camera flashes that followed was blinding.
We were definitely the life of the party from that point onwards. Loads of people kept coming up to us, congratulating and cooing over us.
For the rest of the night I just kept staring into his eyes, speechless. I couldn't stop smiling. It was so surreal, yet so real.
***
Advice from the loving couple –
Enjoy every bit of the day, it goes by very quickly in a blur and while planning don't lose focus- the marriage is more important than the wedding.
BellaNaija Weddings wishes Annette & Gerald all the blessings of marriage.
Enjoy, the photos and words – as Annette walks us through the most special moments in their happy day!
***
Pre Wedding – Photography by Alero Marcel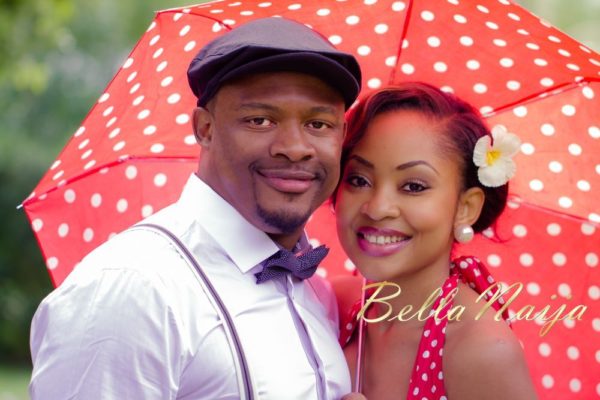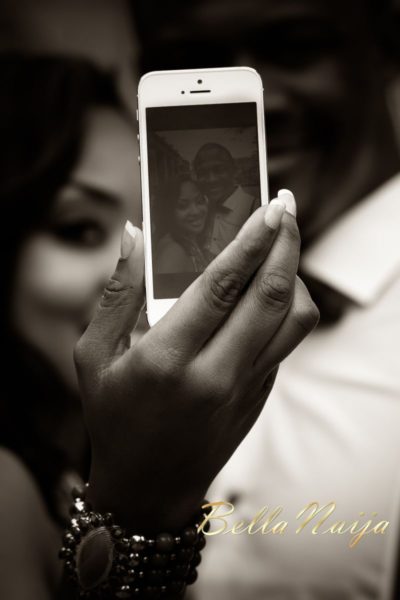 ~ White Wedding Video – Ejiro Onobrakpor

~ White Wedding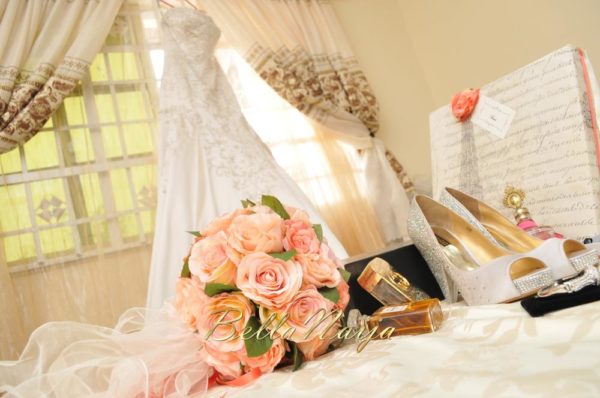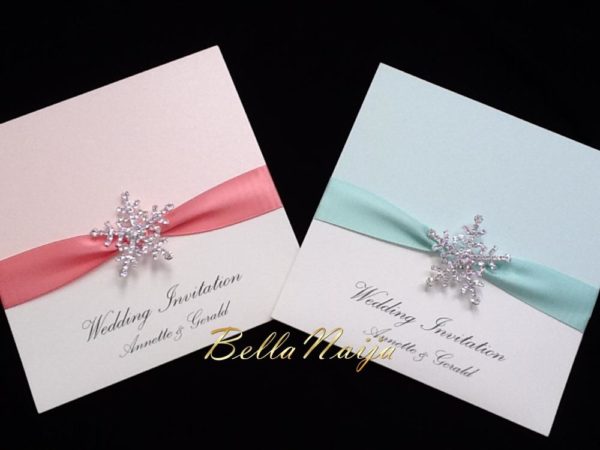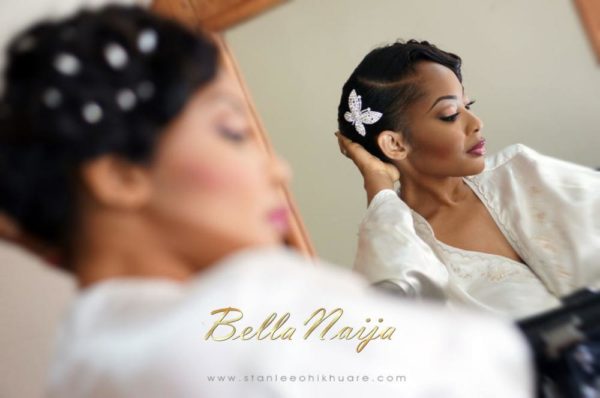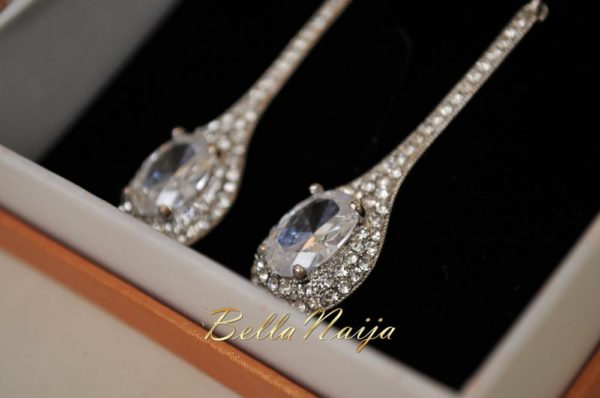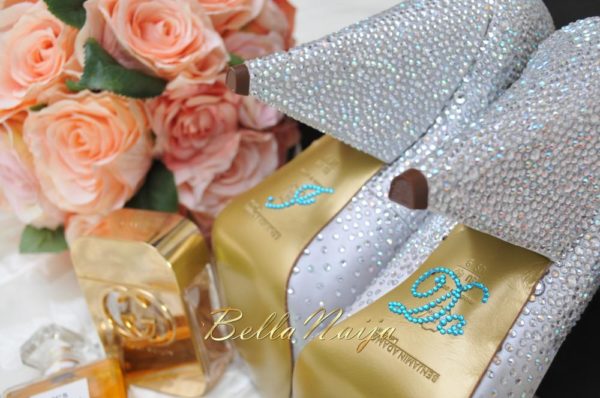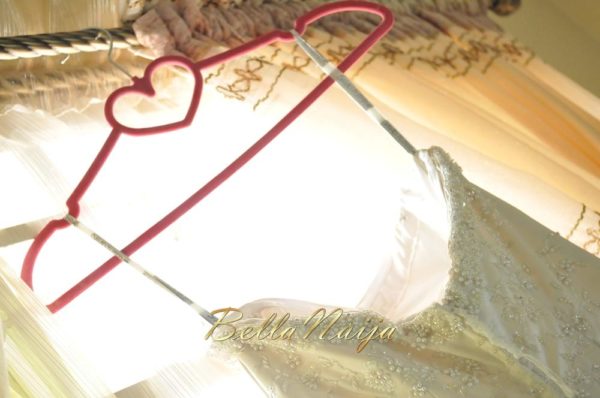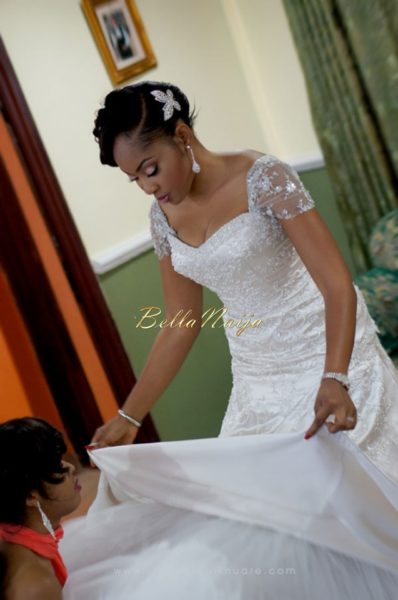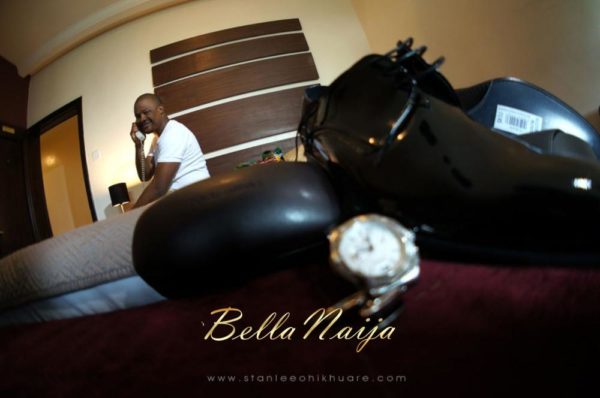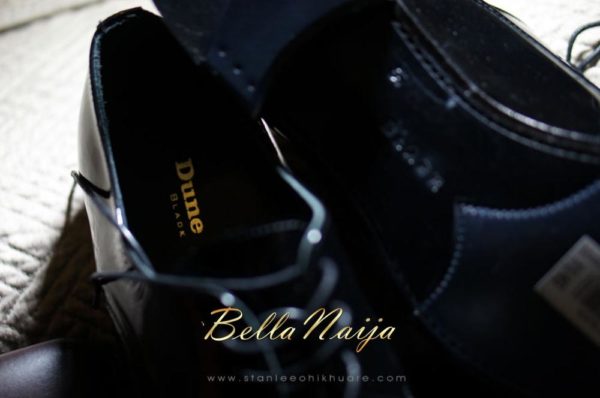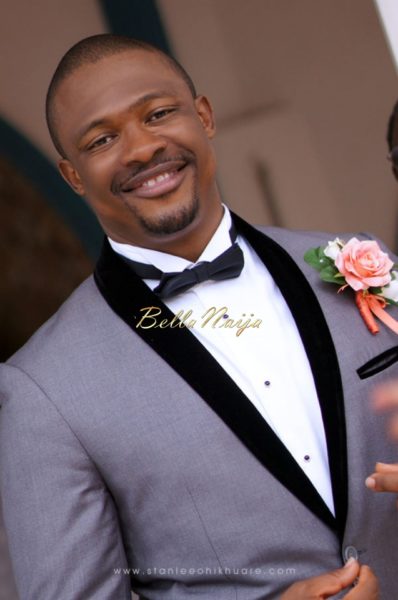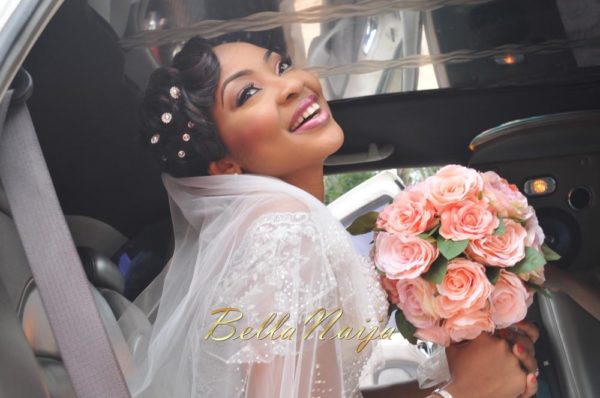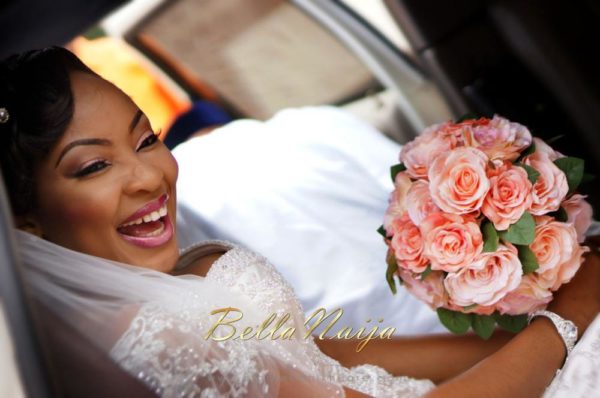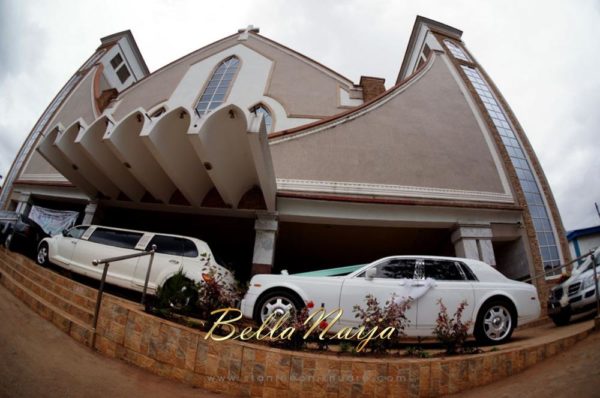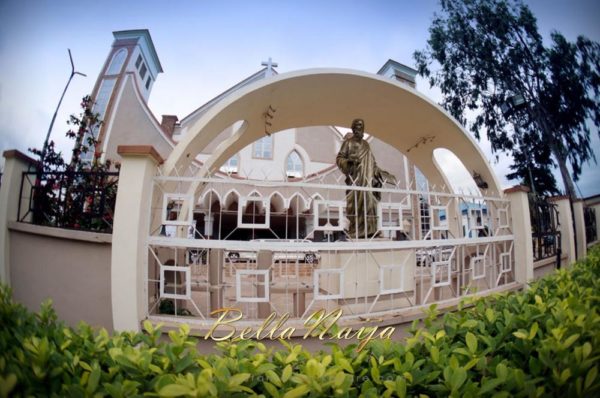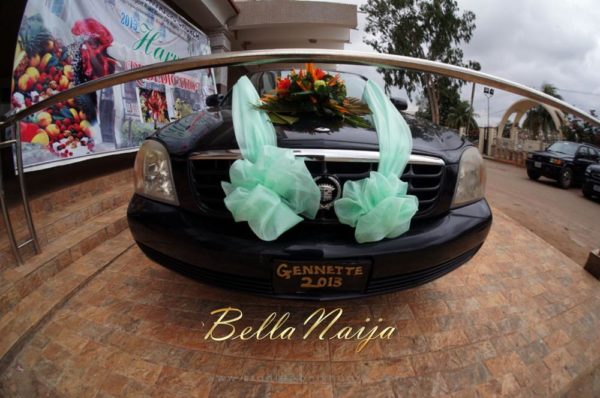 "Our wedding day was the greatest day of our lives. We had looked forward to it so much we could hardly sleep. I had a zillion butterflies in my tummy as I walked down the aisle to Gerald who had a grin wider than a Cheshire cat. I melted when I caught a glimpse of him in the distance. The ceremony was solemn; we said our vows against the backdrop of Canon in D and there wasn't a dry eye in the room."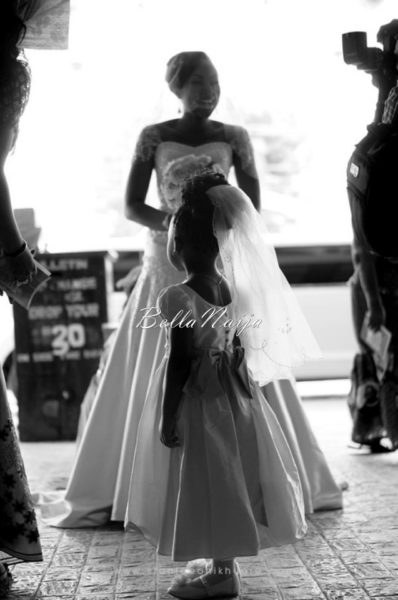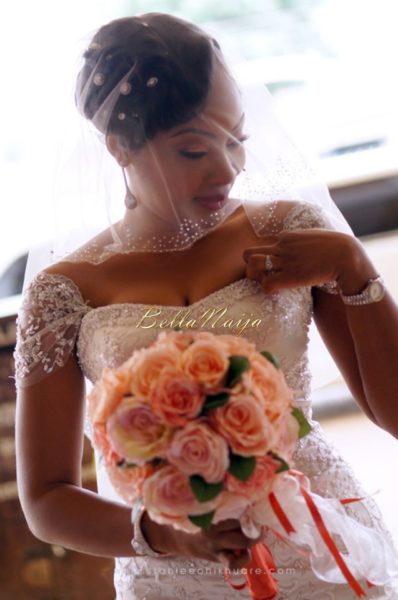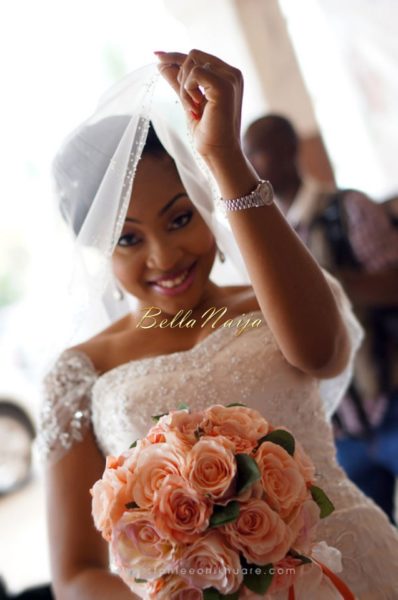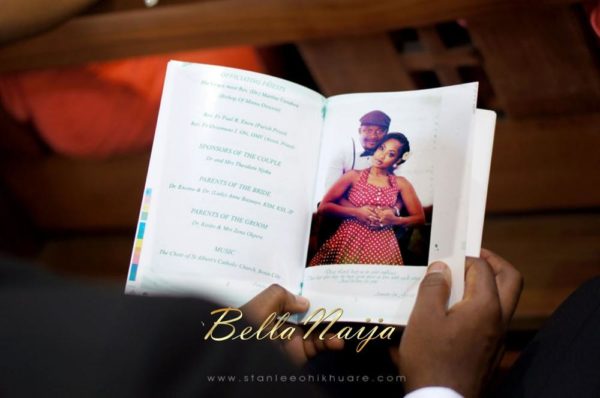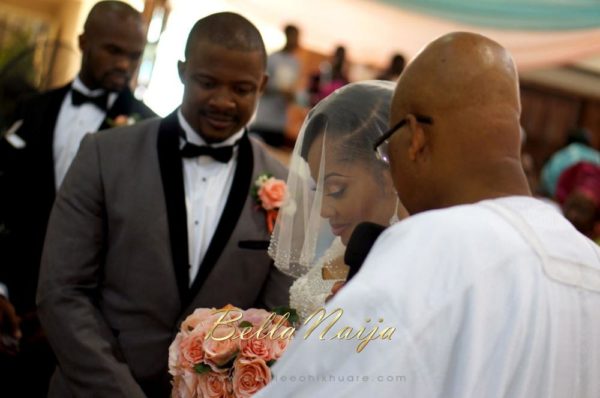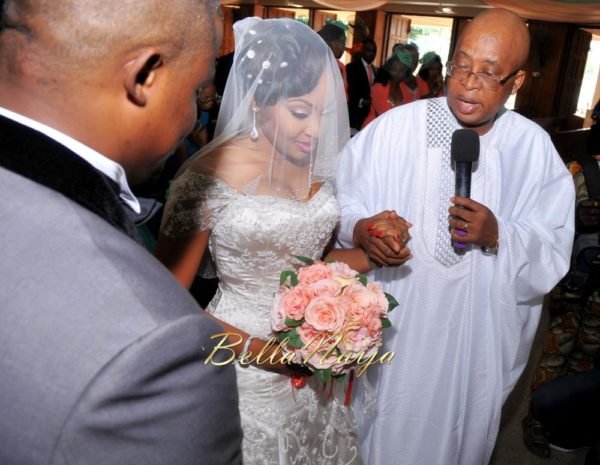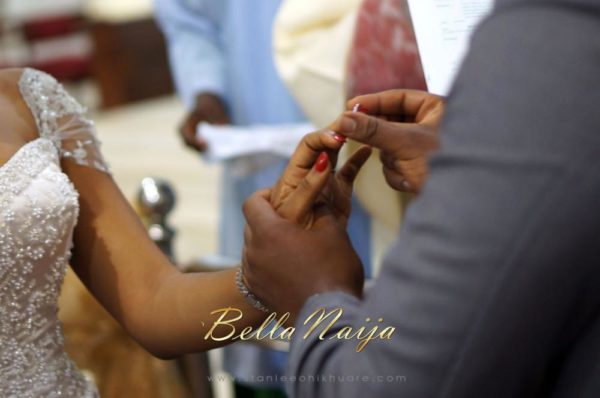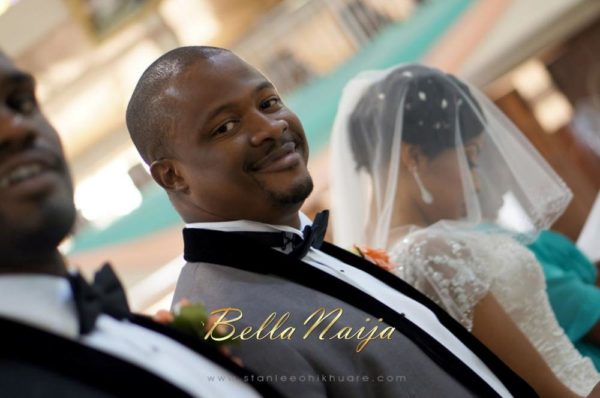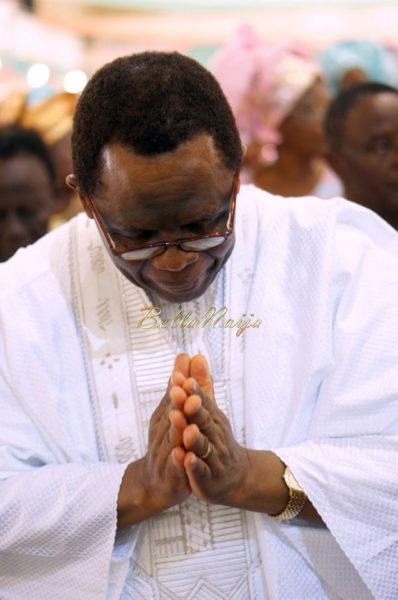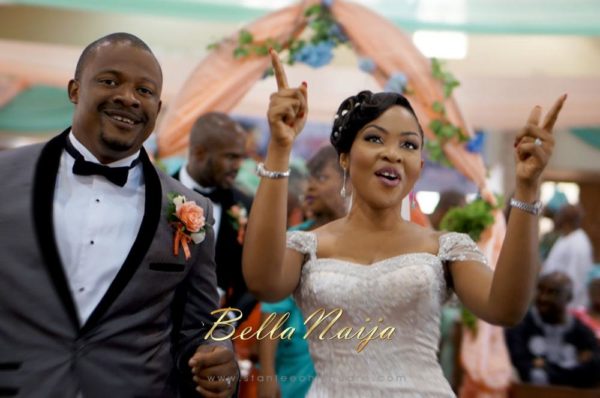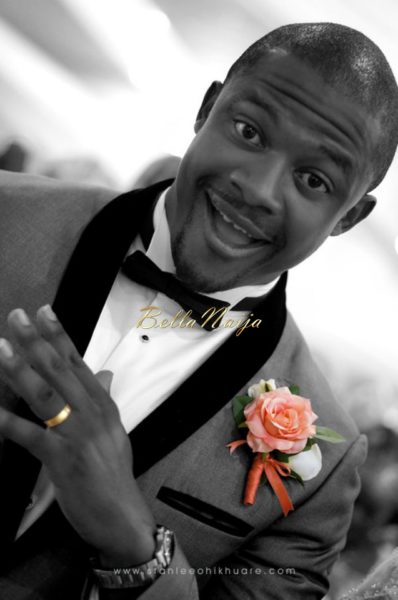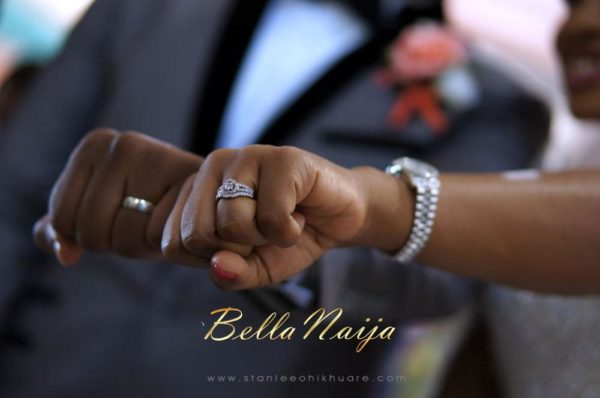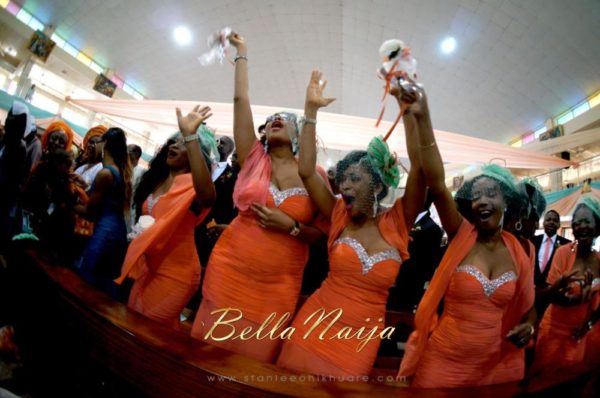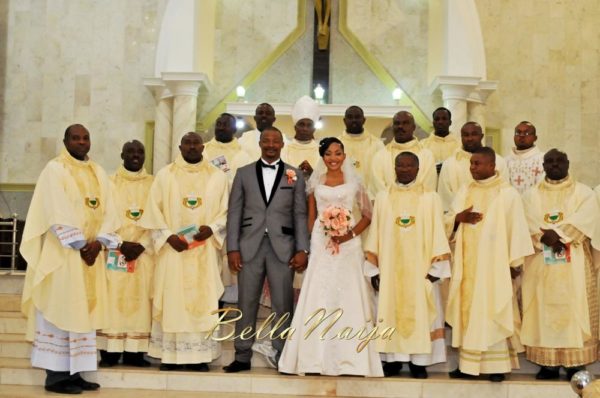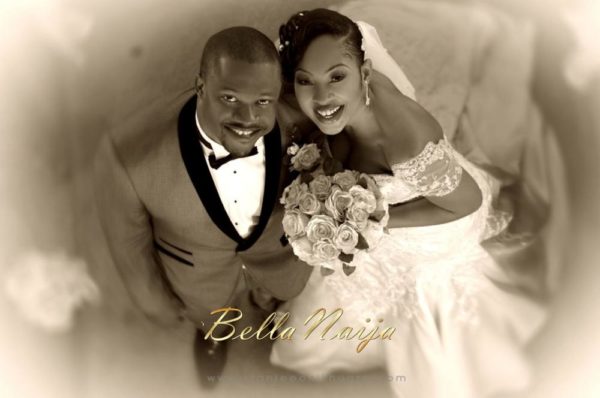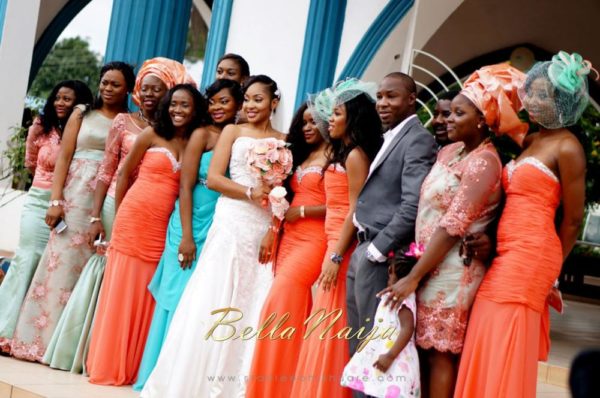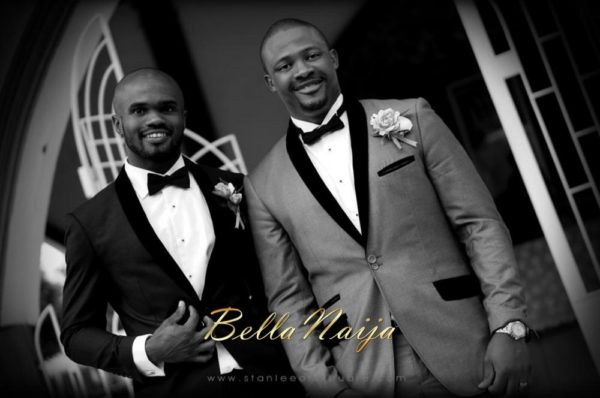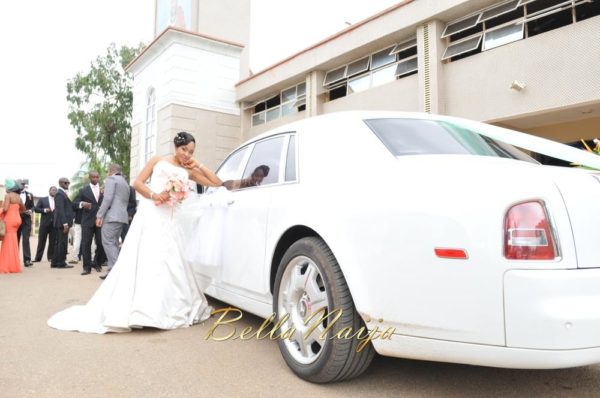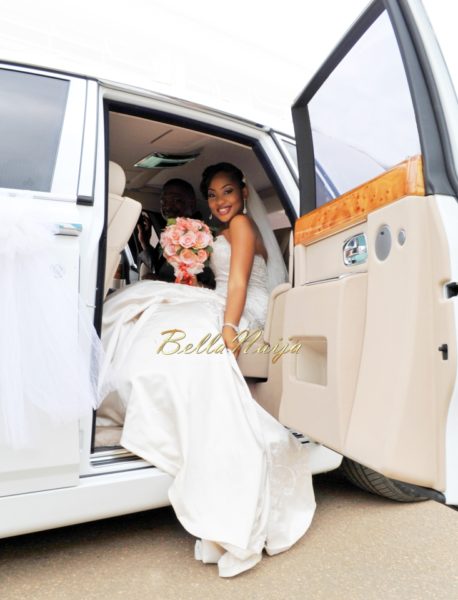 The dancing began from Thanksgiving in church and then we took it to the reception. The reception theme was 'From Paris, with Love'. Paris holds very fond memories for us as Gerald proposed in France, so we chose a French theme.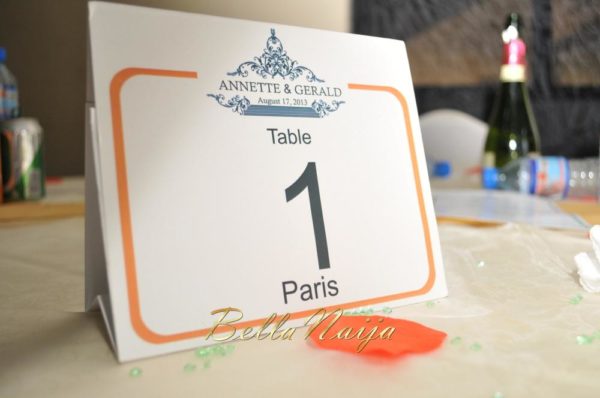 Standing tall in the reception venue was a 15ft tall Eiffel tower replica embellished with dazzling lights. It was breathtakingly beautiful. The tables were numbered and named after cities in France, from Paris to Deauville, Marseille to Strasbourg, Bordeaux and so on.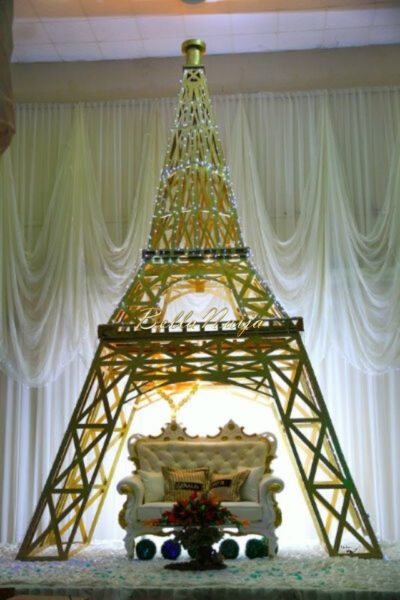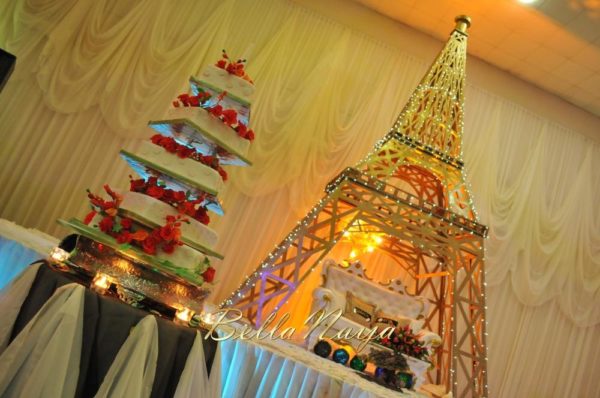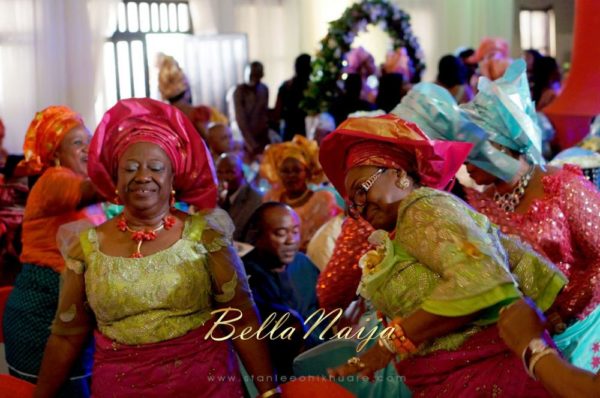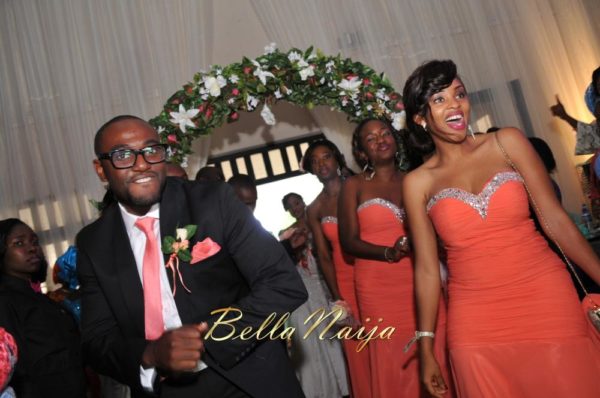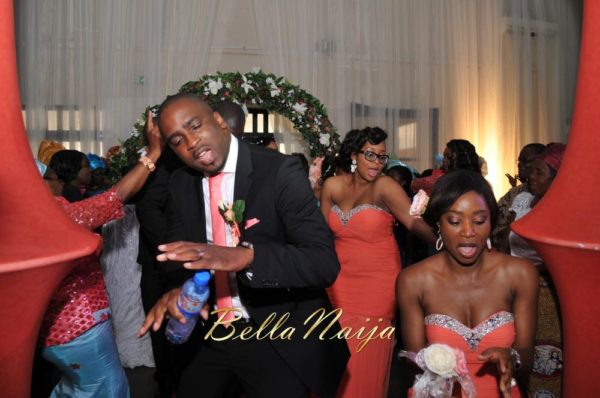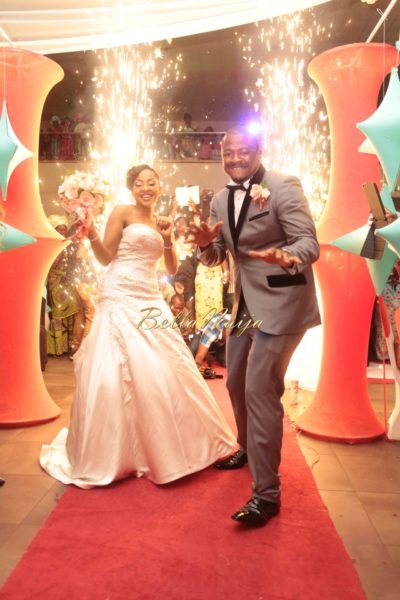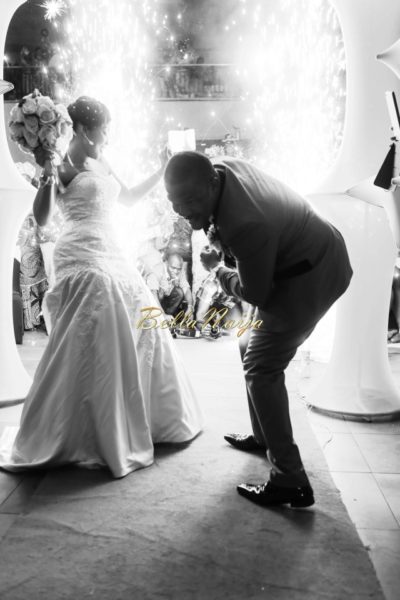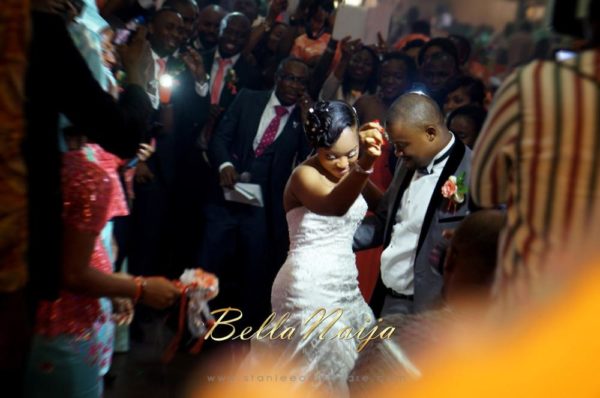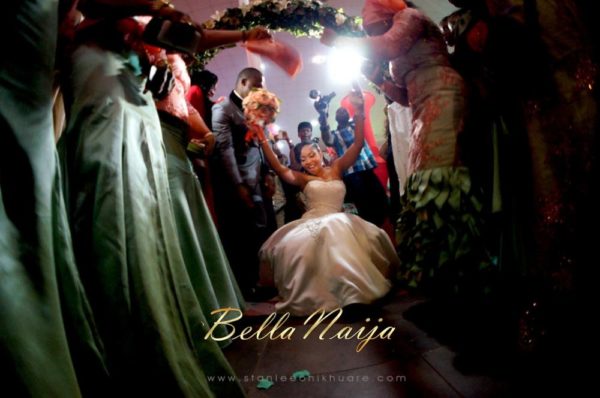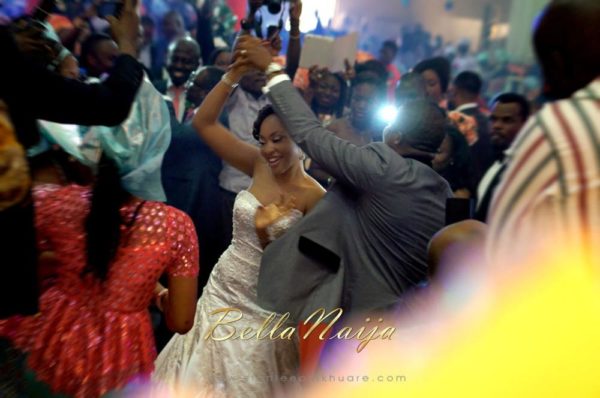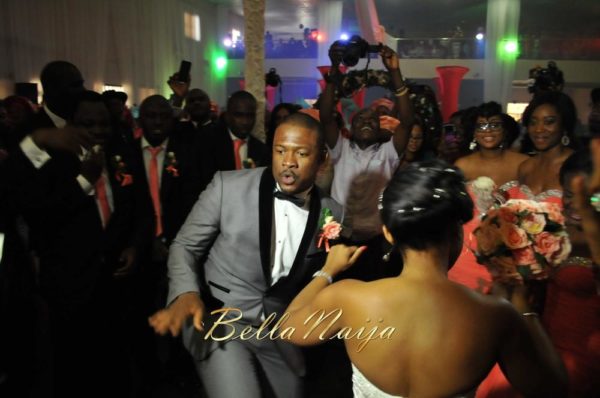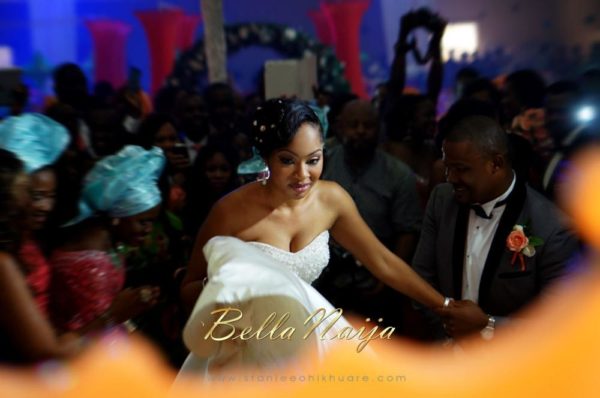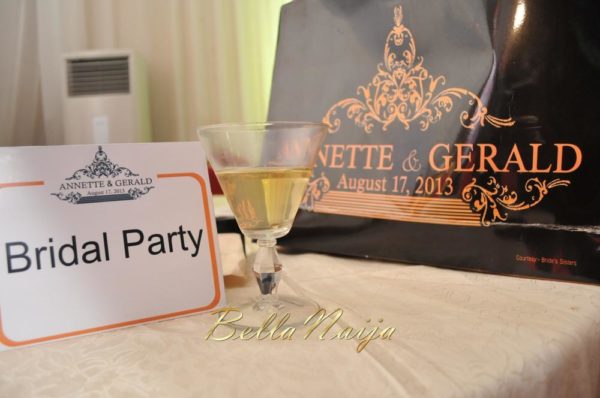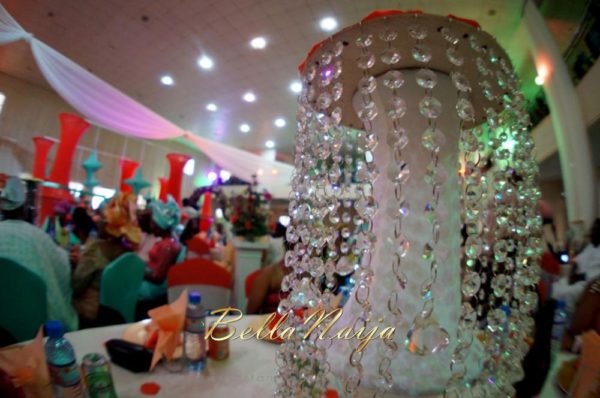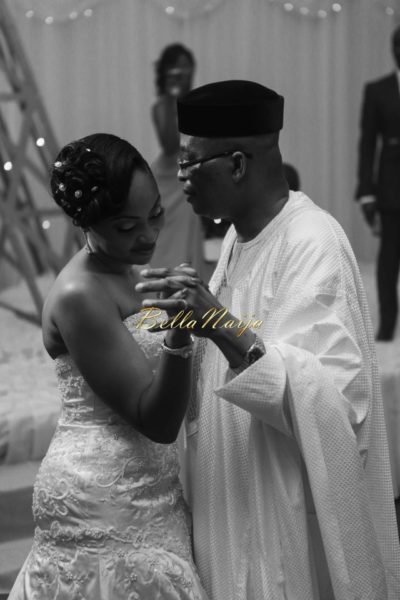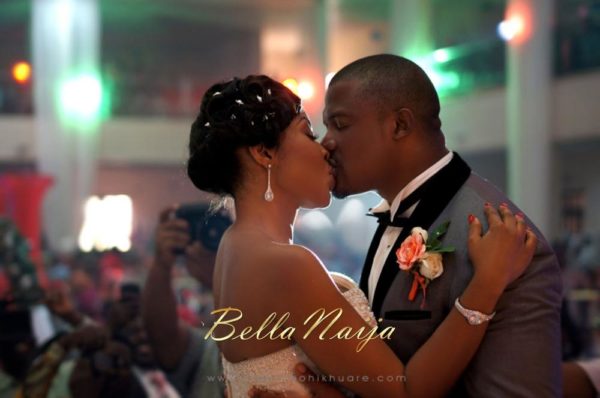 Our first dance was to 'Loving You' by Minnie Ripperton. Gerald chose it saying no song in history better resonates with his emotions.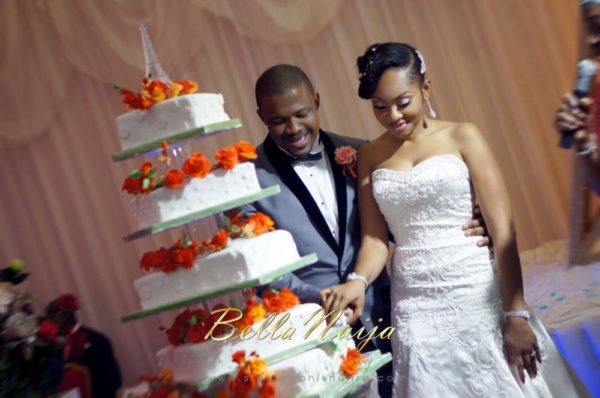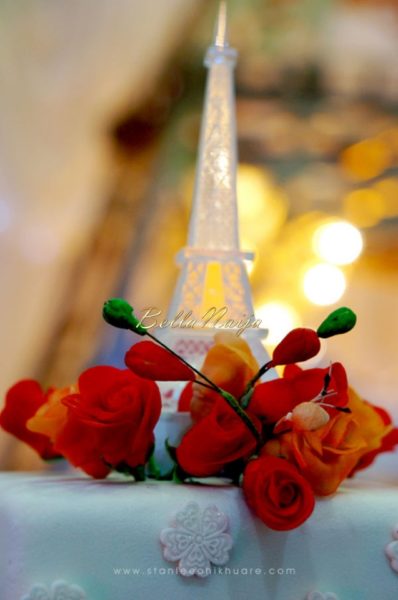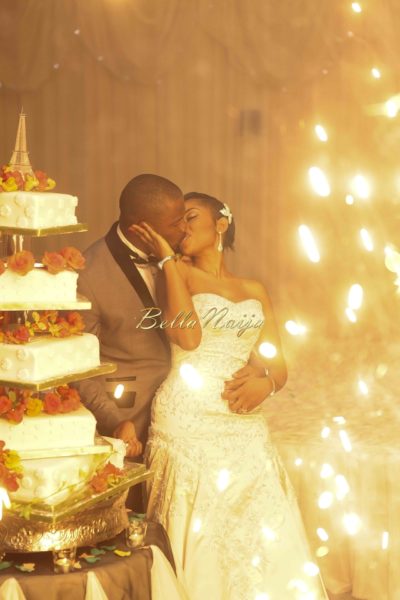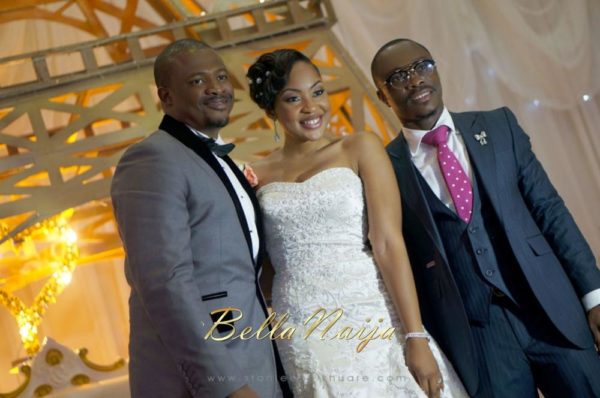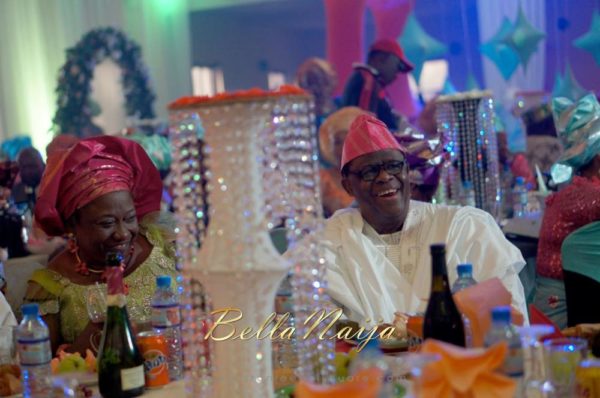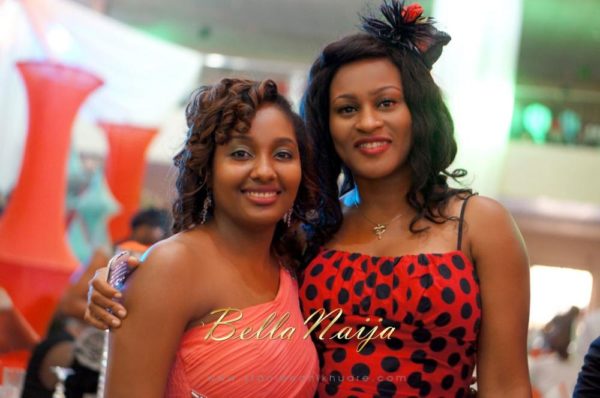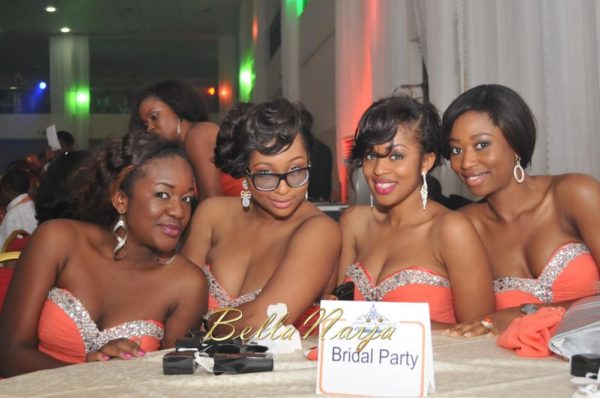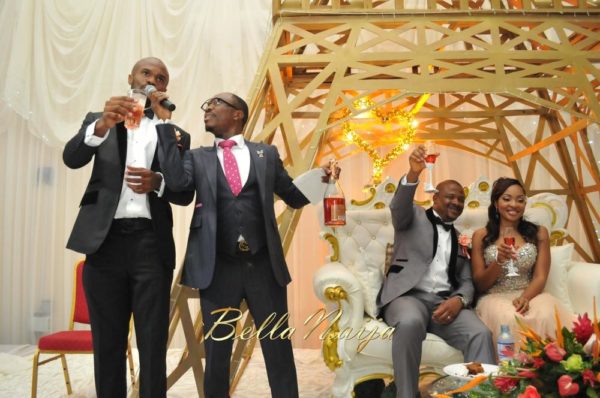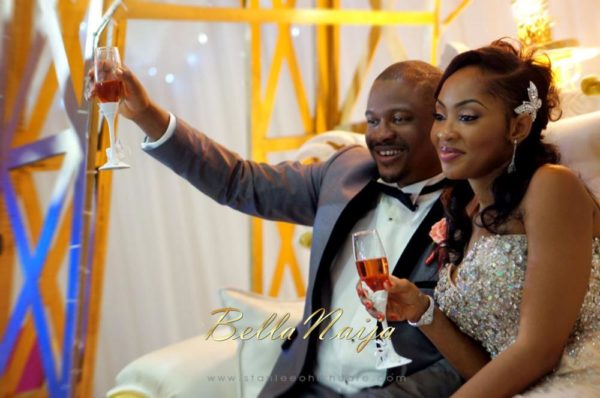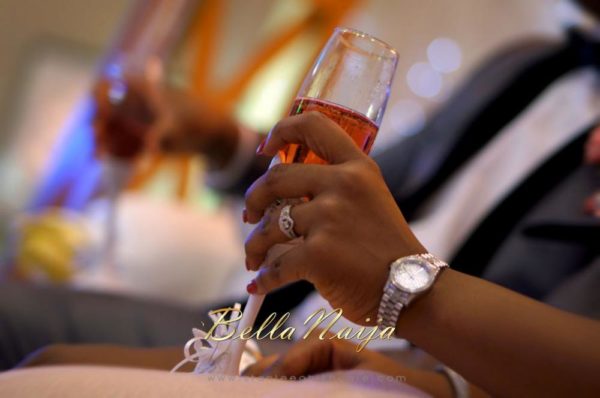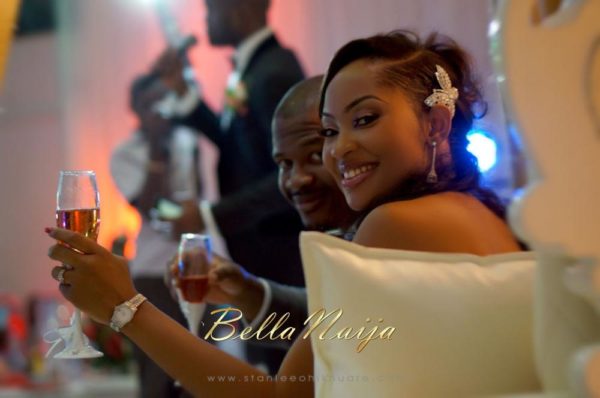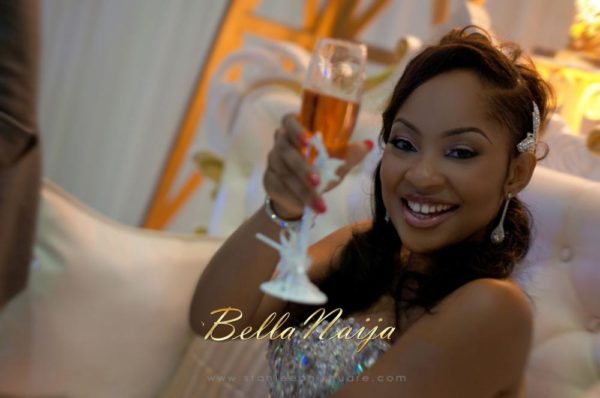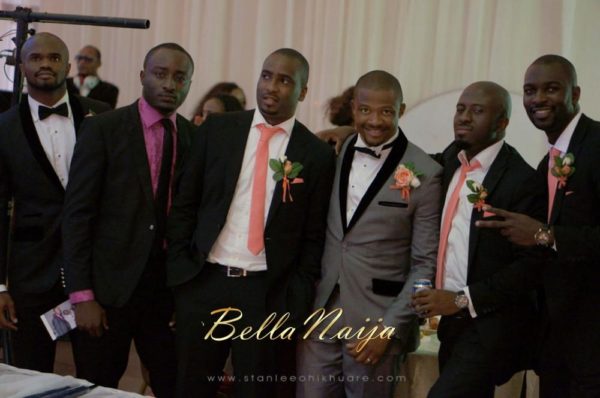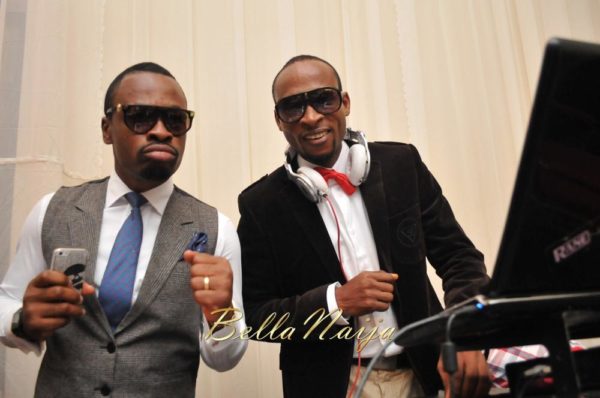 Julius Agwu 'cracked our ribs' and had people reeling off their seats. When it was time for the bouquet toss, after a long tease I split my bouquet amongst the girls making them all winners (including those who got the leaves and twigs lol). It was a fun party and we danced our hearts out as DJ Efex liberated every cell in our bodies.
I couldn't have asked for more…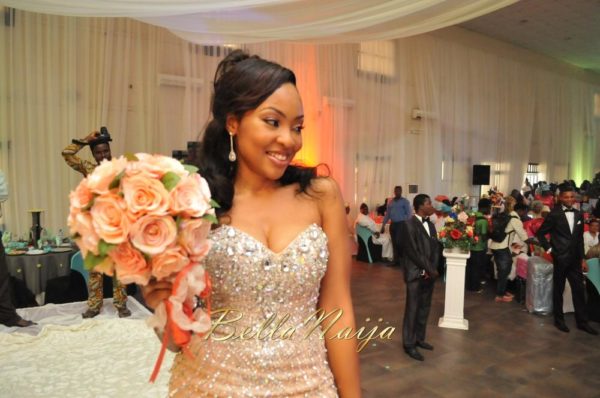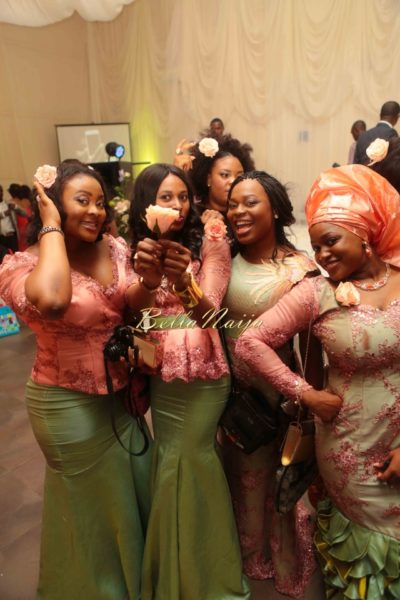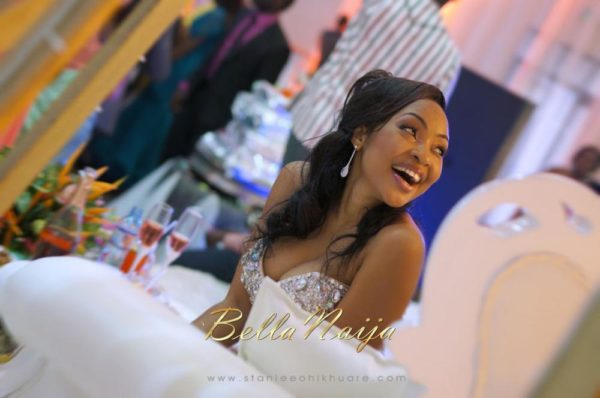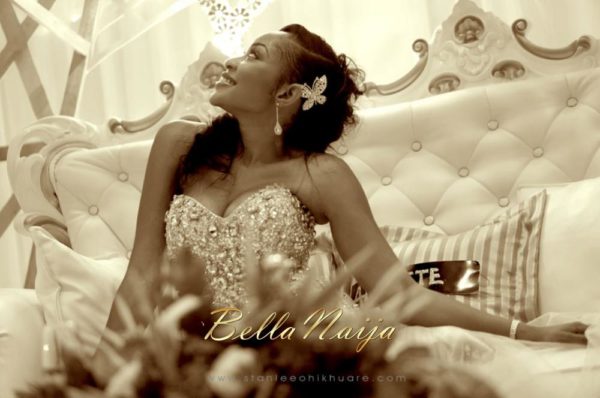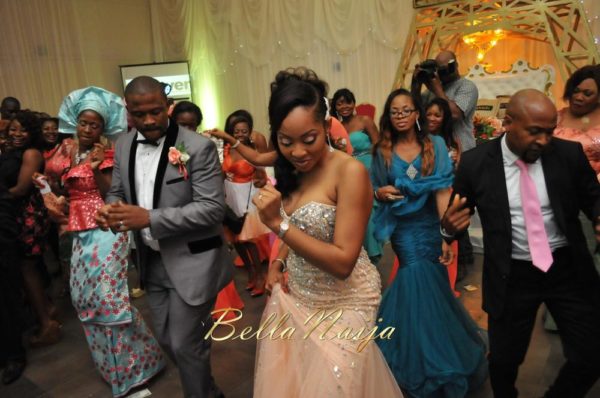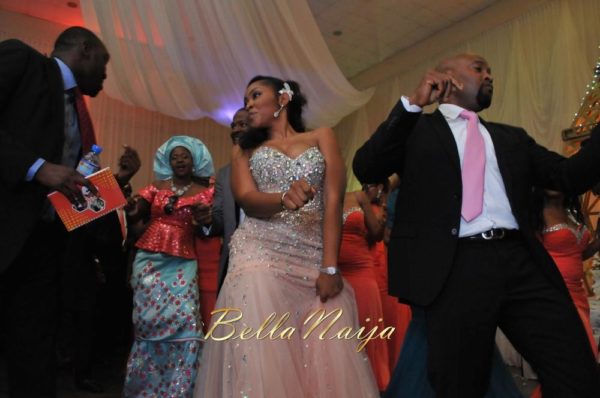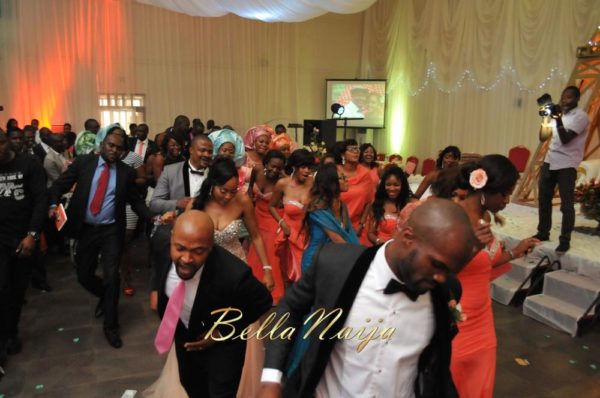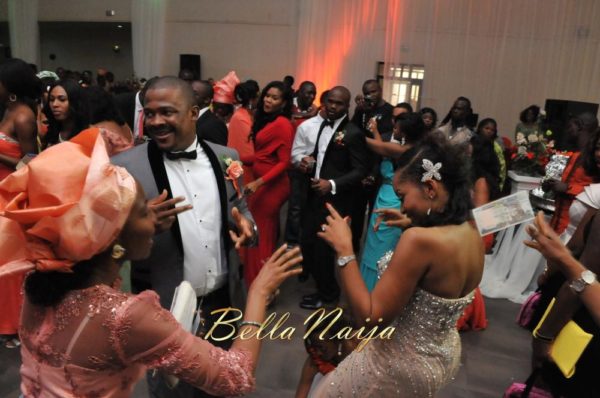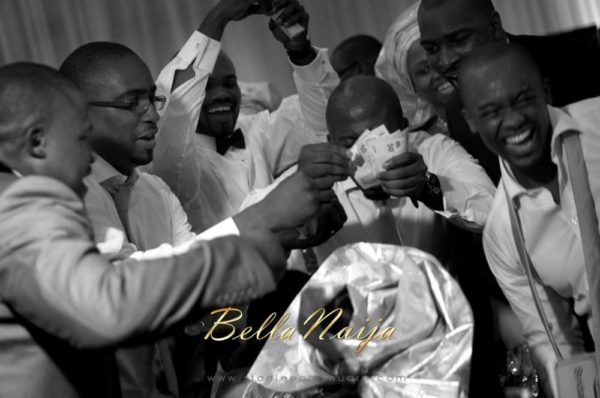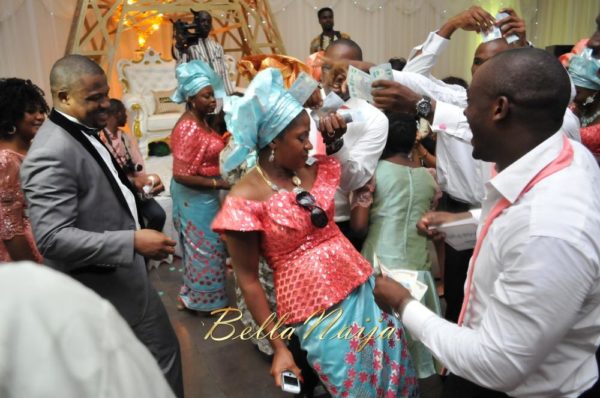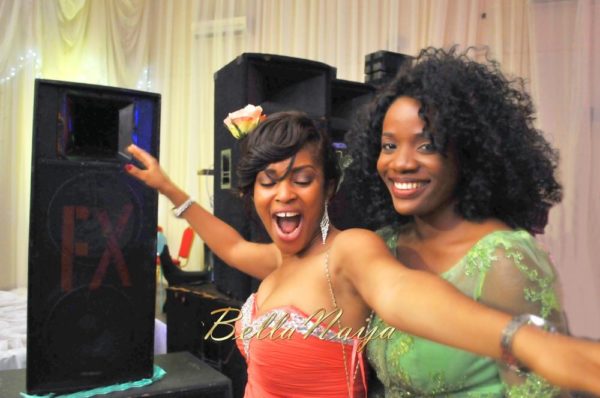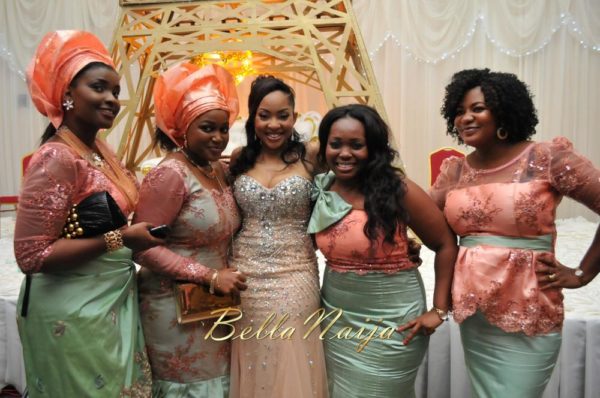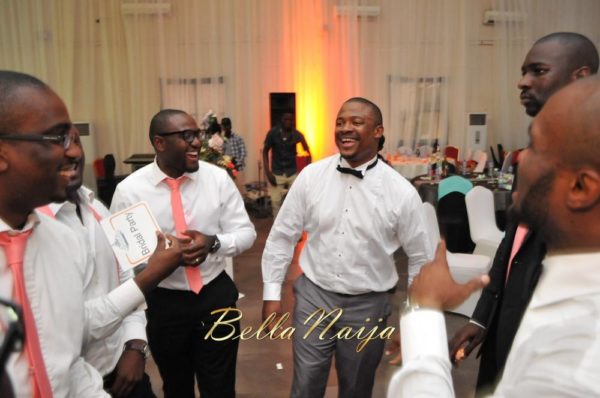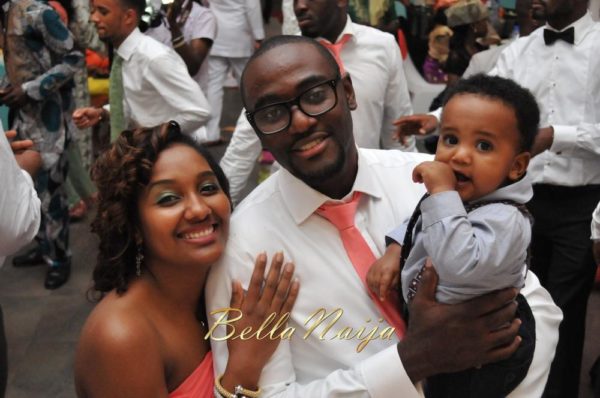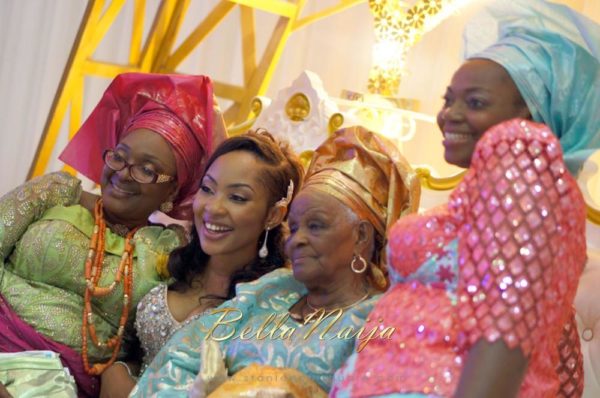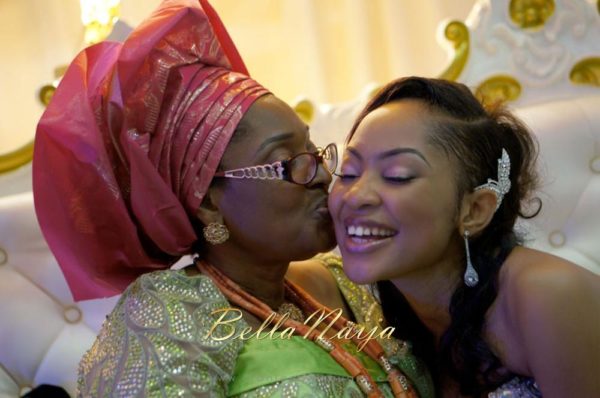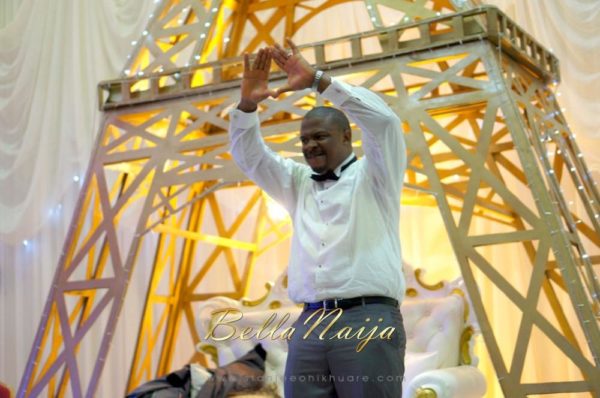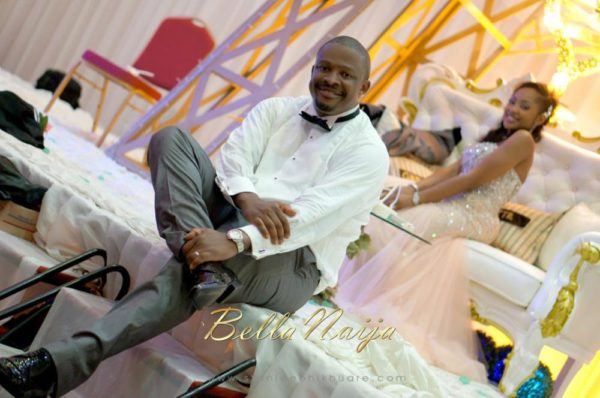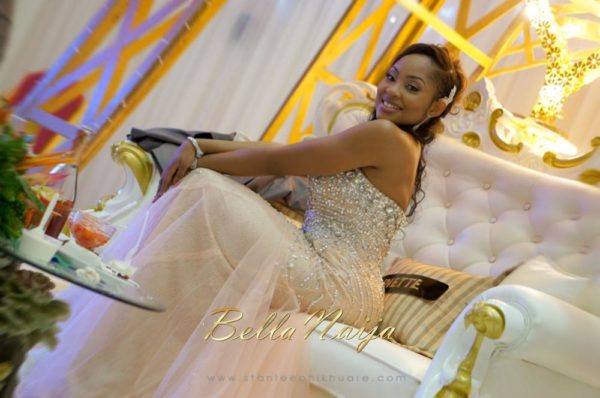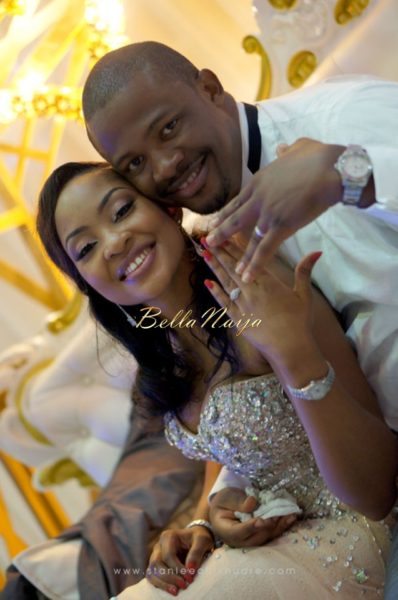 ~ Traditional Wedding Video – Ejiro Onobrakpor
This video is so rich in culture and fun too! – see the Benin tradition of the groom presented with different 'brides', the bride getting her okuku done, traditional dancers and more!
Pre-Wedding Photography: Alero Marcel
Wedding Photography
Stanlee Ohikhuare – +2348033096502
Persnickety – +2348035551525
Videography: Ejiro Onobrakpor
Wedding Details
Traditional Ceremony: Thursday 15th August 2013 at Noon
Traditional Wedding Colours: Turquoise Blue & Canary Yellow
Venue: Family Home
White Wedding: Saturday 17th August 2013 at 10AM
Church: St. Paul's Catholic Church, Airport Road, Benin City, Edo State
Reception followed immediately at Best Western Homeville Hotel, Etete, G.R.A, Benin City, Edo State
Wedding Colours: Coral & Mint
Wedding Attire
Aso-oke: Tisbee Aso-Oke
Jewelry: Ivie Bespoke
Wedding Dress: 'Polly' by David Tutera
Reception Dress: Jovani
Groom's Suit: Ramoni Couture
Bridesmaids Dresses: Vera and Justime
Bride's Makeup: Beauty Matterz – instagram.com/beautymatterz
Bride's Hair: Zizi for Enchantez – +2348037955977
Bouquet: Maison Blanc
Vendors
Wedding Planners: Gee Works and Decor – +2348037265912
Food: Sheroda Catering/ Tehgah Chums
Drinks: Couple's Family
Cocktails: Cheche Liquor
Wedding Favours: Couple's Family
Desserts: Olive Caterers/ Exclusive Chocolate Fountain –  +2348023059476
DJ: DJ Efex
MC: Julius Agwu
Invitation Cards: Bubbly creations – +448456042898
________________________________________________________________________________
We love weddings as much as you do – get in touch for inquiries, inspiration & more!
E-mail: weddings (at) bellanaija.com | E-mail for #AsoEbiBella: asoebibella (at) gmail.com