From a chance meeting at a wedding, to long distance love and now wedded bliss, Lola Ladipo & Shola St. Matthew Daniel's wedding was filled with intimate elegant touches, just like the beautiful pair.
Their wedding story is one of a steady and sure romance – they met in February 2012 and tied the knot a year and a half later.
Enjoy!
***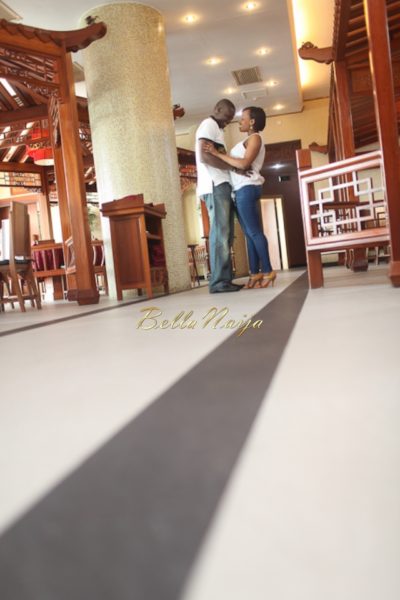 How We Met
from lovely Lola
Shola and I met at a wedding in Lagos, Nigeria in February 2012 (shout out to Kemi). Kemi is actually my younger sister's friend and one of her bridesmaids dropped out of the train, so my sister asked whether I would fill the space. Since I was traveling to Nigeria to see my family anyway and Kemi was such a lovely girl, I happily said yes! Meanwhile, Shola, who was Kemi's friend, had told her that he wanted to settle down and was looking for a wife.
On the wedding day, Shola saw me sitting on the stage where the bridal train were seated and was obviously mesmerised by my beauty (he he)! He then caught me standing outside the reception venue and buckled up the confidence to speak to me. Apparently I was quite blasé about him (almost to the point of arrogance – I really don't remember this!). So he left and went onto another event. He later obtained my details from the bride and played the whole 'cool' game in response to my blasé attitude. Hilarious though, because within a short time, soon 'cool' turned to 'HOT' and he couldn't resist but to call me everyday…
…We spoke mostly on the phone and on Skype as I lived in London and Shola lived in Nigeria. He was extremely nice, persistent, consistent and appeared to want a commitment with the right person. In August 2012 I decided to see what this guy was all about and travelled to Nigeria to meet with him face to face to know his surroundings, his people and how he lived. The two weeks we spent together were absolutely amazing and from that time (after he asked me out a couple of times obviously!), we started a full blown courtship.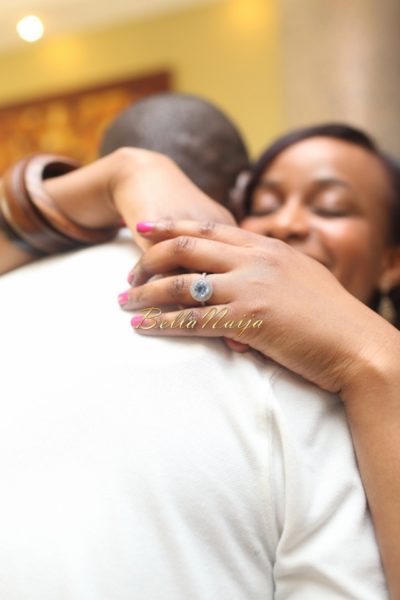 She Said Yes!
In December 2012, Shola visited London on holiday and proposed! We had spoken about marriage and I knew a proposal was on its way but didn't think it would happen that night (7 December 2012). He proposed right in the centre of the Somerset House outdoor ice-skating rink, in front of other skaters. Shola and his friend had planned that everything would be captured on camera by the stewards. It was such a beautiful surprise. What I loved about the proposal was that it was well planned with a picture for every moment. I absolutely adore that fact that Shola stepped out of his comfort zone (he had never skated in his life!) and chose the most romantic setting; a cold winter evening, on the ice, in front of a large Christmas tree and loads of sparkling lights and cheering onlookers. Absolutely perfect!
From Lola & Shola to Couples
Top wedding tips would be to plan early and get yourself organised to avoid last minute stress. Always remember that there is a marriage after the wedding day, therefore it is important to discuss other things than the wedding to keep the wedding preparation period light hearted and fun! Pray always.

On the day of the wedding, remember to try and enjoy every moment and spend as much time as possible with yourselves and your guests.
***
The couple celebrated their engagement in Lagos, the city where they met, and their wedding where he asked her to be his wife – in London.
At the engagement, the couple wore teal and peach aso oke decorated with champagne and peach sequins. After all the rites were performed, the couple changed into a royal blue – for the bride, with the most stunning red beads with alluring red lips to match, and powder blue party outfit for the groom at their evening party. They danced the night away with family and friends.
The bride and groom wed in an elegant and intimate vintage themed ceremony. The details at the white wedding were so thoughtful – from the groom's gift of jeans and a bag to the bride to the newspaper wedding programme and the Bible left at the reception for guests to highlight their favourite passages. The bridal train was beyond adorable – the ring-bearer was dressed like a page boy and carried the cutest sign at the ceremony.
The bride wed in her dream dress designed by Maggie Sottero – a traditional and classic ivory laced dress that she wore with sleeves for the ceremony and without for the fun part – the reception. Shola's suit was bespoke-tailored by Mai Atafo. A white tuxedo with tailored black trousers, and a black bow tie. The groom also wore suspenders underneath to complete the vintage look.
Lola & Shola had the best time after their I Dos dancing the electric slide and grooving along with loved ones.
BellaNaija Weddings wishes the couple a life filled with love and blessings.
***
~ White Wedding
Photography: Cristina Rossi
Engagement
Pre Wedding and Traditional Engagement Photography: DuduGuy | info (at) duduguyphotography.com | instagram.com/duduguy1
White: Cristina Rossi, cristina (at) cristinarossi.co.uk
(+44) 020 84498807 | 07958 585213
Wedding Details
Wedding Dates
Traditional: Saturday 22 June 2013
White: Saturday 24 August 2013
Wedding Venues
Traditional: Yard 158, Ikeja, Lagos, Nigeria
White: Hilton Hotel, Canary Wharf, London, UK
Wedding Attire
Wedding Dress: Maggie Sottero
Groom's Suit: Mai Atafo  | instagram.com/maiatafoinspired
Bridesmaid Dresses: Coast, London
Bridesmaids Hair: Jadoy
Flower Girl Dresses: Pink Marie
Make-up: Joy Adenuga
Hair: Dionne Smith
Bouquet: Rachael Roberts at Vanilla Rose
Traditional
Red Beads: Seun D Beads | instagram.com/seundsbeads
Makeup: BM Pro
Vendors
Planner for Traditional: Flawless Occasions
Traditional Decor: Event on Point
Music: Shuga Band
Make-up Artist: BM Pro
Drinks: Drinks Ice Box
Cake: Dainty Affairs
Food: Woligator, Pepper Konsult and Akbol, Shallom Caterers, Grillz
Eru Iyawo: Eru Iyawo
White Wedding
Decor: Jennifer Sue Weddings
White Wedding Cake: Sweet Tiers
Invites: Bubbly Creations
Church Service Program: News Favour
Vintage Rolls Royce: Gold Chauffeur Services
Food, drinks and cocktails: Favour Catering and Events
Hosting and comedy set: Funmbi Omotayo
Music: DJ Solva and DJ MRI
Video: Samon Films
________________________________________________________________________________
We love weddings as much as you do – get in touch for inquiries, inspiration & more!
E-mail: weddings (at) bellanaija.com | E-mail for #AsoEbiBella: asoebibella (at) gmail.com