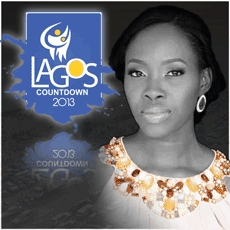 You may be as beautiful as Cinderella; as dark as Lupita; fair as Rita Dominic; sexy as Omotola; cool as ; Genevieve; funny as Jenifa; nice as Chioma Chukwuka; curvy as Pearl of Soundcity busty as Cossy; blonde as Paris Hilton; creative as Chimamanda Adichie; leggy as Oluchi; smart as Marrissa Mayer; rich as Folorunsho Alakija; fashion forward as Nkiru Anumudu; loved as Oprah or as rich as awon dem rich Kids (Dangotes, Adenuga, Otedolas et al), when it comes to this general course called MAN 101, we are all in it together and guess what? The hustle is real!
After I got off stage co-hosting the Lagos New year countdown concert, a 29 year old lady came to ask me a question I would never forget. She's a huge fan of Bellanaija and she asked me the one question I wasn't expecting, "How does one keep a man?" I was still trying to catch my breath from all the talking and dancing I did on stage so I looked at her and smiled then said "That's the one thing I'm still trying to figure out, I certainly cannot teach you how to keep your man but I know the two Ps and one big O are very important – Prayers, Patience and OTHERS". She said she never thought about it like that, we gisted, laughed, she thanked me and she was good to go.
While still pondering on how to jump start this MAN 101 topic", I stumbled upon the Keri Hilson break up story and I immediately remembered how she posted a picture on Instagram of her making fufu a few months ago. When it comes to the game of love and the course called a MAN 101, you have to leave your successful/ over intelligent/ celebrity status at the gate of his apartment because even the security man is "an oga" (a boss).
Hmmmm! I have friends who are constantly buying things for their boyfriend's driver and security men just to be in their good books. Some even used to wash clothes, pound yam and wash ponmo for their boyfriends mothers when we were in university. Sadly, those guys didn't marry them. You can polish his shoes everyday and he'll still end up with a woman who will make him polish her own shoes plus his own everyday. Babes are trying sha. We can do the most gangsterish things just to keep that bobo. What's the most gangsterish stuff you've done just to keep him?
It's okay if your everyday mode of transportation is via okada (commercial motorcycles) and you use same to go and visit your man. However, if you have to park your BMW X6 on the road to hop on an Okada just to get to his house ASAP because you heard his ex "turned up" then that's gangsterish!
As a woman, you'll give your all to a man – put your best into the relationship; pray for him and with him; spend your last savings on him;  share his problems with him; drink Panadol for his own headache; you even go online just to learn a few tricks to use in bed; wash his boxers;  take care of his kids from a previous relationship; wear matching underwear for him; cook for him, his friends and his entire family;  somersault in bed, do the 360 on him, try out all the sex styles in the world; wait up all night when he's out with the boys; if he tells you he doesn't want you to fix nails or weave on, you'll stop;  if he says "no more skimpy dresses", all your short dresses are going out of the window; some of you even call your boyfriend's 10 year old nephew "Uncle" because you think that's how you'll become "Mrs". Sometimes you have to give up your dreams because he doesn't like your career choice, other times, you'll even spend the whole night reading different sex books (instead of praying) so that you can be the best shag.
Truth be told, it's not only women that feel this way. Some men also feel they have done everything in the books just to try and keep the woman they love but it never works out. I remember last year when I interviewed American R and B artist, Carl Thomas, he said "Our fathers teach us how to get a woman but our fathers never taught us how to let a woman go. It is what it is. Sometimes, you know just so that you cannot be selfish, just so that she can be with that person that she was meant to be with, you might be holding her back".
The craziest part of it is that there is no hard and fast rule as to how to keep a man or woman because every relationship is different from the previous one. You can decide to be extremely nice to your man and he will still 'show you pepper'. You may decide to be nasty to another man who may end up worshipping the ground you walk on.
Different people come up with all sorts of advice that have worked for them forgetting that we are all different and our relationships can never be the same. I usually say that it's best to study who you're with and then you can come up with your own winning formula and operate your relationship according to what works for the two of you. Most importantly, pick your battles. Not everything is worth fighting over.
At this juncture, let's share relationship stories and the things you do that always makes him/her come back for more because nowadays, this course called MAN 101 is looking like one that people are seriously carrying over. It would also be nice if the men could tell us ladies what we need to do to keep them. Ladies, tell the men what they need to do to keep you. I'll leave you with a message I read on @therealtamar's Instagram page "Dear ladies: You should never need to prove to other women that he's in love with you. That's his job".
BellaNaija nation Happy New Year! Please feel free to fire on.
____________________________________________________________________________
Ariyike Akinbobola is a lawyer turned award winning media personality. She is married with children. Follow her on Twitter and Instagram @LadyAriyike.