Salut a Toutes! I hope everyone had a good week?
Paris today is the inspiration for my post. If you at least read about Paris there are a few things you should have picked up.
1. The Tour Effiel a.k.a Effiel Tower
2. Disney Land (argued its more visited than the Effiel tower)
3. The Museé du Lourve
4. A Croque Mousieur
Croque monsieur literally translates to Mr Crunch as croque is from croquant meaning crunchy.
History has it this sandwich debuted in Parisian bistros as far back as 1910. The sandwich stood out from its American look alike… the grilled cheese sandwich by the addition of a béchamel sauce and even more cheese at the top (french people so fancy!). The croque madam came about when a sunny side up egg was nestled at the top as it resembled a french woman's hat. It's such a staple around Paris and is a lunch box favourite.
Back in my Market (The Jean-George Restaurant I worked in Paris) Days, I remember the first time the sous chef Rajah asked me to help out with the the heavy batch of béchamel he was making. Then straight after that he more or less threw a block of ham to take to the slicer and give him half inch slices of it. To be very honest most of the ham and béchamel was my in between lunch and dinner "snack". Thank God for my FitFam days then and the general walking everywhere!
By the time we put all this together I was intrigued by the fact that carbs and fat looked so so good! The béchamel was flavoured with silky smooth Comte cheese and green peppercorns which just gave it an extra edge. Then it turned into a croque madam by the time a fried quail egg was nestled at the top served with a salad.
So here I am back where it all started. My darling Dupe Fagbohungbe who just rounded up at Le Cordon Blue as well let me vacay in her flat for a few days and I decided to recreate the Mr Crunch experience all over again.
This time I wanted a spicy touch to my sandwich and it was a small celebration before this FitFam life started all over again. So I went for green jalepeno peppers they are not as spicy as an ata rodo or habenero I did so much heat and fruitiness just a hint that would make me wolf down the sandwich but still have a kick to it.
The Classic Cheese for a Croque is Emmental very nice subtle flavour and melts very well. I added some garlic and herb cream cheese to my mix to give an even more creamy texture. if you cannot find emmental, cheddar is a good substitute.
I recommend you eat this sandwich on calculated days of the year with our drive everywhere lifestyle I don't recommend it for everyday or even every other week eating. Odikwa very high in calories and fat. However, if you are French it's okay. That walking and cycling life solves the equation.
Okay, enough with the bants… Here's how to make a croque monsieur
What You Need (Serves 2)
6 Slices of Bread (3 per person)
10 Slices Ham (Use Turkey or Chicken if you do not eat Pork)
80-120g emmental cheese (have an extra 100g to sprinkle on top)
2 cubes garlic and herb cream cheese
1 cup milk
50g flour
50g butter
As much or little jalepeno or whatever pepper you would prefer
Salad of your choice. I went with a mix of Mesculum leaves.
How To
Start by making your béchamel sauce.
Stage 1 of this sauce is making a ROUX (a thickening agent made by cooking equal quantities of flour and fat usually butter) in a small sauce pan or fry pan add the flour and butter to the pan and with a whisk (preferably) stir them together on a medium heat till it starts to bubble or looking like its drying out add the milk in bit by bit and whisk as you do so till it's a smooth consistency.
Add the pepper, cheeses and seasonings at this point. you could throw in some parsley at this point. Keep whisking on the medium low heat till the sauce thickens really well..if your sauce is looking to thick you could add a bit more milk. The sauce is perfect when you dip a spoon in it and you make a line and it stays separate. Leave to cool. Place some cling-film right on the surface when it's warm, this stops it from forming a skin on the top.
Get your bread and spread a semi generous amount on it. Top with some a ham slice or two if it's really thin, and repeat till the third layer. Spread some of the béchamel on the top layer and sprinkle the grated emmental on it.
Place the laid sandwich in an oven tray or a oven friendly fry pan and place a hot oven for about 10 minutes to toast up a fresh then turn on the grill to allow the cheese on the top blister and melt a bit.
Again if you want to turn this into a croque madam, please by all means slap a sunny side up egg or if you're fancy a quail egg or two. I trimmed the edges of my bread just because. You really do not have to.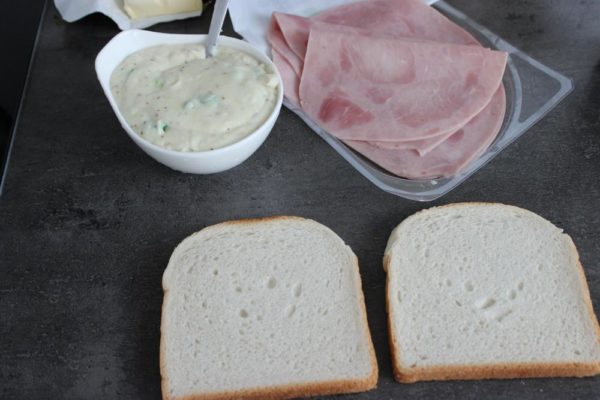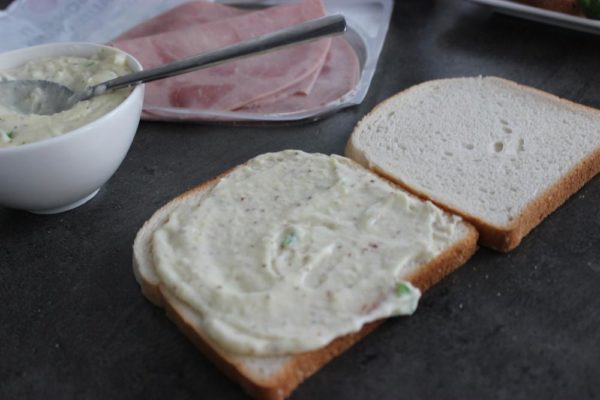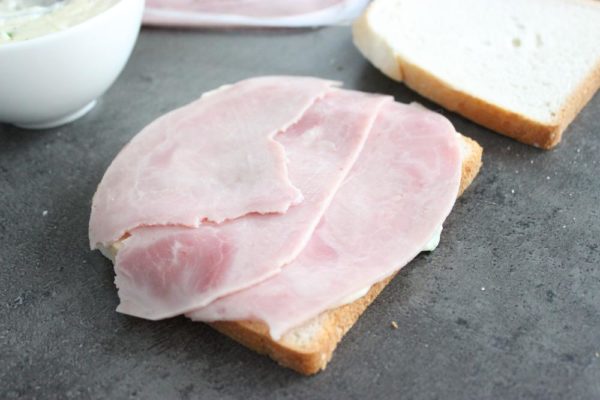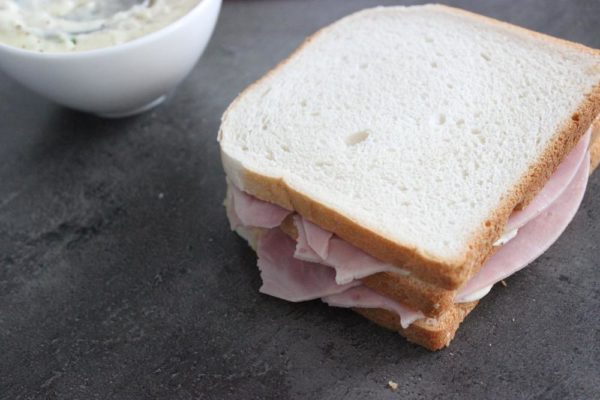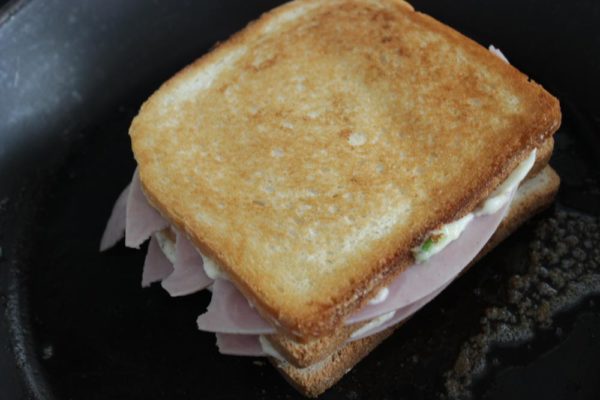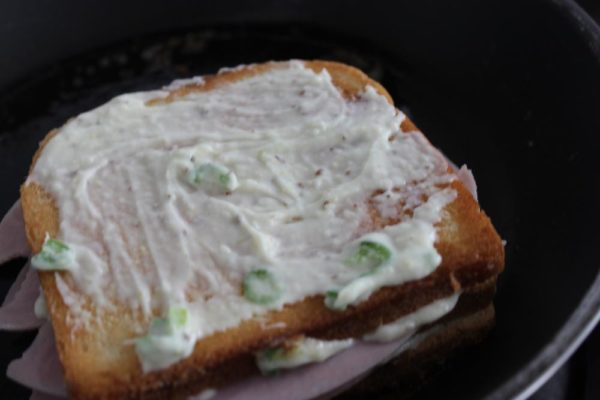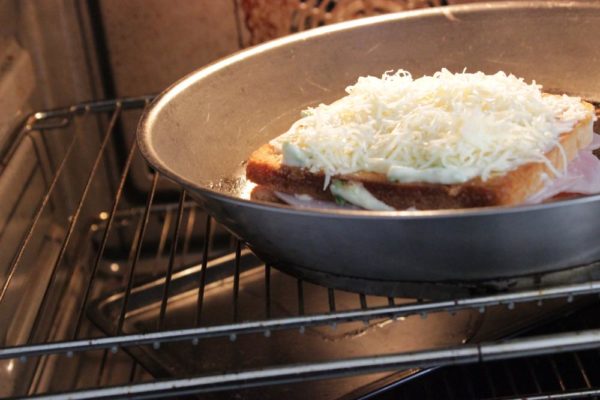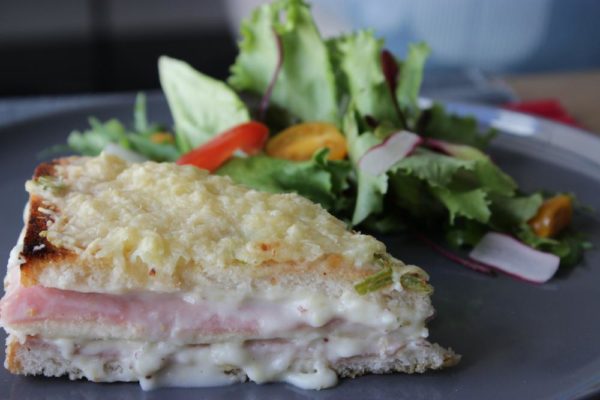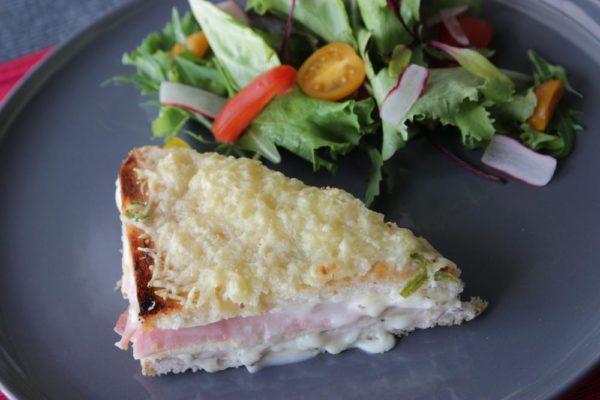 Salad wise I recommend a lot of greens and lettuce throwing a nice lemony dressing to counter all that cream and richness.
Drink of choice for me would be orange juice as pictured, but whatever you fancy is fine… Beer, Iced Coffee last last ice cold H2O!
Alright people. Alla Prochain!
Photo Credit: Gbubemi Fregene for Chef Fregz
___________________________________________________________________________________
Chef Fregz loves to cook! He is a graduate of Le Cordon Bleu Paris Culinary Arts School in France and hosts monthly "Chef Fregz Specials" where he whips up a yummy menu with a different theme each time then everyone enjoys a taste. He also caters special events and private dinners. To find out more visit www.cheffregz.com. Chef Fregz provides premium private catering services. For bookings and orders email [email protected] – @Chef_Fregz on Instagram and Twitter. You can check out the Chef Fregz Page on Facebook as well.