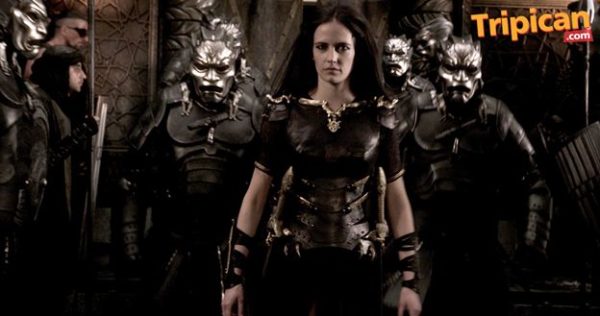 Director: Noam Murro(Smart People)
Writing Credits: Zack Snyder (300, Sucker Punch), Frank Miller (Sin City, 300),Kurt Johnstad(Act Of Valor, 300)
Notable Cast: Sullivan Stapleton (Themistocles), Rodrigo Santoro (Xerxes), Lena Headey (Queen Gorgo) and Eva Green (Artemesia).
The Synopsis
Based on Frank Miller's latest graphic novel 'Xerxes', and told in the breathtaking visual style of the blockbuster "300," this new chapter of the epic saga takes the action to a fresh battlefield-on the sea-as Greek general Themistocles attempts to unite all of Greece by leading the charge that will change the course of the war. This film pits Themistocles against the massive invading Persian forces led by mortal-turned-god Xerxes, and Artemesia, vengeful commander of the Persian navy.
The Script
Before anything else: The sex scene! I know, as perverted as I may sound, there is a just reason for me not being able to resist throwing this out there first.
The sex scene in '300: Rise of an Empire'is an all-timer. It is right up there on the shelf next to 'Don't Look Now,' and 'Showgirls' because there's a side by side of playful irrationality and violence that changes it from a demonstration of love (or lust) to quite simply a show of power. Eva Green, moaning and bent over a table with maps and war figurines, Classic!
'Rise of an Empire' is not a sequel in my opinion– it's a 'sidequel', more of a filler so we don't forget that 300 exists. It is the story of a different Persian assault on Greece (based loosely on a true story). As Xerxes (the giant bald gay dude in chains) is confronting Leonidas, Artemisia is heading a naval attack.
The movie starts right where the first one finished, then hurdles back to before it started, then runs simultaneously for a while. Kinda makes for confusing cinema.
To be very honest though, it is far less fetching than the first '300.' The most disappointing thing about it is the reprisal of similar themes such as the son who needs to earn his father's trust. It also fails to deliver as many memorable one liners as its sidequel. But then in my opinion, the movie never set out to beat 300. It simply wanted to make some bucks please its fans.
The Directing
Jack Snyder doesn't return as the director in 'Rise of an empire', rather he is the Producer and rather leaves the duties in the hands of a very much unknown director called Noam Murro, best known for a romantic comedy from 2008 titled Smart People starring Dennis Quaid and Sarah Jessica Parker.
Taking a very distant turn from the romantic and comedic tone of Smart People into the more challenging world of CGIs and a huge budget flick did come with its down sides for Noam Murro with the the CGI feeling very artificial in some scenes and the ribbons of artificial blood in 3D looking more like tomato paste. Nevertheless, he did a satisfactory job. Most of the fight scenes were cool and in the tradition of the 300 franchise, the weaponry and slow-motion lightning bolts were delightful for me.
The Acting
Eva Green isn't even close to being the hero of '300: Rise of an Empire,' but she's undoubtedly the star. I barely registered the other characters except of course, her sexual partner, Themistocles played by Sullivan Stapleton. Lena Headey(Game of Thrones) shows up for a few minutes as Queen Gorgo again, but pales next to Eva. She would have, maybe, but the movie ended abruptly as that was about to happen, sadly.
Themistocles, who is supposedly the major character in this movie, but his character is so boring he's hard support. He didn't get remotely interesting till the hate-sex scene.
Other characters aren't really memorable, but I guess we will get to see more of everyone (and most especially Xerxes) in the next (and probably final chapter) in the series.
The Verdict
Let's admit, whoever was expecting 300: Rise of An Empire to be as good as its 'sidequel' definitely hasn't been paying good attention to Hollywood. But for what it is which is a succession of naval battles, with a crazy-ass scene of hate sex right in the middle (I know, I mentioned it again :D), 300: Rise Of An Empire was worth the wait.
It earns a Soda & Hotdog.
This review was brought to you by www.sodasandpopcorn.com Award winning movie blog. We Watch Movies So You (Don't) Have To.
Review by @bookjunk1e and @don_sylvestre