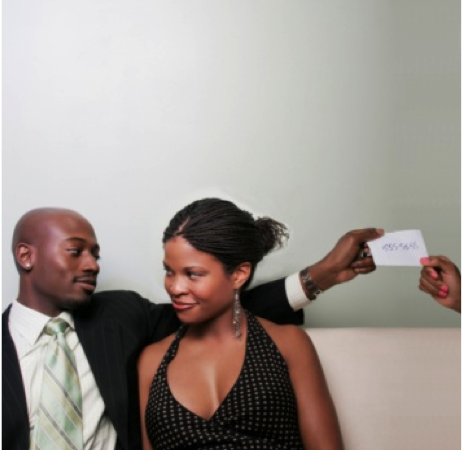 As I pondered over Toolz' write up about facing the truth and moving on especially when the other party has refused vehemently to commit to the relationship because of reasons best known to them, I couldn't help but wonder why relationships are so complicated. Sometimes, we lie to ourselves so bad that we begin to live the lies. I recount my friend's ordeal after living in denial and only recently just faced the bitter truth.
She had met the guy at an event somewhere on the Island. He worked in a bank not far away from her office. She was a Brand Manager in an FMCG company. They dated for a while; he spoilt her silly, sent lunch down at least twice a week, bought her great gifts, they were so in love. Then one day, while she was at his place to spend the weekend and he was out talking to the mechanic who had come fix his car, her eyes dashed to the light coming through on his phone on the sofa. The name was stored as Pearl, she answered, said hello. At the sound of her voice, Pearl ended the call. Why would Boo store anyone as Pearl? Her's was Ruby, so she checked the call logs. She was so shocked at what she saw. They virtually spoke to each other every day, more like every time. On days when he called her to say good night and ask if she got home safe, say at 9:20pm, he would call Pearl right after. Pearl was the No 1 and last person he spoke to daily, she was No 2.
Same with SMS and BBM chats, Pearl also sent pictures of how she looked daily. Boo knew her family, friends, and vice versa. She was shocked to the marrow. When Boo got back into the house, she demanded to know who Pearl was. Boo just calmed her down and said she was acting up unnecessarily. His explanation – everyone called her Pearl at work and that was why he stored her name as that. She was his colleague and there was nothing more. About calling her last at nights, he was only calling to enquire about a transaction she was helping with and nothing more. Obviously, girls just act like girls and that was why she sent him pictures daily to get his attention. He did not want to appear as rude so he never reprimanded her for that. Ruby calmed down after Boo had convinced her. Boo then got on his knees to reassure her that he had nothing with Pearl and neither will he ever be involved with Pearl. 'She's not my type of girl, you are', he said.
The following week, they were engaged. He used only Ruby's picture as his DP going forward, at least Ruby felt good…Pearl would get the message and leave them the hell alone. But she wasn't at rest, she had no inner peace. No thanks to her friends calling after spotting Boo with Pearl at the movies, to him missing her calls and giving excuses for not returning them immediately to taking impromptu trips outside Lagos. She knew Boo was lying…somewhere in his eyes, she wasn't No.1 same in his heart, but his lips made her No 1 and some of his actions too. He never stopped buying gifts and taking her out once in a while and never stopped saying I love you when he called. He was still sweet and gentle except that some few things had changed. Maybe wedding pressures and maybe she was acting up unnecessarily like Boo mentioned some weeks back. Maybe he would change after they got married. Maybe Pearl would get the message when he had his wedding band on.
Soon they were married, big lavish wedding, honeymoon followed; everything was perfect except for Pearl who refused to leave Hubby alone. She was still there, his phone calls to her never reduced, his interest in her keener, missed calls from Ruby grew especially in the evenings, (he preferred to pick after the 4th ring), his trips outside Lagos became twice weekly, or sometimes, he claimed he had to attend events or meetings and he would have to return the next day.
She knew what Pearl looked like, she knew that she was hubby's colleague; she couldn't fight her physically or spiritually. There was no point. Hubby's heart was with Pearl. Why did he marry her then? She became overwhelmed with all the grief and emotional trauma. She was far classier than Pearl, could hold conversations better, in all ramifications, she was better than Pearl (from Aproko's observation). Why didn't he just marry Pearl instead? She has the ring now, but she is still the other woman. 'Pearl is so determined to break my home' was what she uttered whimpering over lunch last week Tuesday.
All I could say was 'babe…you saw the signs…'
That unrest, some call it lack of peace, that pricking observation, that nagging feeling, those things we see and hear are signs dear. Do we take them for granted because we want to settle down fast or somehow lie to ourselves that they will change once they get married? Don't we all see the signs? From the hovering eyes in public places; to not answering that particular phone call when we are close; to deleting those chats and putting passwords over all; to lying they are in meetings when we can hear that hollow bathroom sound; to coming home late with that signature perfume on their shirts; to pulling up their sleeves, because of that powder stain; to that smell in the car…Yes that smell and the stains on the car seat.
We chase after the ring on our fingers, gold or diamond, silver or bronze..does it really matter if we don't have the ring around his heart?
Photo Credit: whoisamberjanae.com