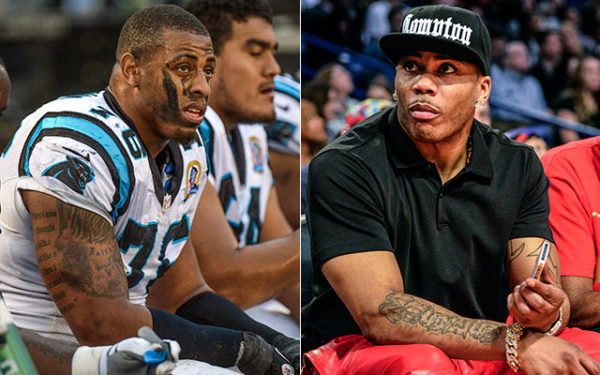 American rapper Nelly has gotten his name thrown into a relationship drama.
Greg Hardy is an NFL Player for Panthers, who was arrested on Tuesday on charges of assault on a female and communicating threats after an incident with his girlfriend 24-year-old Nicole Holder.
She claims Greg Hardy threw her on a couch covered with firearms and threatened to kill her, because of a brief relationship with Nelly.
Nicole told the Charlotte Observer, that Hardy was angry with her because of a short-lived relationship. She and Greg had been trying to work things out and that they were in bed together early Tuesday morning when Hardy "just snapped".
A judge revealed that both Hardy and Holder were intoxicated at the time of the incident. But a 911 call gotten by CBSSports.com, has Hardy telling the operator that his girlfriend was trying to hit him with her shoe and that she hit him twice in the face.
However, another call from a neighbour of the NFL player, claims he was "beating Holder's ass".
Watch!