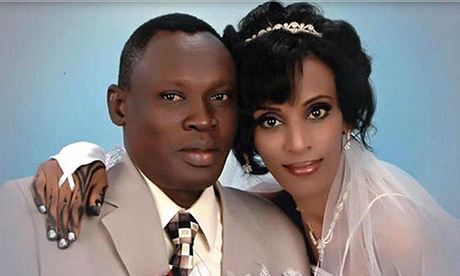 Earlier this month, BN reported that a 27-year-old Sudanese woman, Mariam Yahya Ibrahim, who is over eight months pregnant was sentenced to death for marrying a christian.
Recently, her husband, Daniel Wani, expressed concern about the health of his imprisoned wife, imploring authorities to let him take her to the hospital for proper care, as she was due to give birth soon.
Ibrahim who has been shackled since the commencement of her imprisonment in February, gave birth to a baby girl earlier today, a month before her due date The Guardian reports. Her condition as well as that of her baby is currently unknown, as her husband has been prevented from seeing her.
She is believed to have given birth at the prison's basic clinic.
Sudanese authorities reportedly stated that they will defer Ibrahim's death sentence for two years to allow her to nurse her newborn baby.
Photo Credit:  www.theguardian.com/Gabriel Wani