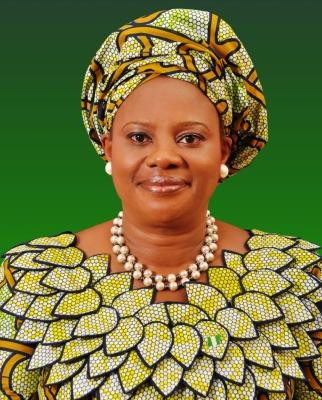 In my early teen years, each time I came back from school in the evening, I quickly rushed to grab the remote of the television set. The normal station was NTA. The annoying station that doesn't show cartoons and musicals. They piled up documentaries and edutainment shows in their list of their programmes. Popular among them were Panorama, One on One, and NAFDAC and you. I was very vexed with this setting, thus I tuned to AIT in a bid to manage the inadequacies of NTA.
One day, out of annoyance, I put tuned in to the channel and left the parlor to attend some chores. When I returned, NAFDAC AND YOU was on, and with the presenter was Dora Akunyili, the former director general of the agency. Maybe it was her aura, the conviction glinting in her eyes, or the way her words sounded with facts and zeal embellished in them, or even the fact that she represented what I wished to be in the nearest future; I was quickly drawn to her.
That was the first I sat down, showed interest and listened. The topic of the day was her ordeal with the construction company Julius Berger. She went to war with them because their clinic was operated with discriminatory dualism. One part was for the expatriates that had no single fake drugs, the other was for the Nigerians that worked with them, filled with fake drugs. In her words, "I wept when I saw how they treated us, so many expired drugs, so many pharmaceutical injustices. I didn't know that such things can happen in Nigeria, with Julius Berger".
I wept after the programme ended. I wept for my country, how foreigners feed us with crap in my country – while we sat helplessly, watching without reacting. But, I was consoled that this woman with bulging eyeballs was reacting. I was consoled that this woman was putting on a fight for unknowns, like me. I felt proud that I can confidently take a pill from a counter of a Nigerian drug seller, without checking if it is expired or not. You know why? Because that NAFDAC woman was watching on.
From then on, my interest with that program skyrocketed. I somehow became addicted to it. NAFDAC and YOU educated me so much. I became conscious of the term, "Potassium Bromide". I wasn't a science student, but I knew that it was cancerous – used by bakers to get a softening effect in their bread. I began to lookout for potassium-bromated bread each time I was sent to fetch bread from a nearby store. You know that look a trader will give you before asking you, "You wan buy bread abi you wan look the bread?" Yea, that was how exasperating my witch-hunting of badly made bread got.  I was enlightened.
Next was "Quinine" – used in production of creams. I didn't know how quinine looked like, the compounds, the harms etc, but since NAFDAC said it was dangerous, I figured it was dangerous. That woman  can't lie. So I began another lookout. My hunt increased. I made sure I stuck with my innocent Vaseline. For my others, I began to go through the ingredients of their creams. No quinine in the house. Not even a trace, while I was around. I became an unpaid supervising officer. A firm soldier of NAFDAC. Oh my Aunties! They all heard it. I began to strike questions like "Have you heard of Quinine? Do you use Quinine'd cream? Your body can do better than Quinine, or do you want me to inform that big Ogas at NAFDAC? They became tired of me, but I passed the information.
On another episode,'skin reaction' was the topic. "Drugs like Chloroquine don't sit well in some person's body, therefore so much scratching effect, burning may accompany it after usage". Another knowledge was tipped to me. Another adventure for drug hunt. I began a new round of preaching in the house. Chloroquine is dangerous. Don't buy it. Dora said it is not good. It causes skin reaction in the body. Those were my marching words. My malaria drugs made a u-turn from Chloroquine to Amalar and Malareich.
Then, came the era of NAFDAC registration number, I began with the sachet water that was being hawked. Oh! I scrutinized so much. I began to distance myself from ones without the numbers. I also began to look out for those that were not neatly sealed. Haggardly sealed also represented home produced. That was the era of buying sealing machine and mass producing pure water. That period was momentarily. The kiosk owners became conscious of the number, the provision sellers too were not left out, the pharmacists and druggists even helped me to locate the number before I pay. That number instilled a kind of confidence in ordinary citizens, it equated our collective trust, and it made us to be health conscious. It was our local stamp and seal of safety. It vouchsafed the content of the product. Even the unconscious became safety conscious. All thanks to this woman called Dora.
Then one night during the NTA network news I heard that Dora's car had been shot at. She was attacked by unknown gunmen. The car had big bullet holes, that pierced through the body without mercy. They went to shut her up permanently. What was her offence? She put in zeal in the cause of her carrying out her duty. She wasn't like them.
I went to my room immediately, knelt down, stretched my hand in the sky. You know that picture you see in some Christian articles, that was how it was for me. I prayed like never before. That was the day I realized that I've fallen head over heels with Dora. That day made me realize that this woman has a meaning in my life, not a just a meaning but a deep meaning, like what Chinua Achebe and Chimamanda Adichie meant to writers. I don't know how far my prayers went, but I was happy she was unhurt and happier when I saw a newspaper article calling for assignment of security personnel to her.
After that incident, her vigor didn't wane, like Benzair Bhutto of Middle East, she came with fire to save her people. It was as if fuel was poured in a raving fire. Kai! I liked her the more. From south-east, I was seeing the effect. Upper Iweka became troubled; Aba shook with a high Richter measured scale. The chalk-turned-drug makers knew that cleansing was upon the land. They all began to scamper. With their red apron, emboldened with the white ink of NAFDAC, her army matched to South-West, to Lagos, to continue the cleansing. From Alaba to Tejuosho, Marina to FESTAC, things began to unfold. Havoc unwrecked. Yes! My hero was at work. Even when NAFDAC lab caught fire, she wasn't deterred.
I would've wished she continued with NAFDAC, but it wasn't possible. Was it? Her next stop after her departure from the agency was Ministry of Information and Communication. She also gave a fair account of herself, considering the rocky tenure of late Yar'adua. From it, she hopped onto the bus of politics. Personally, that decision didn't go well with me, but it wasn't for me to decide.
Her last service to the nation was her presence in the ongoing National Confab at Abuja. She made sure her voice was heard.
Dora had flaws that made her a human, but it will be very unaccountable and murdersome of anyone to just define her with them alone. She was not a saint, but she was definitely not in the category of political thieves and sinners we have in this country. She was patriotic, exemplified in her service to the nation, and this is how I wish to see her.
Laa n'udo Agbara Nwanyi.
___________________________________________________________________
Chimezie Anajama finds fulfillment in writing. With work ranging from fiction to non-fiction, Chimezie derives inspiration from daily interactions with people. Find out more at www.nwuliafrica.blogspot.com. Follow on Twitter @anajamachimezie.