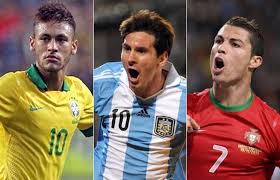 Three of the world's best footballers are featuring in the 2014 Brazil World Cup. Leo Messi, Cristiano Ronaldo and Neymar. All three have played in the first match for their country and the comparison between them cannot be avoided. All three had questions asked about their form before the start of the World Cup. Messi and Ronaldo had fitness concerns due to injuries they had picked up during the League season and Neymar raised eyebrows because of his under performance during the season. Here is my take on their performance so far at the World Cup:
Neymar: Brazil v Croatia
I've always said that Neymar in a Brazil jersey is a demi god. So when Brazil took on Croatia in the first match of the World Cup and all eyes were focused on Neymar, I didn't expect him to be disappointing. Apart from the fact that he was all over the pitch, marking opponents, chasing the ball and making passes to help the team; he also stepped up when the pressure was mounted on him as he took responsibility for the penalty and scored it. He also added a second goal as Brazil went on to defeat Croatia by 3 goals to 1.
Leo Messi: Argentina v Bosnia Herzegovina
Messi has had a dip in form since coming back from injury and I had assumed he was saving himself for the World Cup. It showed though in this match, that he was not his old mercurial self. He struggled to make any kind of impact on the game. His passes and dribbles were incomplete and he lost possession cheaply to the opponent . However, even on a bad day, he still had one flash of brilliance where he made a run and took out three Bosnian defenders to slot the ball past the goalkeeper into the back of the net. It was the goal that helped consolidate Argentina's 2-1 victory over Bosnia.
Cristiano Ronaldo: Germany v Portugal
This clash turned out to be much more than one person could handle  –  even if the person is the recently crowned World footballer of the year. Ronaldo raced to fitness just to help his country in what was considered their toughest match in the group and boy was it tough. Ronaldo was very inconspicuous for most of this game. His team was not only overrun by the German midfield, but he was left longing for the ball like a man lost in the desert. Even when he did get a few opportunities via free kicks, it took him 3 tries to eventually get one on target.  On a day when his team was 1 man and 4 goals down, Ronaldo couldn't do anything to deliver them from dropping to the bottom of the group.
After the first set of matches, I can say Neymar is clearly leading the poll.
____________________________________________________________________________________________________-
Tega Onojaife started a career in financial portfolio management but soon realised that her passion for sports was too overwhelming to remain a supplementary. Tega is well known for her wit and confident analytical presentation, her versatility and in-depth knowledge of a wide range of sports; NBA, Tennis, Formula 1, Athletics, Boxing and, of course, Football. She has worked with reputable Radio and Television stations. Follow her on Twitter @tegasupreme